.
OH, NO, NOT ANOTHER BLIND KITTY..
.. is what we thought when we found out about Galya. We have rescued and adopted a number of blind cats and we know first hand that in the right home with the right family they can have a fantastic life. Still we feel great sadness when we come across blind cats as we feel it is a cat's birth right to live a life of chasing butterflies.
Seeing the photo of blind Galya helplessly roaming the streets we knew she was the next kitty we would be saving — and started organizing transport and admission to our clinic.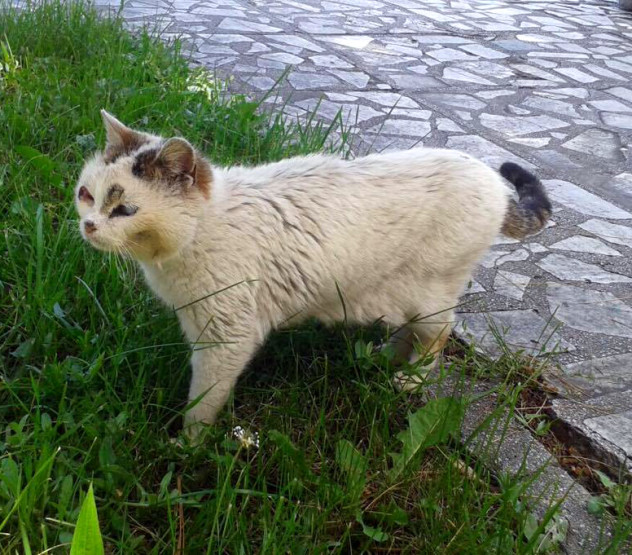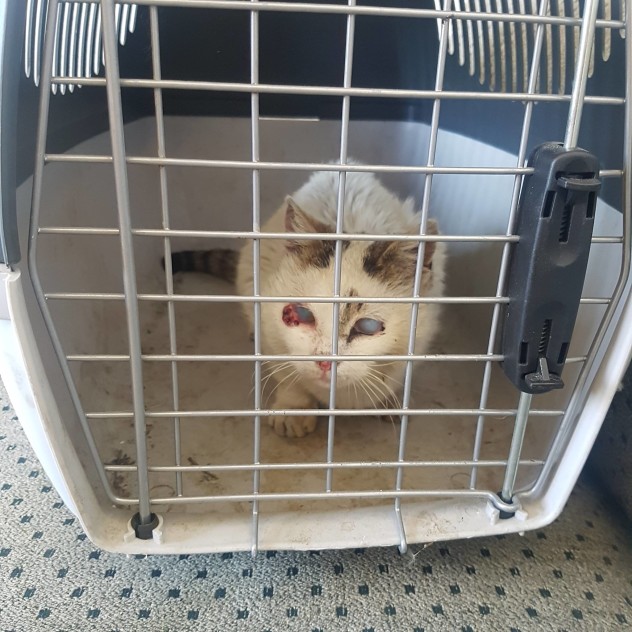 IN THE CLINIC
Kitty Galya arrived in our clinic early Saturday morning and a general examination with some standard tests discovered that she is in good overall health. Then kitty was seen by the senior ophthalmologist and we learnt that her corneas were severely infected and swollen, the corneal edema hindering a proper diagnosis. Kitty was started on anti inflammatory medication and it took a few days before we could learn more about the true state of her eyes.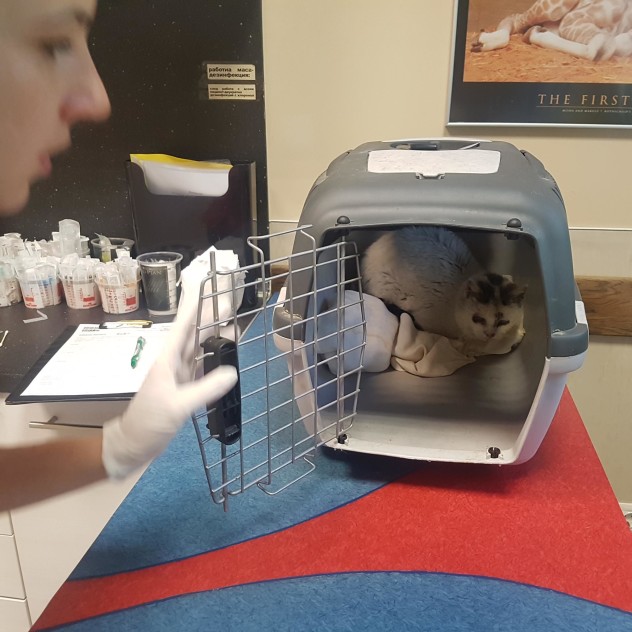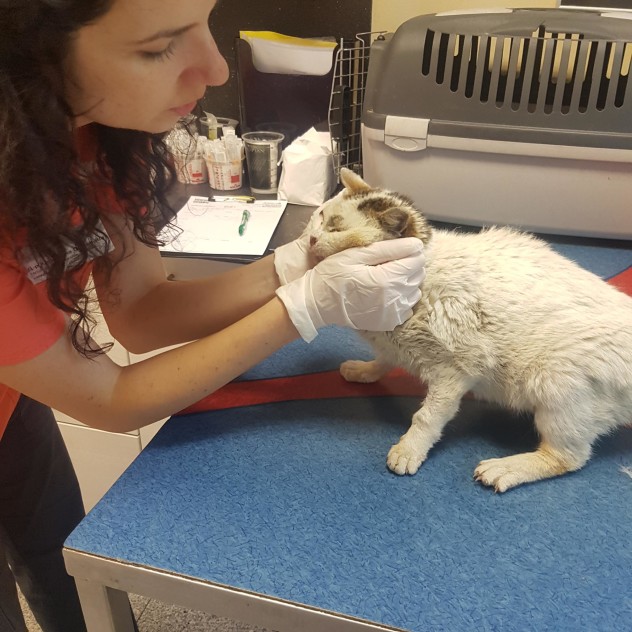 A HAPPY SURPRISE
When we first saw her we were convinced Galya was blind as we thought we recognized the characteristically opaque look of her eyes.
But we were wrong.
After a few days the anti inflammatory medication had started doing its work and Galya's vet reported that her corneas are beginning to clear and there was an observable reaction from the pupils! The vet is continuing the medication and has also run a herpes-virus test to ensure we are not dealing with that. If the results are negative and the corneas continue to clear, Galya has a chance of recovering her sight to some degree — a totally unexpected development!
NOT OUT OF THE WOODS YET
Unfortunately, Galya is not oud of the woods yet, as there is a worrying growth on the side of her one eye, which we are hoping is not a tumor. A sample has been stained to check for neoplasm, or abnormal tissue, and we are expecting results. The growth is large enough to interfere with the eyelid function, so regardless of what the test returns it will have to be surgically removed, and a new eyelid edge reconstructed.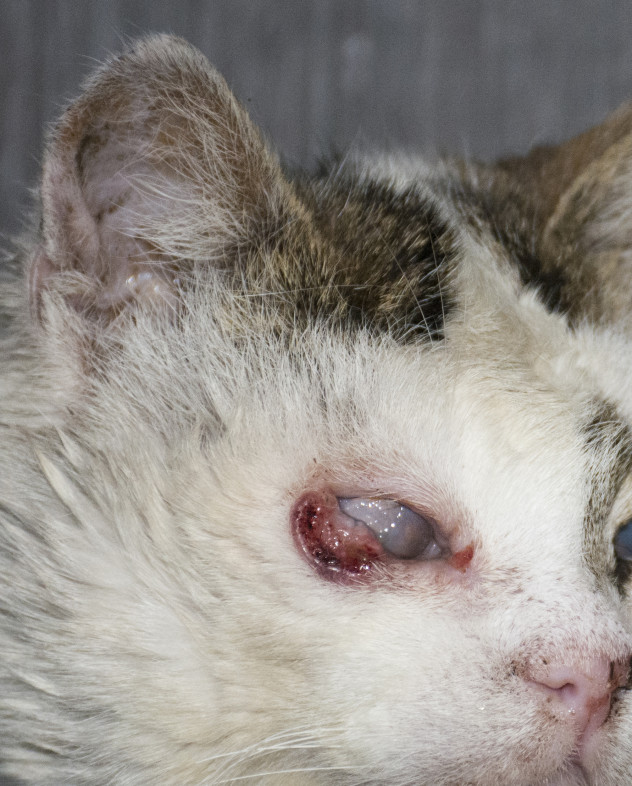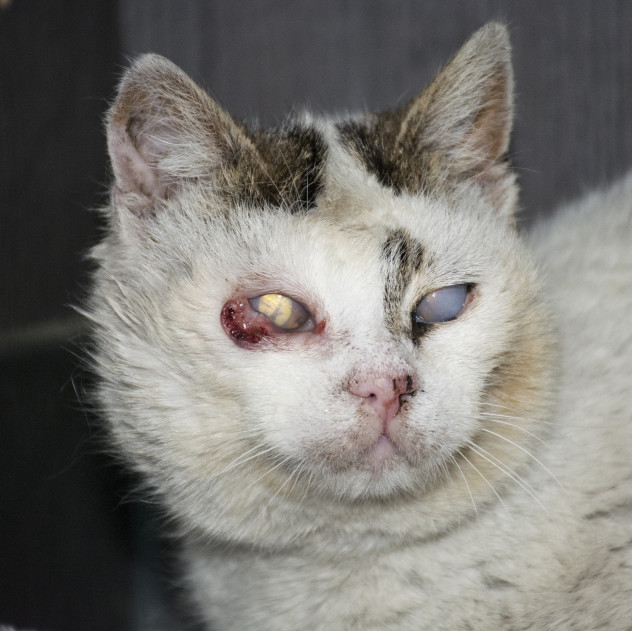 UPDATE | June 29, 2017
The inflammatory treatment continues working and Galya's eyes are feeling better by the day. The large growth on the side of one eye has now been confirmed as non-cancerous as a special test found no cell abnormalities. The lesion, however, is very large and interferes with the eyelid function — so the senior ophthalmologist has informed us that it must be surgically removed, and a new eyelid edge reconstructed.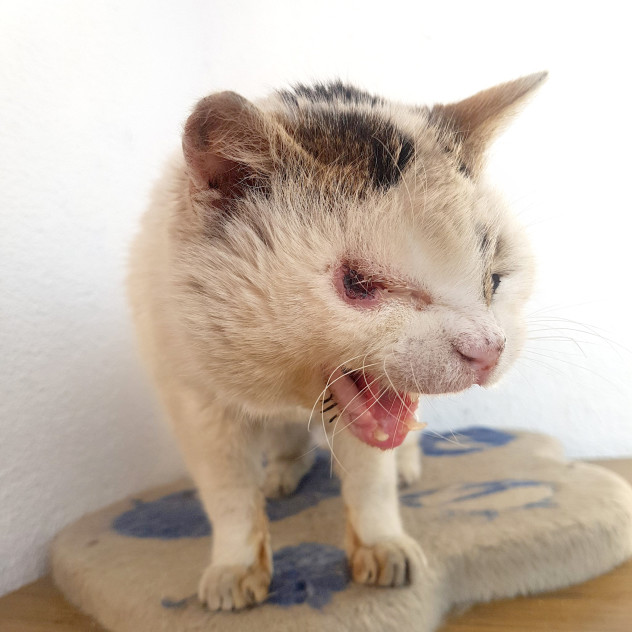 UPDATE | July 8, 2017
If you've been concerned about our blind girl Galya spending her days locked up in a cage at the vet clinic while we are fundraising for her surgery — worry no more. We have now found her the most wonderful and responsible foster family and Galya is no longer a prisoner. We are hoping to schedule the surgery for next week so stay with us for updates.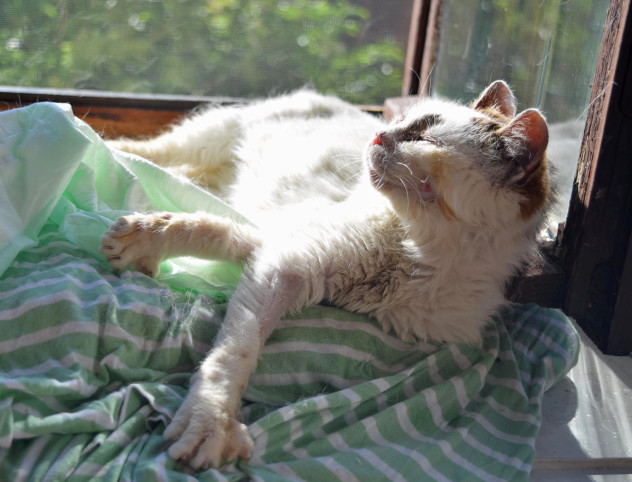 UPDATE | July 19, 2017
Today the growth on the side of Galya's eye was surgically removed, and a new eyelid edge reconstructed. The lesion was large and interfered with the eyelid function, irritating the eye and causing it to dry out. Kitty is recovering well and waiting to be discharged back to her foster home in a few days. Her eye looks terrible but the photo was taken hours after surgery, and there is antibiotic ointment applied to the site.
WARNING! GRAPHIC IMAGES BELOW!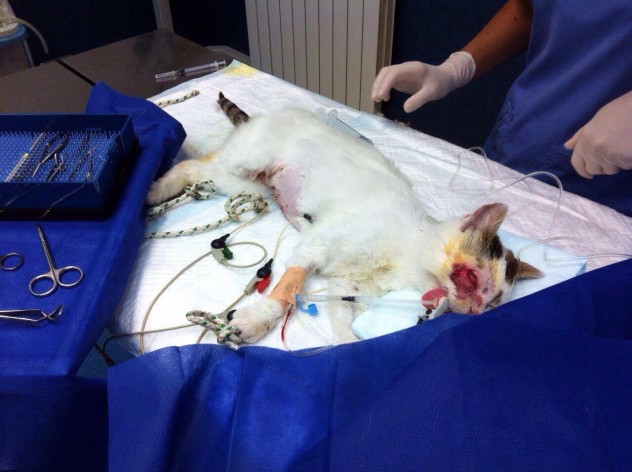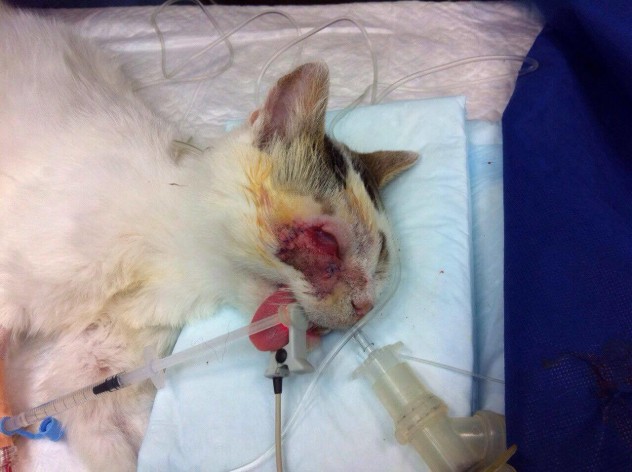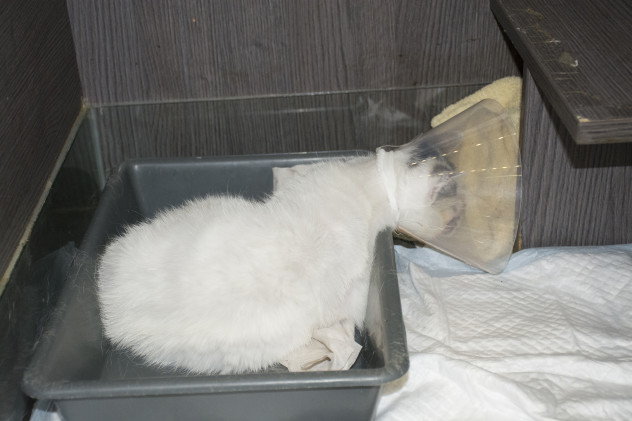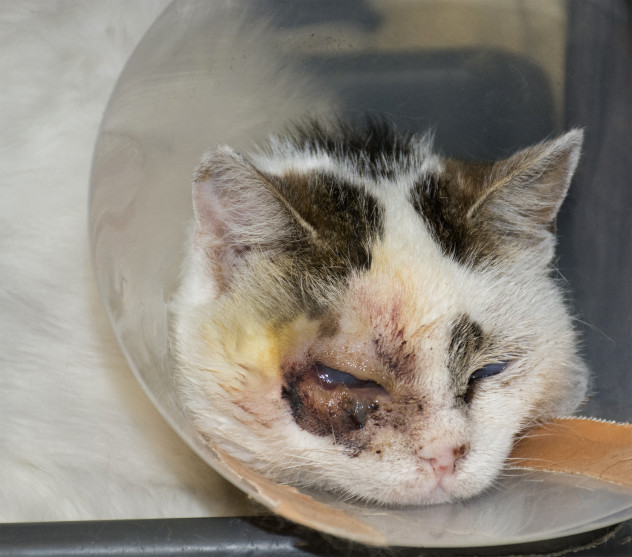 UPDATE | August 5, 2017
Galya is recovering perfectly! The surgery site is healing well, and it was determined that Galya's sight is not totally lost. The inflammation treatment managed to save some of her vision and our kitty can see shapes, shadows and moving objects. Galya continues to wait for her forever-family to find her.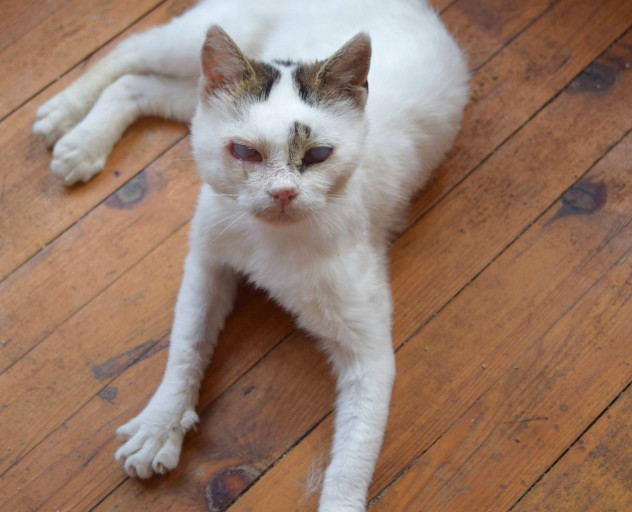 UPDATE | October 13, 2017
Galya goes for walks in the garden with her foster family. She is still waiting for her forever people to find her.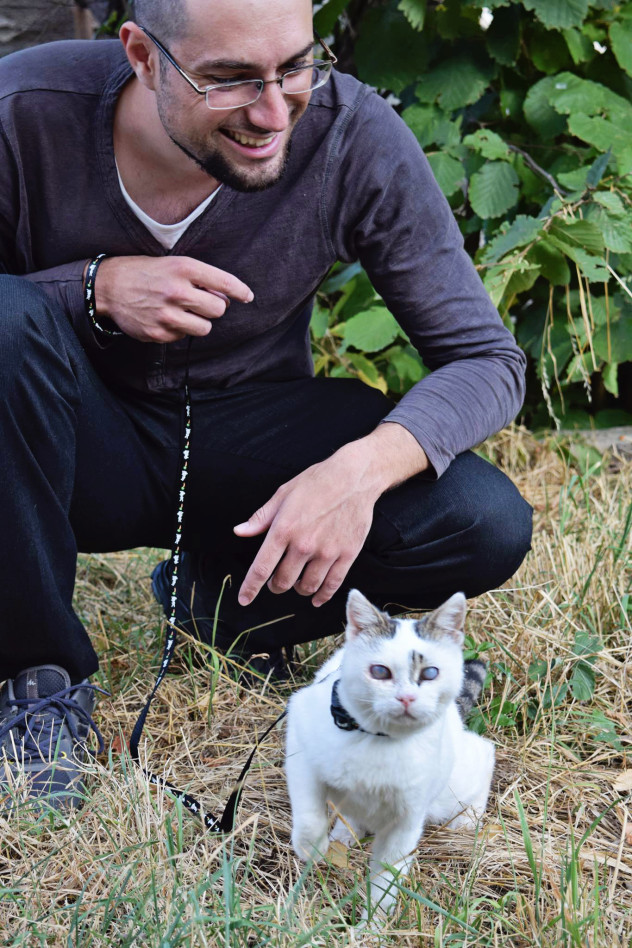 UPDATE | October 24, 2017
We have some bad news about Galya.
A few days ago Galya's foster family found a lump on her belly near a mammary gland so we immediately scheduled a checkup at the clinic. After a careful examination Galya's vet informed us that there is indeed a growth there, which must be surgically removed and sent for histological analysis. If it is found to be benign no more interventions will be needed; if it turns out it to be malignant a follow-up surgery will be required to remove the entire gland.
This surgery has to happen urgently and cannot be postponed.
During the examination the vet discovered another problem – the fistula in Galya's cheek has not closed completely. When we first rescued kitty she had a hole in the side of her mouth (first photo below). The best approach was to give it time and see if it heals naturally. The fistula has indeed closed up to some extent but not entirely, and even thought the remaining opening is relatively small, food gets trapped in it and it decays, causing excessive salivation and constant infections. We have no other choice now but to have the fistula surgically sutured closed.
The tooth directly under the fistula will have to be extracted during the operation as the vets fear it may be additionally irritating the site and may very well be the reason for the fistula not closing.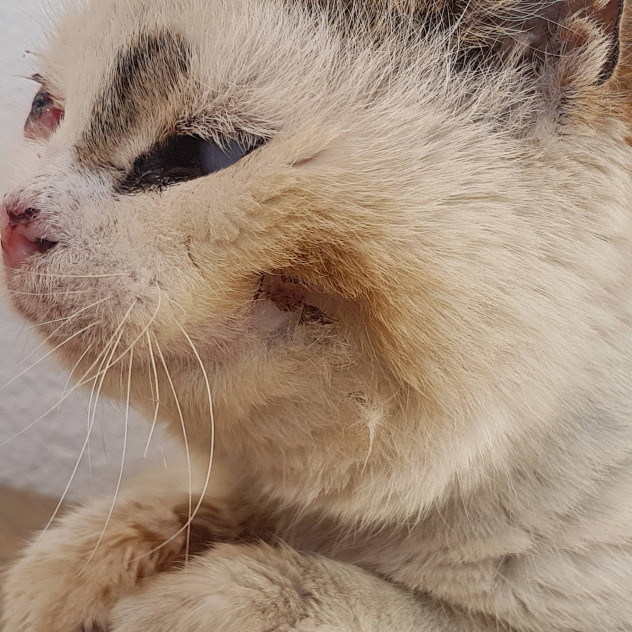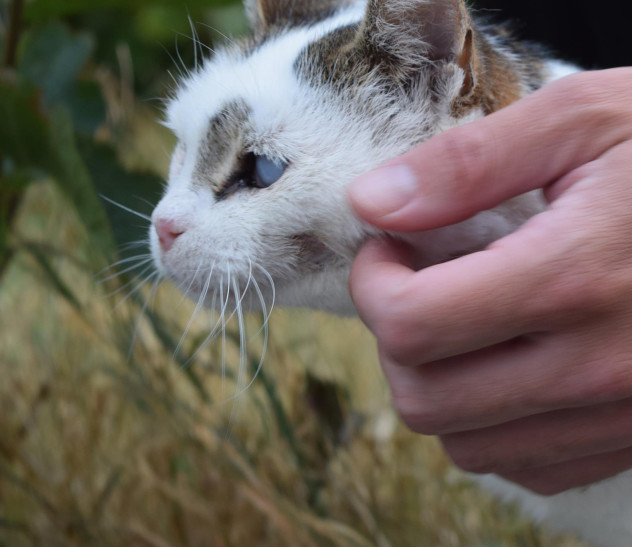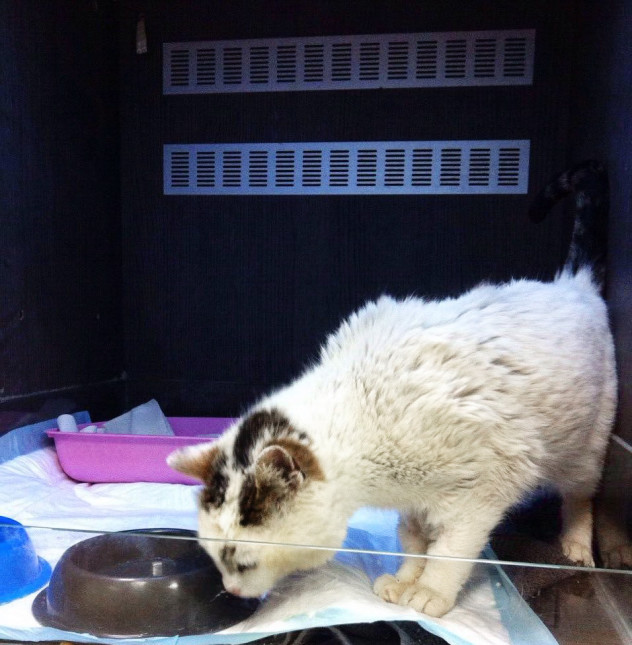 The surgical team will attempt to perform the three operations in one go so Galya is under anesthesia only once.  If there are no complications, if everything goes smoothly, and if the growth near Galya's mammary gland is isolated and not attached to other organs, the surgeons should succeed in achieving all three goals at once.
Once again we ask for your help so we can provide the care this sweet cat needs. The surgeries are scheduled for this week so if you can please donate now.
Donate with credit/debit card or Paypal in US dollars:

Donate with credit/debit card or Paypal in Euro:

Kitty Galya will need a great home — message our Facebook page or email adoptions@myletsadopt.com if you can provide it! She is in Bulgaria but transport to almost anywhere in the world can be arranged if the right home is found. Share the story, comment and stay with us for updates on Facebook: Let´s Adopt! Global.
* Let's Adopt! Global is a 501c3 charity and your donation is tax deductible. All funds will go towards the animal's care. Any remaining funds will go to support our other rescues and mission.