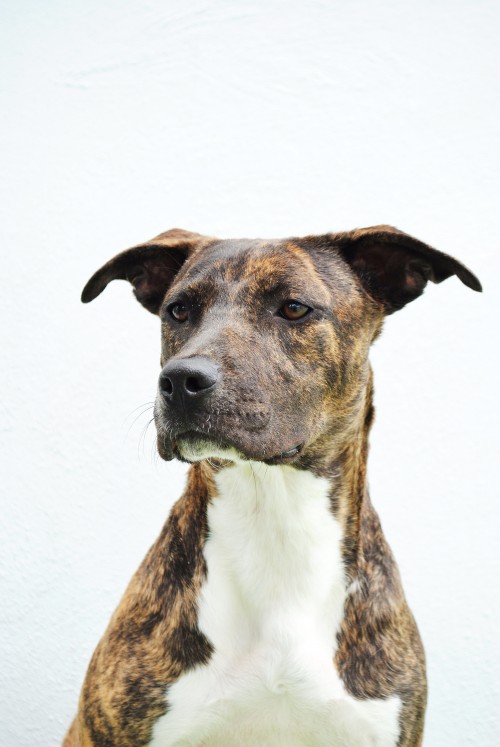 This is the story of two very special puppies, mix breed of a thousand races, part boxer, part greyhound, part terrier, who knows…
Mandy, together with her brother Nelson were abandoned by the side of a mediterranean road and were rescued by a passing by driver that literally had to swerve the car to avoid a collision with the two dazzled pups.
He stopped, called them and they rushed to him wagging their tails. This was the day that Nelson Mandela left us… in his honor, he called them Nelson and Mandy.
It was pretty obvious that the two pups, in the wrong hands, wouldn´t have the kind of life they deserved, so we decided to take them and instead of rush to find them homes while puppies, keep them during their first year of their life to give them the best possible socialisation, so important at that early state of their lives.
And so, we set out to turn Nelson and Mandy into two little perfect dogies…
Today is time to find the perfect home for Mandy… PLEASE WATCH THIS VIDEO… 
Mandy is the perfect girl, athletic, playful, funny, super sociable, kind and sharing. She has become fast friends with every dog she´s ever met. She has never met any cat…
Mandy is homeless…
What do you need to adopt Mandy?  It´s very simple… you need to meet our four adoption conditions.
1. You have another dog right now. This is the only way for us to be sure you understand the responsibility of having an animal. It´s also the way to ensure our dogs will have the company of another friend at home.
2. Mandy will have a family life. She will be part of a family, she won´t be a yard/garden dog… we want Mandy to have the life she deserves.
3. Mandy will be fed a biologically appropriate diet. A RAW Diet. To know more.. www.rawfed.com
4. No Smoking families / No smoking inside the home…
Let´s Adopt! Global DOES NOT apply an adoption fee and we cover all expenses of transport… but you have to meet our four conditions..
If you meet our four adoption conditions and you feel Mandy was destined to join your home please write to me: viktor@myletsadopt.com and tell me everything about you and your family…. We´ll take it from there.
PLEASE HELP US FIND THE PERFECT HOME FOR THE PERFECT DOG… MANDY… SHARE THIS POST ON FACEBOOK!!