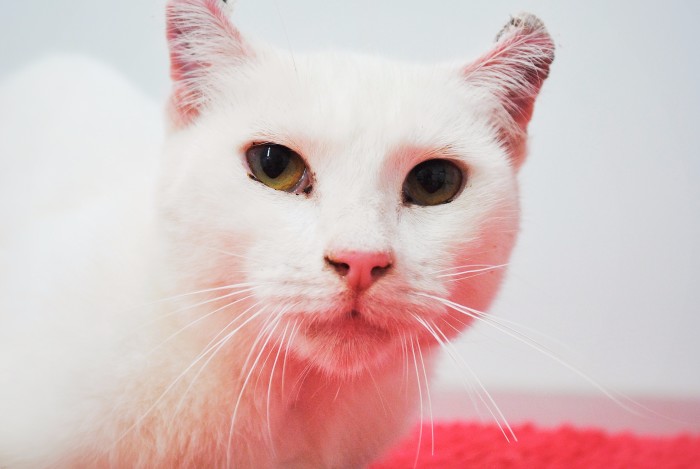 THIS IS OUR CHANCE TO HELP A KITTY BEAT CANCER… PLEASE CONTINUE READING THE STORY OF THIS INCREDIBLE CAT, AND AT THE END, HELP HIM BY SHARING ON FACEBOOK AND TWITTER!!!
Life can be cruel to a little cat abandoned on the streets.
First, a really bad fracture that noone bothered to treat left him with an impaired use of his left leg… and then, the scorching sun triggered a particularly cruel form of cancer on his white skin: Squamous Cell Carcinoma.
There is nothing we can do about his bone fracture, it´s an old one. White Moon is an incredible cat that learned to cope with the pain and learned to make good use of the leg. It´s the lesion on his ears that is life threatening. If left untreated it will spread through his ears onto his eyes, his nose, his soft tissue… Cancer will quite literally, EAT HIS FACE AND KILL HIM.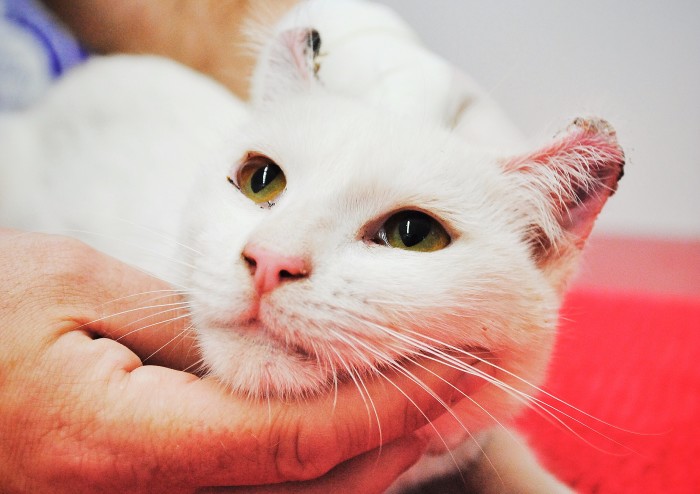 But we can stop this terrible disease from destroying White Moon… In order to stop the progression of the cancer White Moon will have to have surgery and have both his ears amputated. This will be no normal amputation, it´s essential that all possible traces of damaged tissue are eliminated during deep tissue surgery.
White Moon has been lucky… we arrived in time and cancer has not yet spread through other areas of his face and/or organs… but he needs to have surgery immediately to minimise the possibility of cancer spreading and swallowing him up. PLEASE WATCH THIS VIDEO… 

It may not seem like it but White Moon is an incredibly lucky cat, his life until now has been a terrible one, and his future was going to be nothing but horror, but with your help, he has a chance now.
PLEASE HELP US SAVE WHITE MOON… Help us operate him so that we can stop the progression of cancer and offer him a wonderful pain-free life.
PLEASE, if you can, DONATE, HELP US SAVE WHITE MOON…
Many thanks!
Viktor
JOIN US ON FACEBOOK ON: LET´S ADOPT GLOBAL!
P.S. WHITE MOON is a wonderful kitty that is going to need the most extraordinary family. In order to stop the damage of the sun he will need to be an indoor only cat… Are you that person? if so, please write to me to viktor@myletsadopt.com telling me all about you and your family of animals…
Open your home to White Moon.. Please write to me on viktor@myletsadopt.com