.
OH, NO, NOT ANOTHER BLIND KITTY..
.. is what we thought when we found out about Galya. We have rescued and adopted a number of blind cats and we know first hand that in the right home with the right family they can have a fantastic life. Still we feel great sadness when we come across blind cats as we feel it is a cat's birth right to live a life of chasing butterflies.
Seeing the photo of blind Galya helplessly roaming the streets we knew she was the next kitty we would be saving — and started organizing transport and admission to our clinic.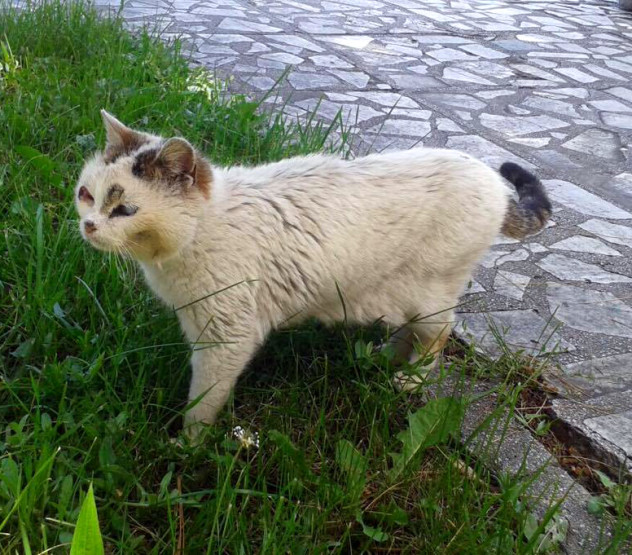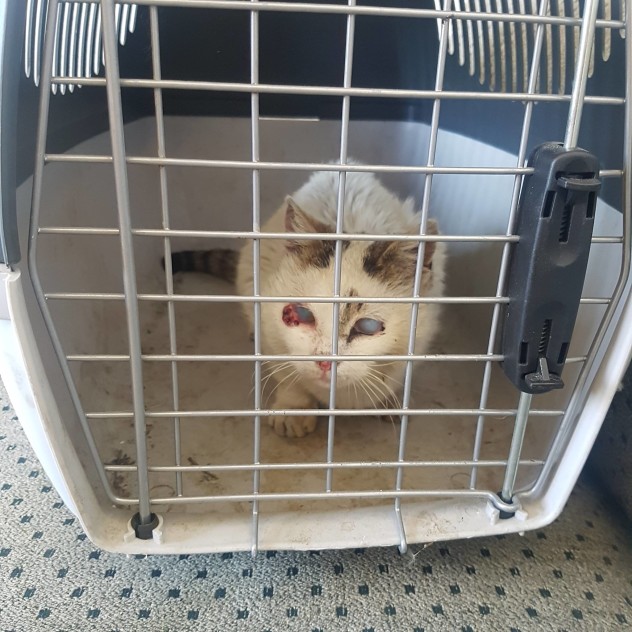 IN THE CLINIC
Kitty Galya arrived in our clinic early Saturday morning and a general examination with some standard tests discovered that she is in good overall health. Then kitty was seen by the senior ophthalmologist and we learnt that her corneas were severely infected and swollen, the corneal edema hindering a proper diagnosis. Kitty was started on anti inflammatory medication and it took a few days before we could learn more about the true state of her eyes.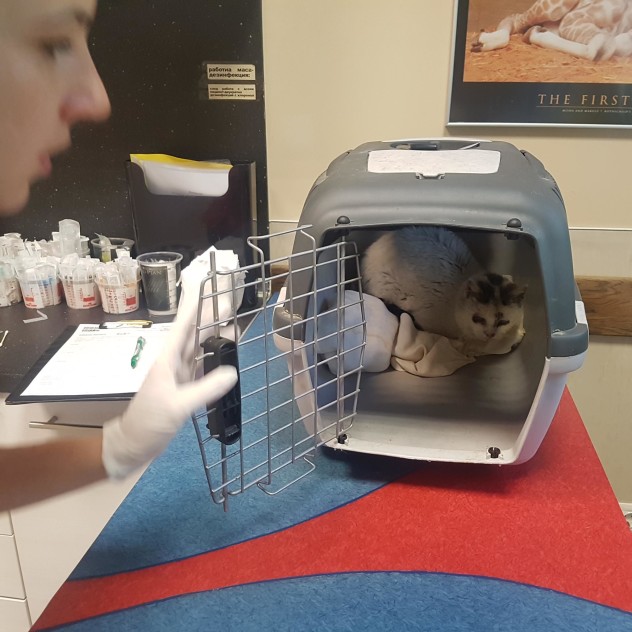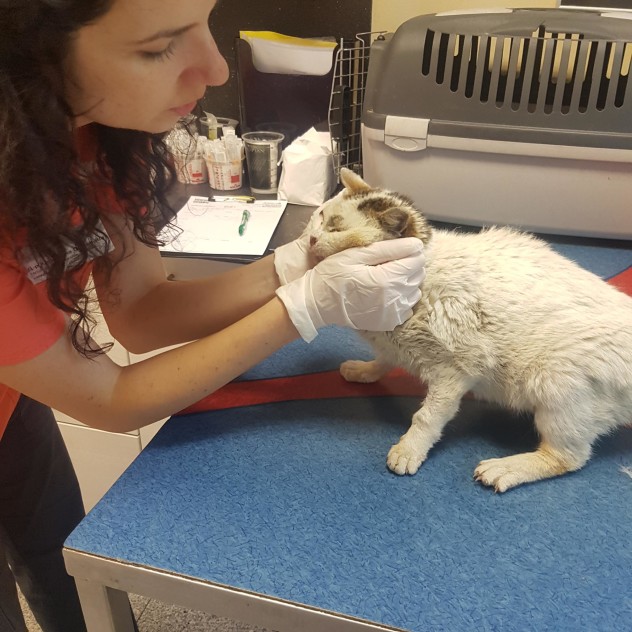 A HAPPY SURPRISE
When we first saw her we were convinced Galya was blind as we thought we recognized the characteristically opaque look of her eyes.
But we were wrong.
After a few days the anti inflammatory medication had started doing its work and Galya's vet reported that her corneas are beginning to clear and there was an observable reaction from the pupils! The vet is continuing the medication and has also run a herpes-virus test to ensure we are not dealing with that. If the results are negative and the corneas continue to clear, Galya has a chance of recovering her sight to some degree — a totally unexpected development!
NOT OUT OF THE WOODS YET
Unfortunately, Galya is not oud of the woods yet, as there is a worrying growth on the side of her one eye, which we are hoping is not a tumor. A sample has been stained to check for neoplasm, or abnormal tissue, and we are expecting results. The growth is large enough to interfere with the eyelid function, so regardless of what the test returns it will have to be surgically removed, and a new eyelid edge reconstructed.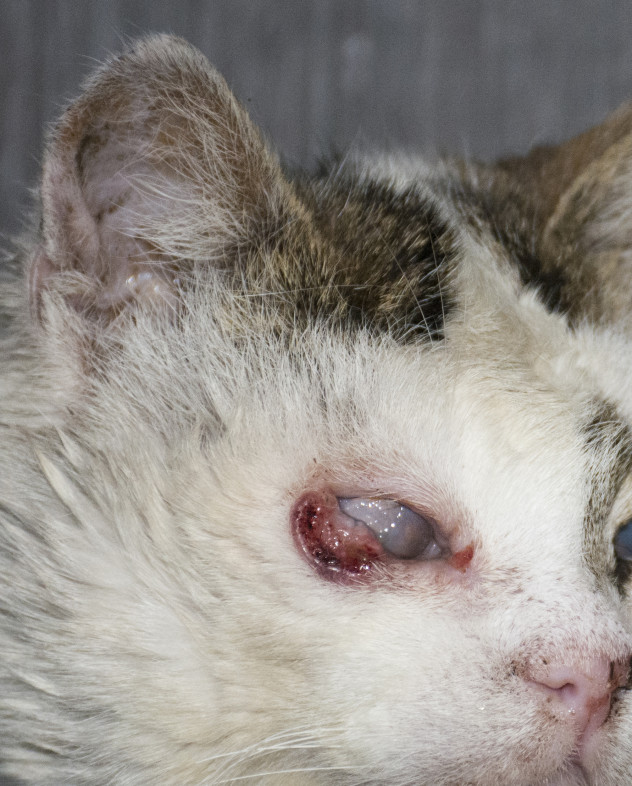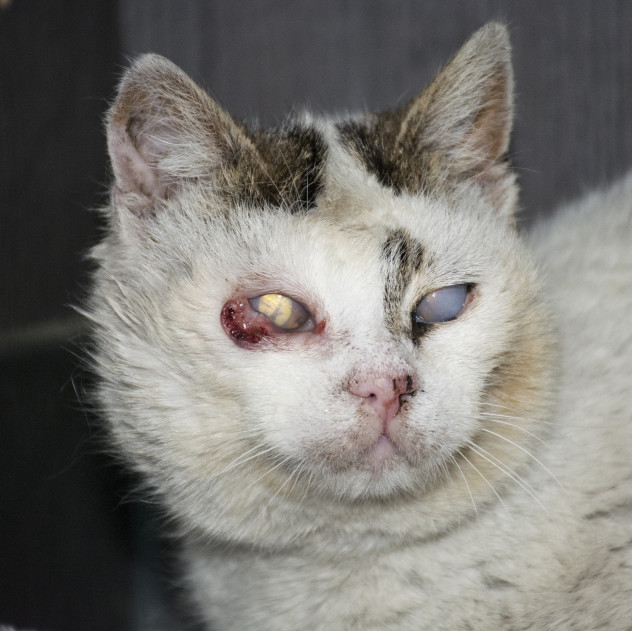 Please help Galya receive the care, treatment and surgery she needs by donating towards her medical fund — so one day she could chase butterflies!
Donate with credit or debit card in US dollars:

Donate with credit or debit in Euro:

Kitty Galya will need a great home — message our Facebook page or email adoptions@myletsadopt.com if you can provide it! She is in Bulgaria but transport to almost anywhere in the world can be arranged if the right home is found. Share the story, comment and stay with us for updates on Facebook: Let´s Adopt! Global.
* Let's Adopt! Global is a 501c3 charity and your donation is tax deductible. All funds will go towards the animal's care. Any remaining funds will go to support our other rescues and mission.