.
GOOD DAYS
Jet lived on the streets, slept where he could, ate what people threw at him. This is how his days went by and this is how he looked on a good day.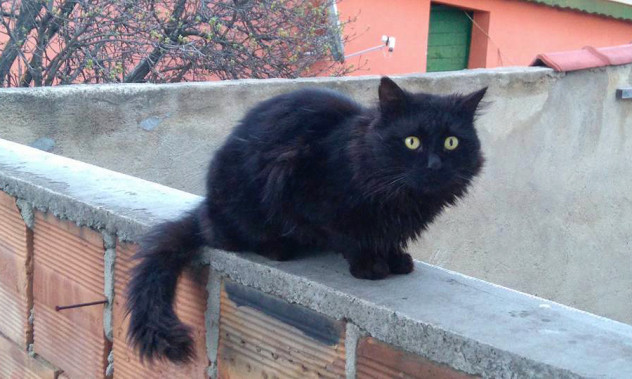 BAD DAY
And just like that, for no reason and with no mercy one day someone shot him — because he was a stray, fair game and regular target of small people with large rifles.
Crazed by pain innocent Jet hid away – nobody saw him neither on the garden fence he liked to lounge on, nor on the street he used to stroll along.
When he came back Jet was unable to walk. Please watch these two short videos and see the damage his legs suffered.
JET'S FUTURE
Jet was immediately whisked to a veterinary clinic, where examinations and Xrays showed the reason for his troubles – the pellets had shattered this kind, sweet and innocent stray's hind legs to pieces.
Xrays are boring but please look at the area circled in red. Yes, those shards are what is left of Jet's legs. Amidst the pieces you can also see two pellets.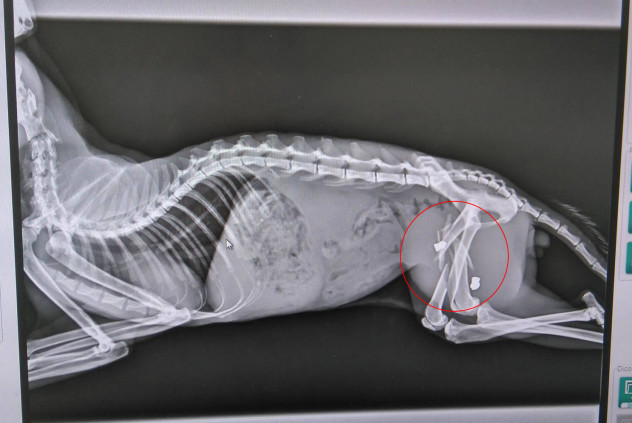 Luckily his spine is intact. When stray cats becomes target practice they are often left paralyzed or paraplegic from a pellet lodged in the spine. It is incredible but Jet avoided that fate and can walk if he gets urgent surgery.
The surgery Jet requires will implant plates in both legs, connecting all the pieces back together. Jet will need a lot of courage and strength but he can do it, he can walk again — if we can get him the operation.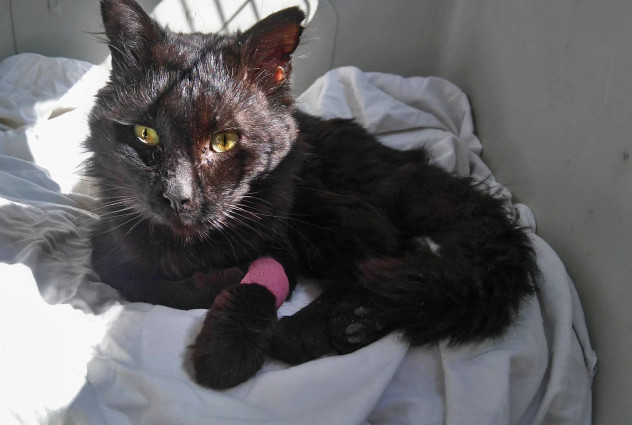 UPDATE | March 31, 2017
SUCCESS
Jet's surgery has been a success!
Special implants have been installed in his two hind legs, securing the shattered bone pieces back together. Jet will now have to spend the next three weeks almost immobilized so healing can begin. During those three weeks our brave boy will not be allowed to walk or jump and will have to remain hospitalized to ensure minimum movement. It will be hard on him but it is a must for the bone shards to start fusing back together.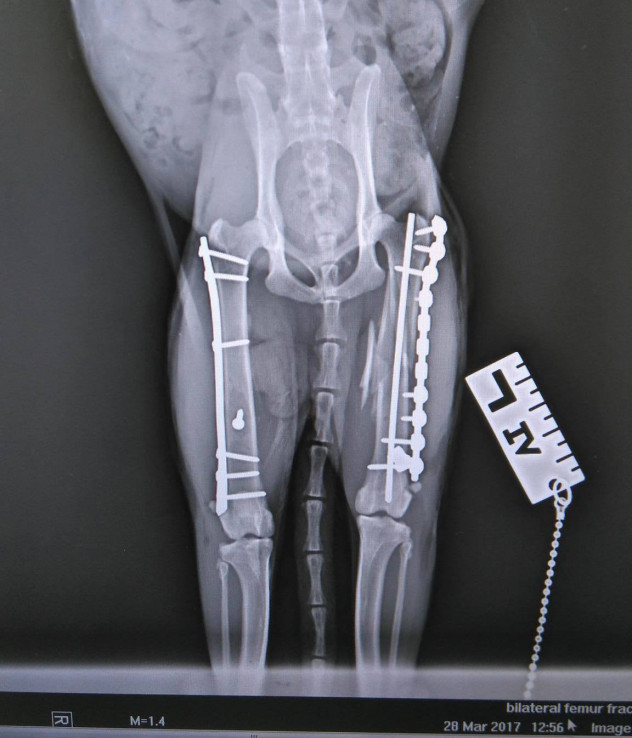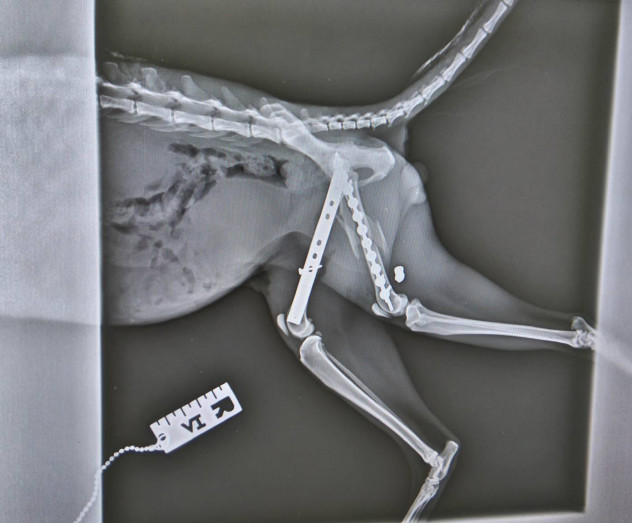 Our sweet boy is already trying to stand up on his own! He is feeling great and loves the visits of our volunteers, who make sure they spend a little time with him often and give him lots of head rubs and chin scratches.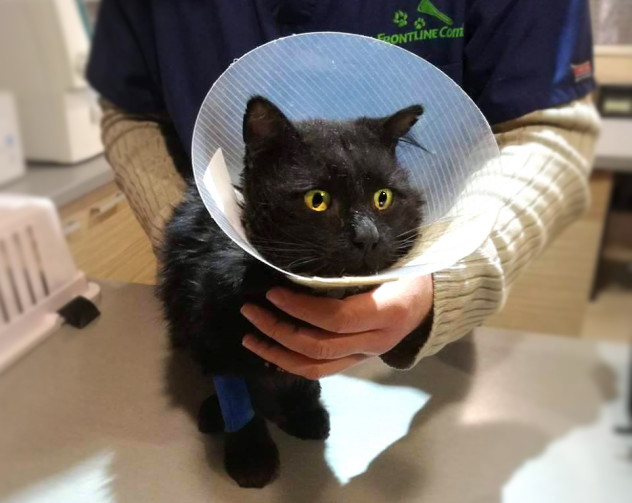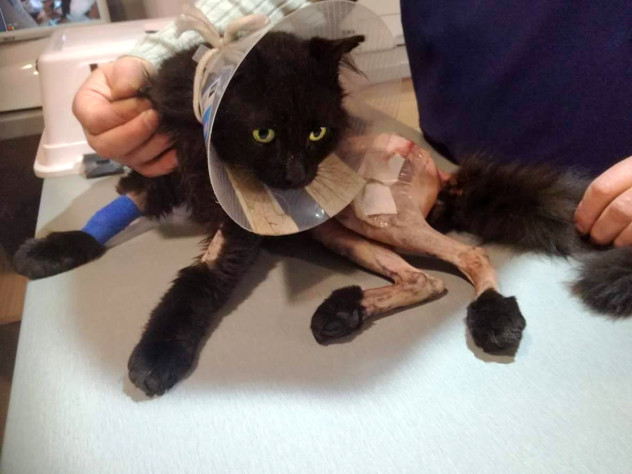 Please keep Jet in your thoughts and wish him courage. Stay with our Facebook page for updates.
UPDATE | April 18, 2017
Jet is ready to be released from the clinic! Jet has been hospitalized and almost immobilized since his surgery because his new legs needed the time to start healing and the bones fusing back together. We are now in the process of looking for a foster home where Jet will be able to learn to walk again and continue the healing process. Jet will be monitored by a vet team and his follow-up visit will be in two weeks, when we will know how the implants are doing.
We snapped this candid no-pants photo of him recently and are overjoyed to share it with the world, much to his dismay!

Thank you for standing by Jet and please continue walking along with him along the path of recovery.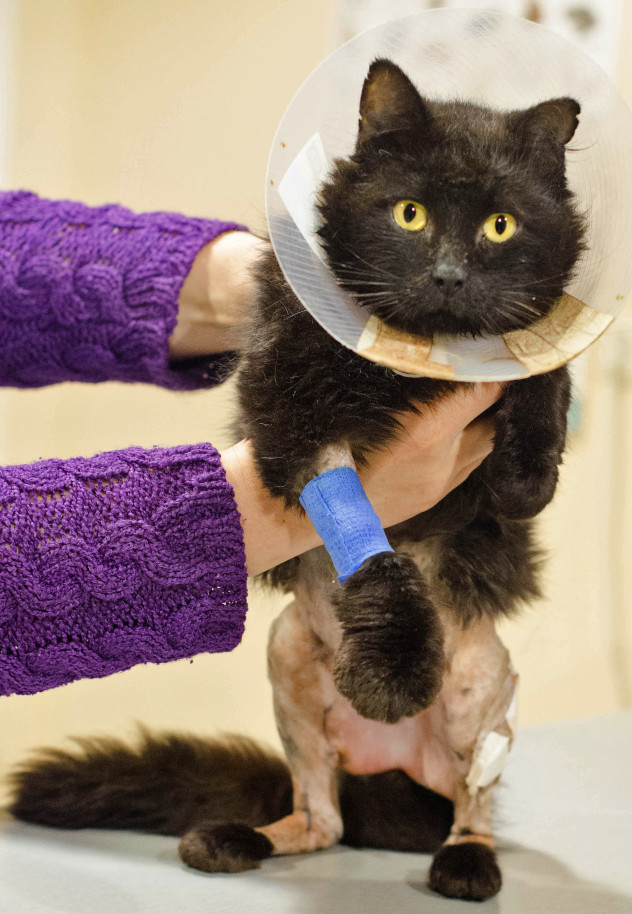 UPDATE | May, 2017
Jet has been discharged from the clinic and is in a lovely foster home! Isn't this the best news ever?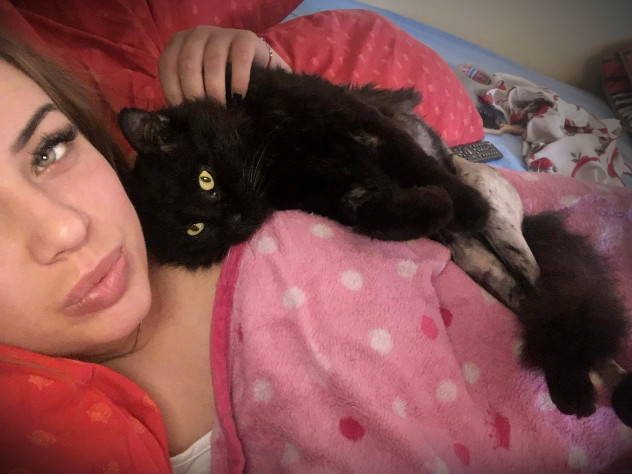 UPDATE | June 15, 2017
Baby Jet continues to recover in his foster home — and is no longer bare-bottomed! Jet has had a follow-up appointment with the senior orthopedic surgeon of our clinic, and is scheduled for a series of Xrays next week, which will examine the implants in his legs. Jet gave us a scare when he developed bronchitis last month, for which treatment was immediately prescribed and he is being monitored.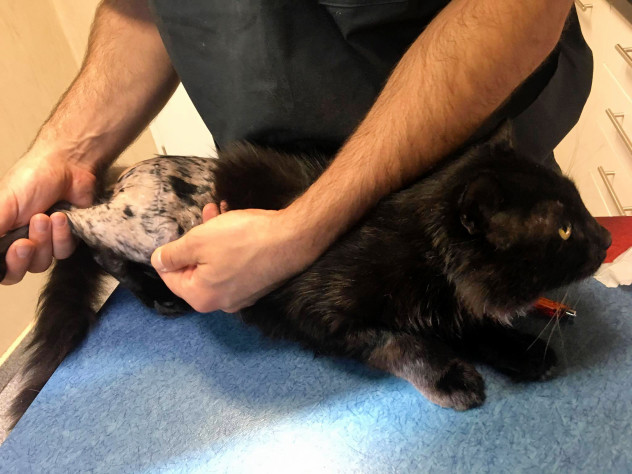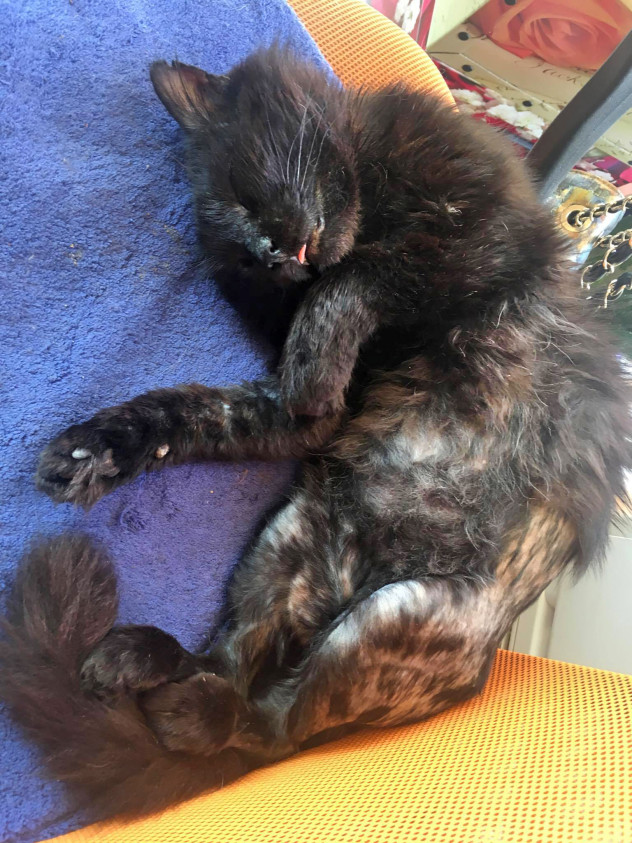 UPDATE | July 28, 2017
Sweet baby Jet has hit a stumbling block.
Having been battling pneumonia for the last couple of months, last week he suddenly deteriorated, stopped eating and drinking and was urgently hospitalized. After days in the clinic on two intravenous antibiotics, he has just been released back to his foster home but remains under observation.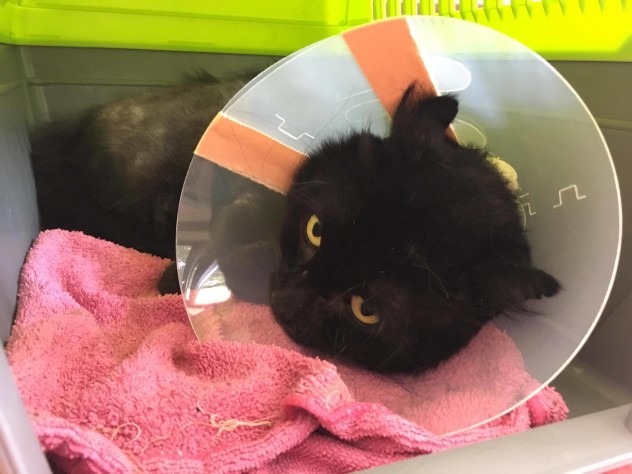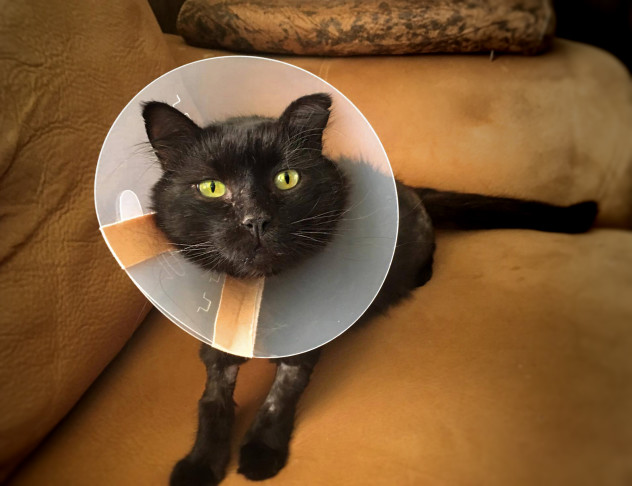 UPDATE | August 11, 2017
Two steps forward and one step back for Jet.
Jet is dancing a complex dance with trouble.. First he fought pneumonia and was urgently hospitalized, spending a week in the clinic. Now our baby has come down with a skin condition, which most likely overpowered him because of the prolonged antibiotics treatment weakening his immune system.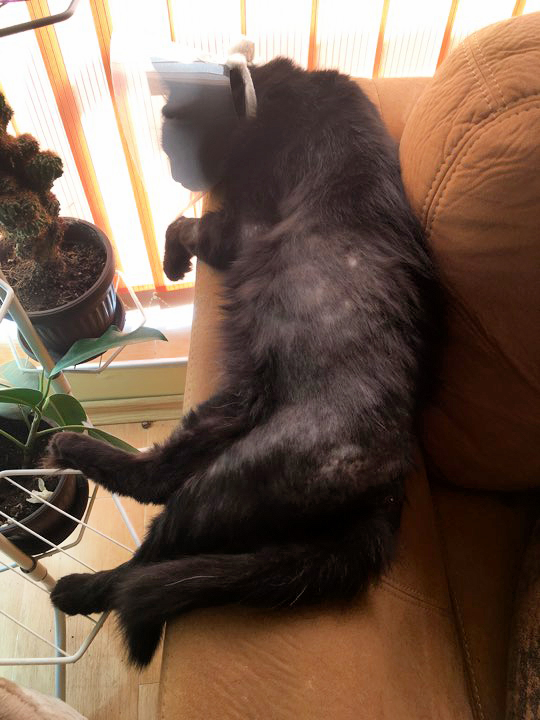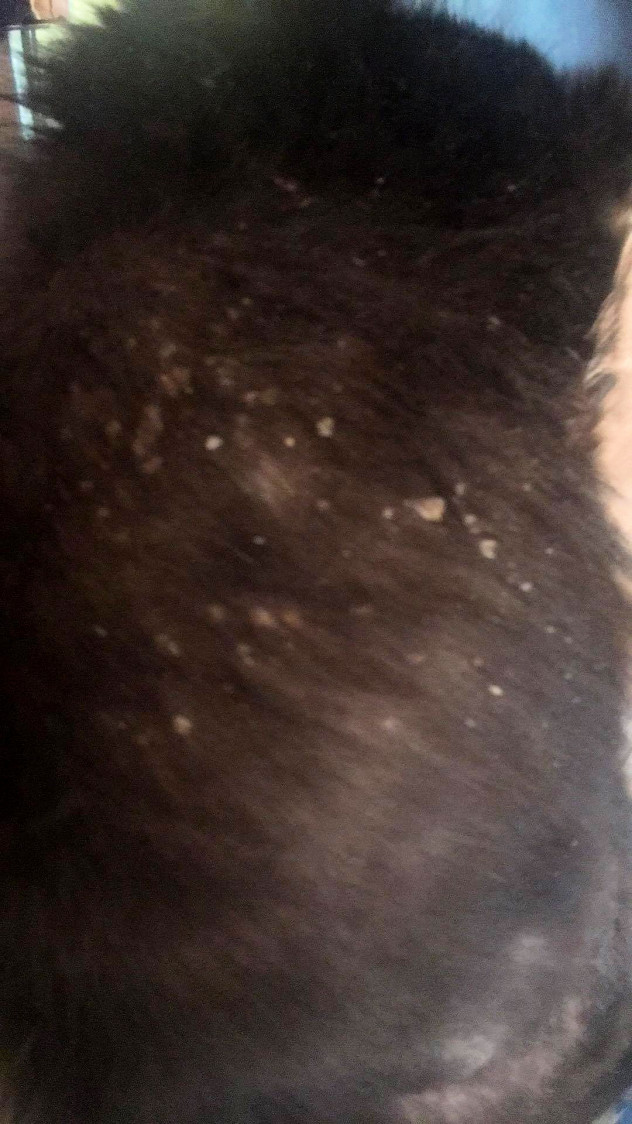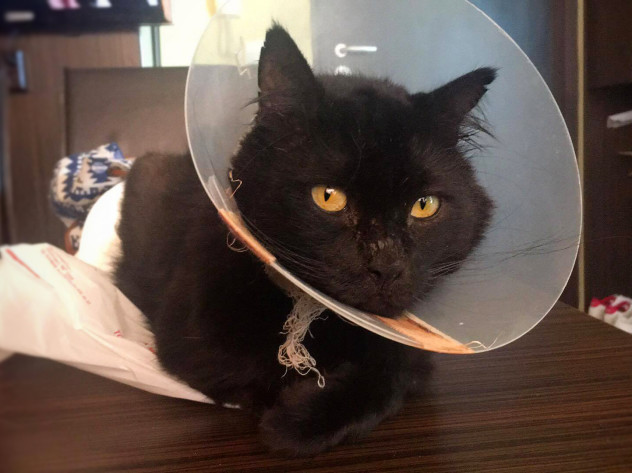 UPDATE | September 4, 2017
After saving Jet's shot and shattered legs, we have had to keep on rescuing him as he went through pneumonia, antibiotic intolerance, emergency hospitalization and last but not least — he developed what seemed to be a resistant skin condition. Jet would bite and scratch his lower back and behind, causing red bloody gashes and flaking skin, which did not respond to treatment and returned negative fungus test results. Jet's vet team has now consulted the senior orthopedic surgeon and new Xrays of the implants securing the multiple fractures of his legs were done.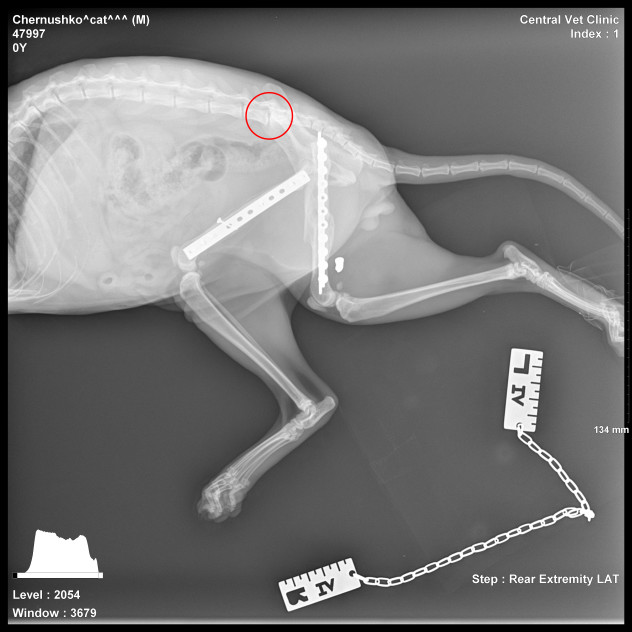 After much discussing and more examinations the orthopedic surgeon has recommended that the implants are removed. In some cases the plates can remain attached to the bones and never cause any issues, but it is his opinion that Jet's body is not accepting them, and unfortunately this means more surgery.
The Xray also revealed a worrisome observation in Jet's lower back, that may also require complicated back surgery later on. Vertebral exostoses — little spurs growing on the edges of bones — have formed on one pair of vertebrae (circled in red below). An MRI may have to be done in order to investigate for additional disk protrusion into the spinal canal.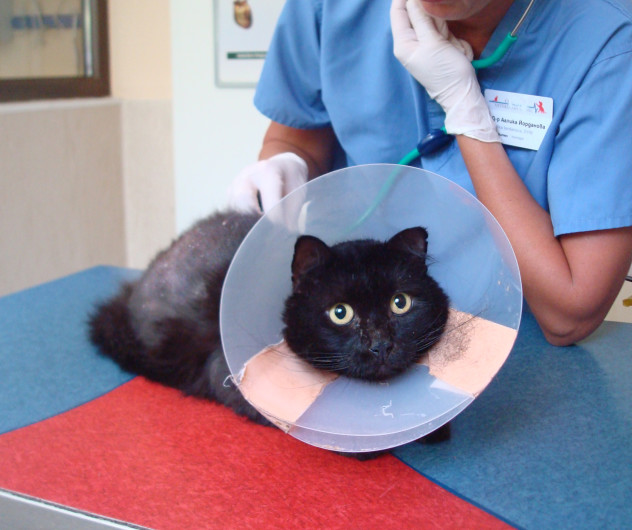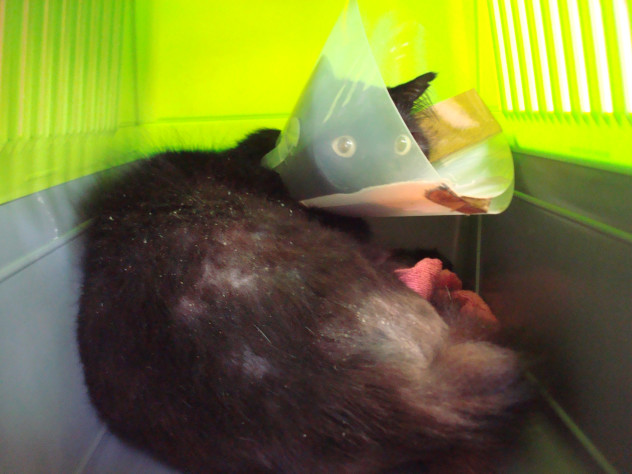 UPDATE | September 14, 2017
Jet's implants have now been removed. Our boy is back in his foster home after the unexpected surgery, and is catching his breath in the company of foster friend Sasha.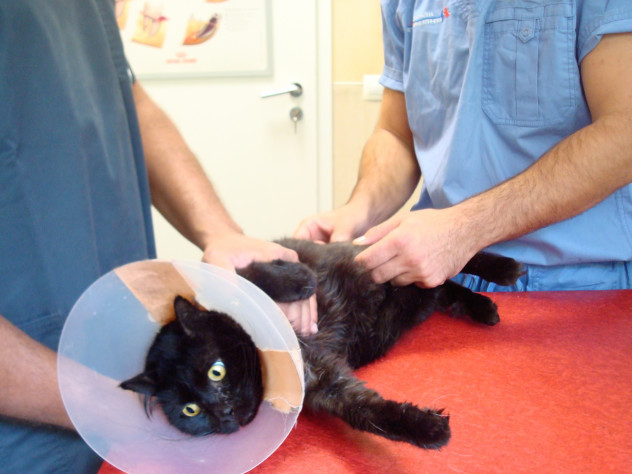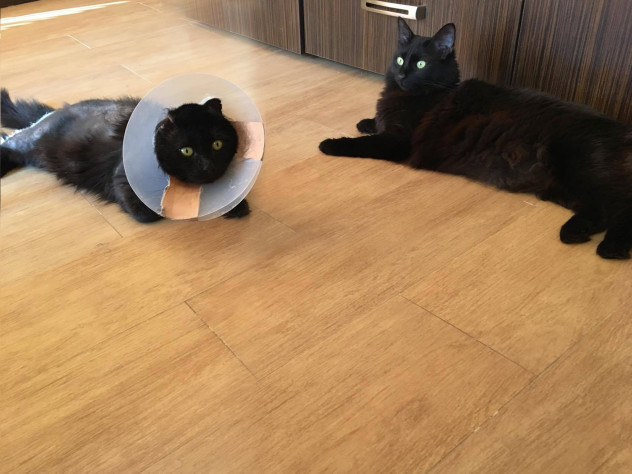 UPDATE | December 8, 2017
Since our last update on Jet his back-related condition worsened. A CT scan performed last week has now confirmed that Jet has a herniated disk in his lower back, which is causing constant severe pain.
Upon receiving the results from the scan the senior orthopedic surgeon of our clinic immediately scheduled spinal surgery for Jet. The operation will take place tomorrow and depending on what the surgical team discovers will either release the pressure on the spinal cord by removing the disk, or stabilizing implants will also be installed if there is instability at the site and consequent risk of recurrence.
Tomorrow morning Jet's foster is taking him to the clinic for the surgery, while using every possible minute to give him cuddles and hugs as she worries over the outcome of such a complicated procedure together with us.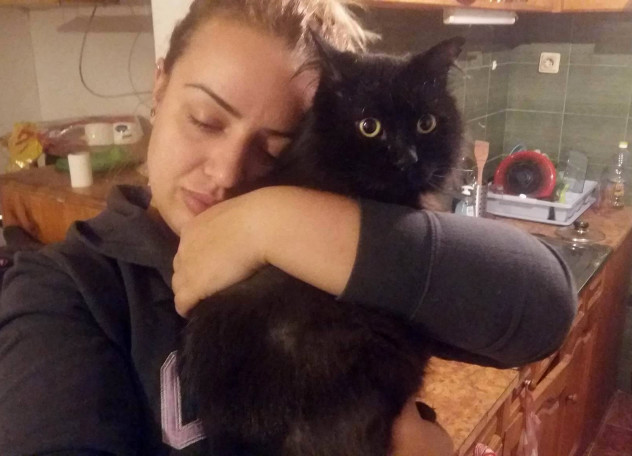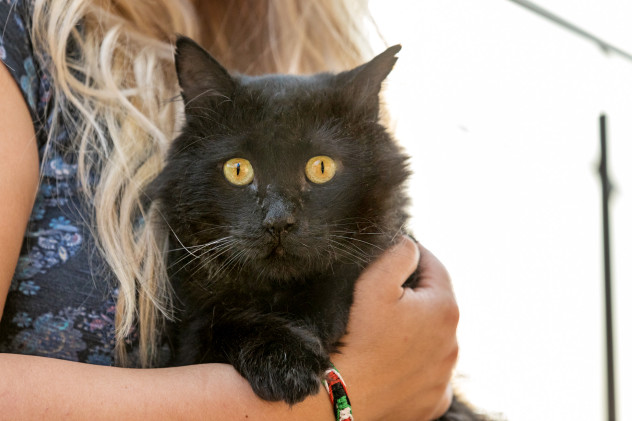 We are not prepared for this surgery as we expected to have some time to raise funds. Nevertheless we are proceeding with what our boy needs in the hope that we will be able to pay for it. Jet is one of the sweetest, kindest, and calmest cats we have ever come across and we are determined to continue helping him through this troublesome time.
Please donate so Jet can receive the spinal surgery he needs.
Donate with credit/debit card or Paypal: in USD:

Donate with credit/debit card or Paypal: in EUR:

Jet will need a great home — message our Facebook page or email adoptions@myletsadopt.com if you can provide it! He is in Bulgaria but transport to almost anywhere in the world can be arranged if the right home is found. Share his story, comment and stay with us for updates on Facebook: Let´s Adopt! Global.
* Let's Adopt! Global is a 501c3 charity and your donation is tax deductible. All funds will go towards the animal's care. Any remaining funds will go to support our other rescues and mission.