.
GOOD DAYS
Jet lived on the streets, slept where he could, ate what people threw at him. This is how his days went by and this is how he looked on a good day.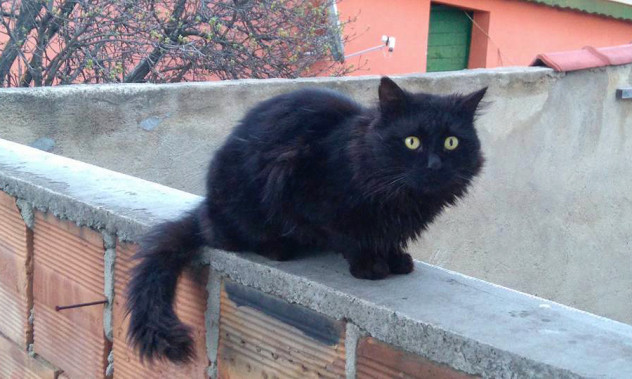 BAD DAY
And just like that, for no reason and with no mercy one day someone shot him — because he was a stray, fair game and regular target of small people with large rifles.
Crazed by pain innocent Jet hid away – nobody saw him neither on the garden fence he liked to lounge on, nor on the street he used to stroll along.
When he came back Jet was unable to walk. Please watch these two short videos and see the damage his legs suffered.
JET'S FUTURE
Jet was immediately whisked to a veterinary clinic, where examinations and Xrays showed the reason for his troubles – the pellets had shattered this kind, sweet and innocent stray's hind legs to pieces.
Xrays are boring but please look at the area circled in red. Yes, those shards are what is left of Jet's legs. Amidst the pieces you can also see two pellets.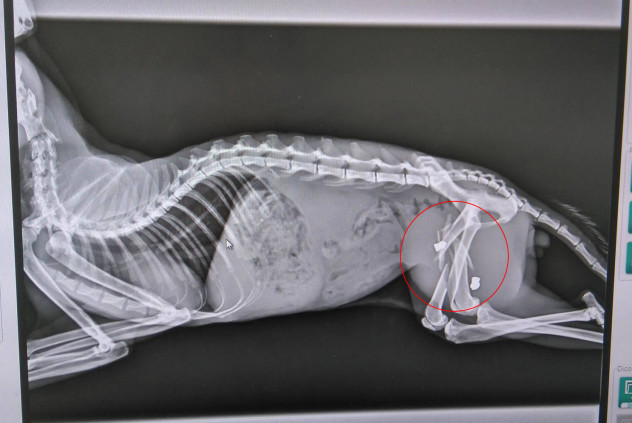 Luckily his spine is intact. When stray cats becomes target practice they are often left paralyzed or paraplegic from a pellet lodged in the spine. It is incredible but Jet avoided that fate and can walk if he gets urgent surgery.
The surgery Jet requires will implant plates in both legs, connecting all the pieces back together. Jet will need a lot of courage and strength but he can do it, he can walk again — if we can get him the operation.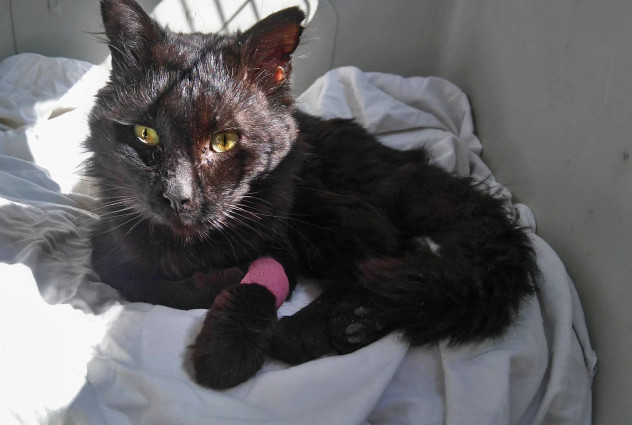 UPDATE | March 31, 2017
SUCCESS
Jet's surgery has been a success!
Special implants have been installed in his two hind legs, securing the shattered bone pieces back together. Jet will now have to spend the next three weeks almost immobilized so healing can begin. During those three weeks our brave boy will not be allowed to walk or jump and will have to remain hospitalized to ensure minimum movement. It will be hard on him but it is a must for the bone shards to start fusing back together.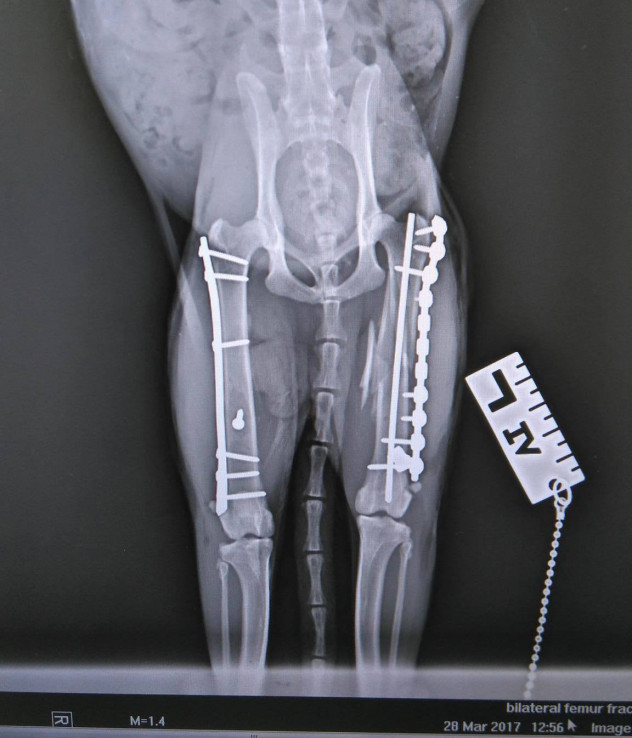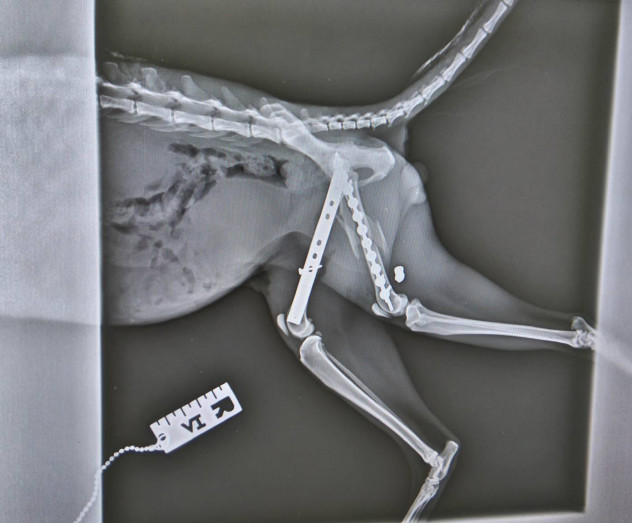 Our sweet boy is already trying to stand up on his own! He is feeling great and loves the visits of our volunteers, who make sure they spend a little time with him often and give him lots of head rubs and chin scratches.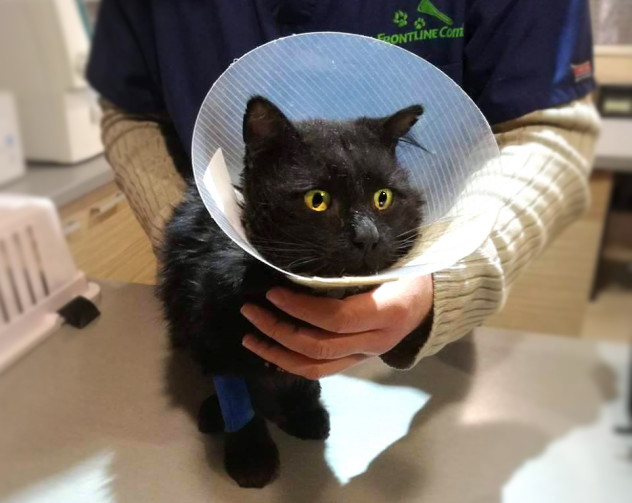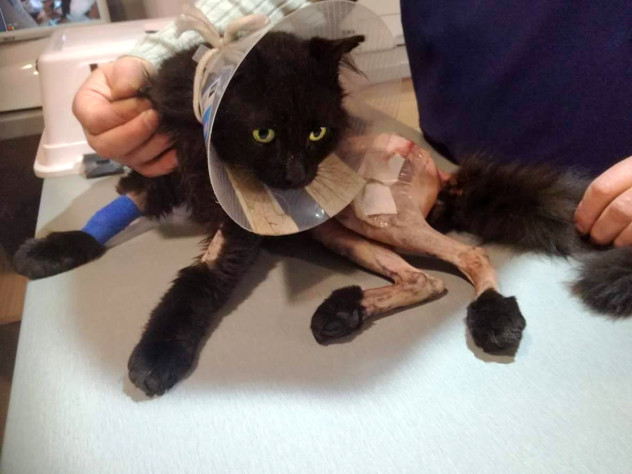 Please keep Jet in your thoughts and wish him courage. Stay with our Facebook page for updates.
UPDATE | April 18, 2017
Jet is ready to be released from the clinic! Jet has been hospitalized and almost immobilized since his surgery because his new legs needed the time to start healing and the bones fusing back together. We are now in the process of looking for a foster home where Jet will be able to learn to walk again and continue the healing process. Jet will be monitored by a vet team and his follow-up visit will be in two weeks, when we will know how the implants are doing.
We snapped this candid no-pants photo of him recently and are overjoyed to share it with the world, much to his dismay!

Thank you for standing by Jet and please continue walking along with him along the path of recovery.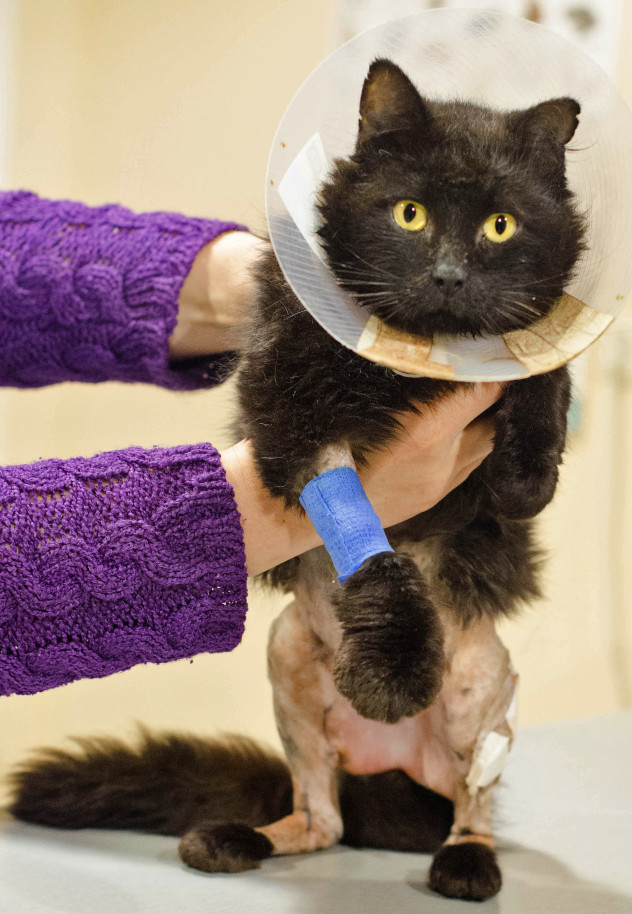 ---
We are still accepting help with Jet's medical expenses

.

Donate in US dollars:

Donate in Euro: