.
IMPRISONED
Bianca is a purebred Samoyed, but even that fact could not protect her when her owners got bored with her. Having decided that they did not want a dog any longer, Bianca's people simply gave her away to anyone that would take her. Her reluctant new owners, in turn, did not want a dog to start off with — so they stuck Bianca in a cage outside and forgot about her.
Bianca spent the next year locked up in that cage.
Sometime she'd get food, sometimes water. Not often the two at the same time. Nothing but the rain cleaned the bare space she occupied, so she often slept in her own feces. She never ever left the cage. The unforgiving Indonesian sun shone down on Bianca, baking her in her thick fur meant for cold climates. Her skin became infected, and her once beautiful coat started falling off in clumps.
Still, Bianca endured.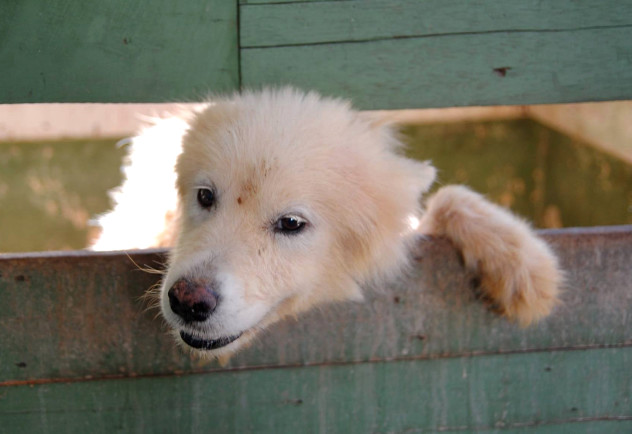 RESCUED
This is when our Indonesian volunteers learnt about her and rushed out to the rescue. Thankfully they succeeded in removing her from her "home" and now Bianca is with us. She is emaciated and her skin is in a terrible state — infected, inflamed, flaking, itchy.
Samoyeds have double coats. They need daily grooming as well as professional grooming. They must also be protected from the sun because they can get sunburn. Yet Bianca spent a year under open skies, slowly stewing in her own fur, and then slowly burning in the places she had lost her coat.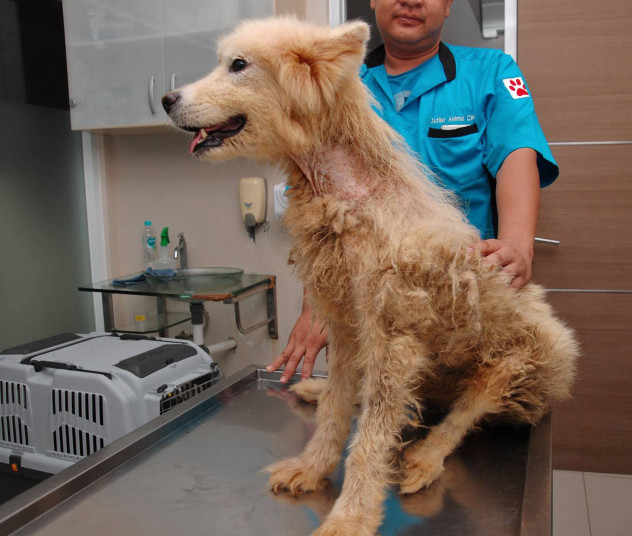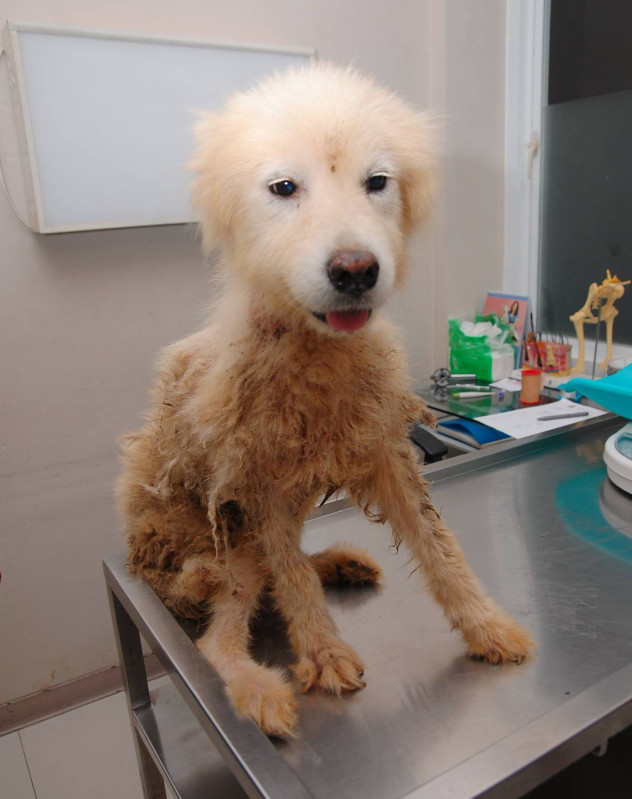 Everything she's been through did not change Bianca's sweet nature.
During the rescue she never barked at our volunteers and wagged her tail the whole time. She is kind, gentle and loving, and it is beyond us to comprehend how animals are able to keep their spirits high in such unbelievable circumstances.
Join us tomorrow as we share more about Bianca's medical condition and see how skinny she actually is — weighing only 9 kg at 2 years of age — after the vet team has shaved off her entire matted coat.
Today we are changing Bianca's world. Become a part of this change, help us restore her to the beautiful dog she is meant to be.
Donate in US dollars:

Donate in Euro: