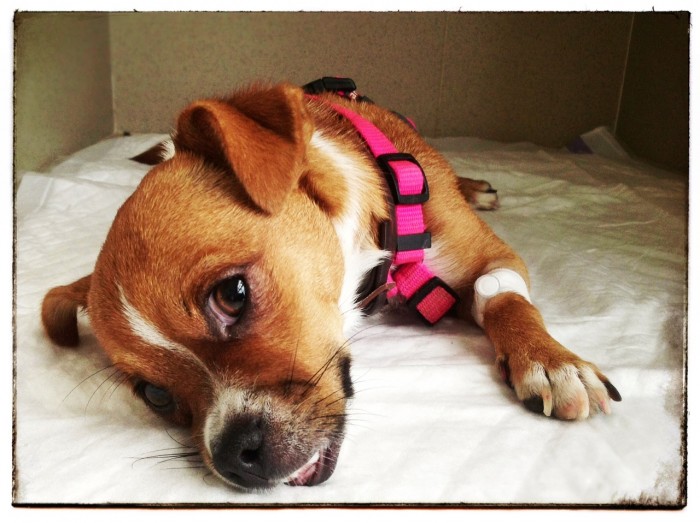 UPDATE 23 september
TRAGEDY STRIKES AGAIN!!
We never imagined the nightmare would happen again…. but it is happening.
Nine months ago Baby came to us in CRITICAL condition. She was about to die due to the obstruction created inside her stomach by a foreign object. We did all the necessary tests until we were totally sure of what it was. It was a pacifier. A harmless object to calm small babies was about to kill her.
We operated her, extracted the object and saved her life. She recovered well and went to a foster home that has taken wonderful care of her…
Until today…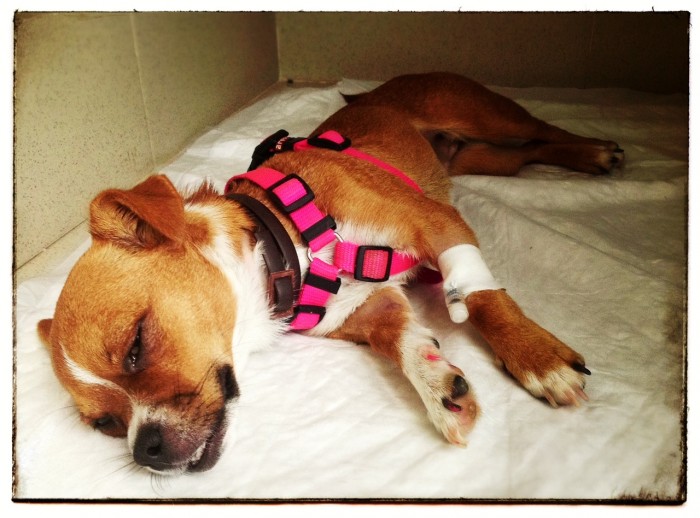 We received an urgent call this morning. Baby was again extremely ill, and once again it was suspected she had swallowed a foreign object.
We can see an object in an ultrasound, and although we can't figure out exactly what it is, we know it is there. Her digestive system is shot, nothing is coming out any longer and it's impossible for her to eat without throwing up a fetid semi-digested mass that is not able to work it's way down.
Baby is going to die until we manage to operate her urgently and extract the new object.
There is absolutely no time to waste. We are going to allow 24 hours to stabilize her and get her ready for the procedure.
WE SAVED HER ONCE.. WE CAN DO IT AGAIN..
PLEASE give us a hand saving Baby again and DONATE towards her urgent operation. We really don't have a minute to waste…
Many thanks!!
Viktor
—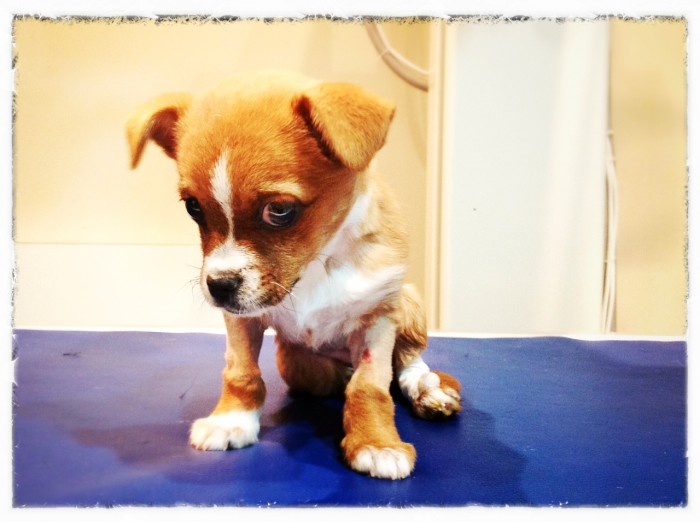 Look at this… the saddest and cutest little puppy sitting on top of the Xray table wondering how the heck did she end up there…
Her name is Baby and behind those sad looks hides a lion ready to eat the world.. don't believe me? read on..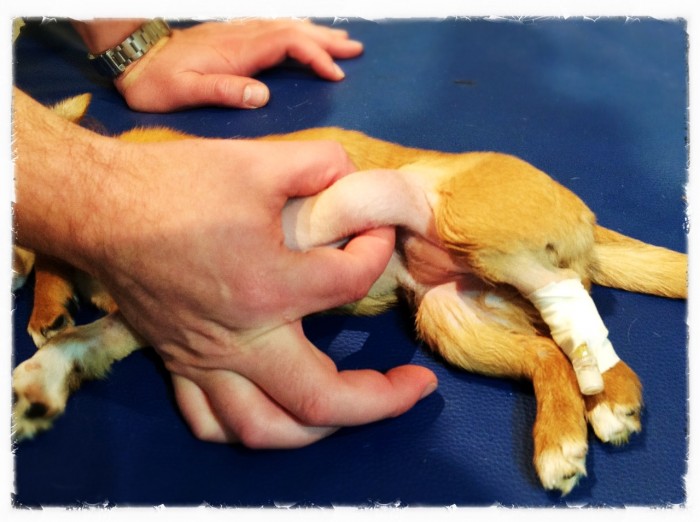 She was brought to us this morning in a state of extreme weakness.
Apparently she hasn't eaten for days, and when she tries to eat she vomits everything after a few hours..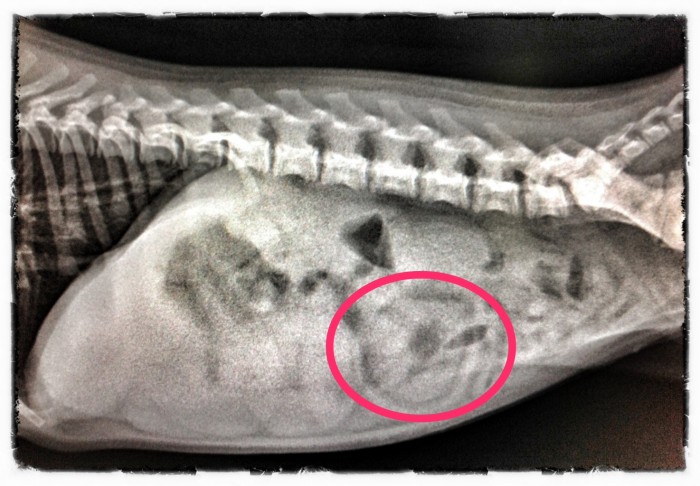 We've done an Xray and we see a large object inside her intestines. Looks like a rubber ball, or a piece of plastic of some sort…
Are there any kids in the house?
Yes…
How old?
2 year old…
A pacifier… the little monster has swallowed a pacifier!!!!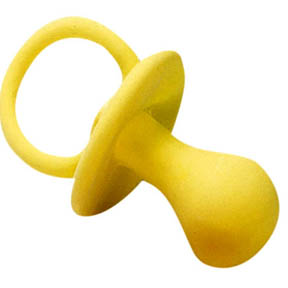 We must get that thing out of there immediately !!. It's too far down the intestinal track to be able to take it out with an endoscopy. We must open Baby and get it out…
Baby has been administered IV and nutrients to get her a bit stronger before her operation tomorrow morning. That thing must be taken out of there immediately or we could be facing a high probability of damage to the intestine and a peritonitis that would likely kill her.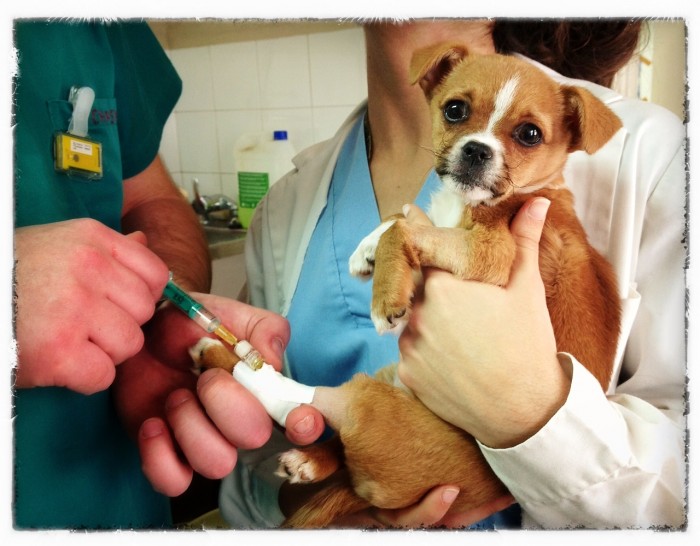 The operation is scheduled for Saturday morning, so it's easy to see why we are in a hurry.
Please look at Baby, the sweetest and craziest little puppy. Could a plastic pacifier kill a dog? Yes… but with your help it won't happen this time.
Please, if you can, help Baby and contribute to her Chipin so that we can perform this surgery tomorrow.
*As always, after treatment any funds left over will be used for the treatment of all our other animals under our care.
If you are using an Apple Computer please feel free to help Saving Baby by clicking HERE
Many thanks!!!
Viktor
*As always, any funds left over (we rarely have funds left over) will go into our Simba Fund to help other animals in need that won't be promoted.
==
UPDATE January 5
The pacifier is out!
—-
UPDATE Jan 6
Baby woke up very well from the operation and has had a good day recovering at the clinic. We have called her fosters, she can go home!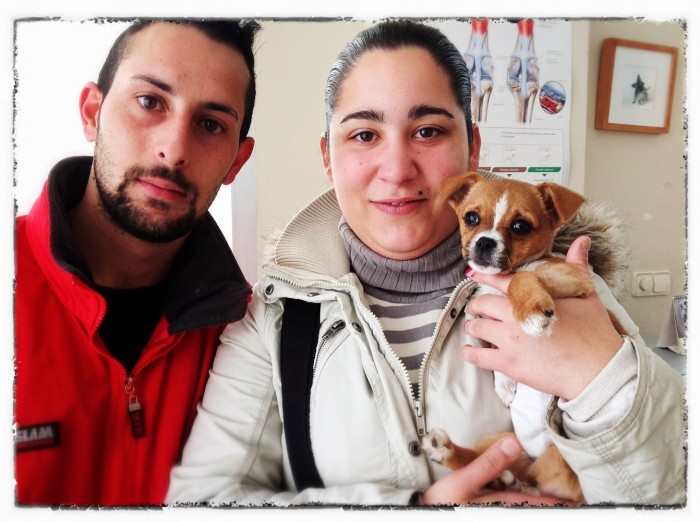 The operation took place, everything has gone well.. it was an emergency and we saved her life…
—