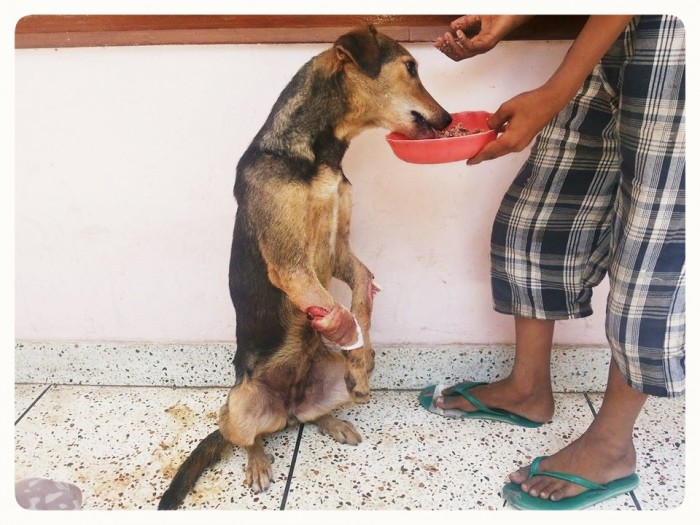 Madrid-New Delhi-Madrid: 9.028 miles (14.528 kms)
It´s been a week now since I first saw this image. Standing on her two hind legs, a dog is given some food by some kids in India. Both her front legs are broken, open fractures. Her bones are sticking out of the bandages trying in vain to hold her legs together.
Tara, was brutally attacked by a thug with a steel bar, about a month ago and left crying for help on the streets of Patiala, Punjab, India.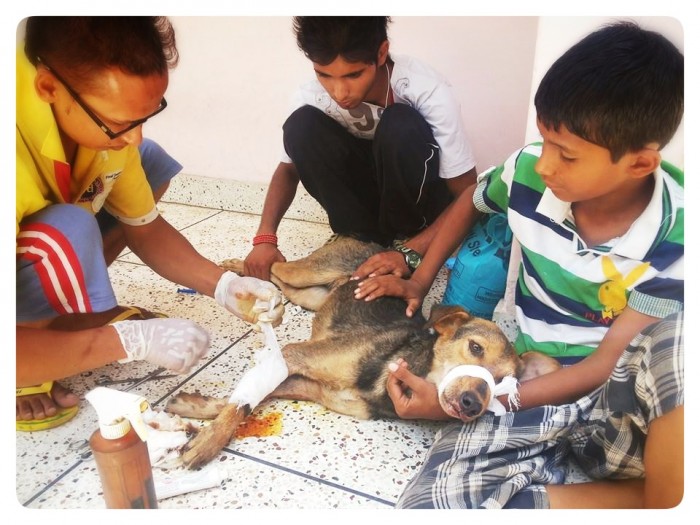 Anyone would be overwhelmed by shock and emotion when imagining her pain. Despite their best efforts infection has spread through the tissue and bone. I knew that, despite the incredible efforts of her carers, the Guardians of the Voiceless, Tara would be condemned to a double frontal amputation and a life on the streets crawling on her chest as a handicapped dog.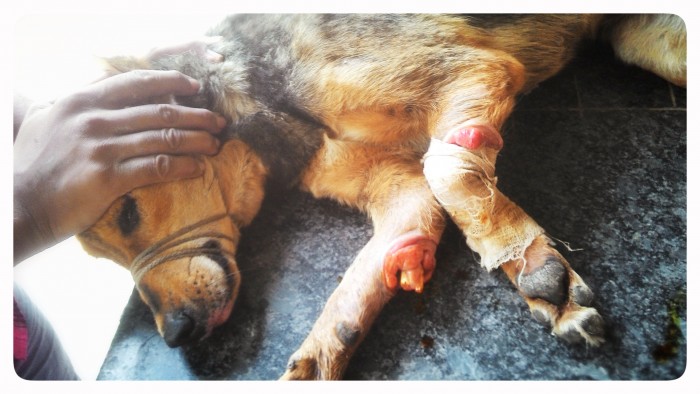 I have been following their work for months now, armed with barely more than the purity of their spirits they are always there, doing life saving treatments to absolutely destitute animals. It´s awe inspiring. This amazing group of people embodies the spirit of Let´s Adopt! and Tara was more than they could handle.
We had to save her.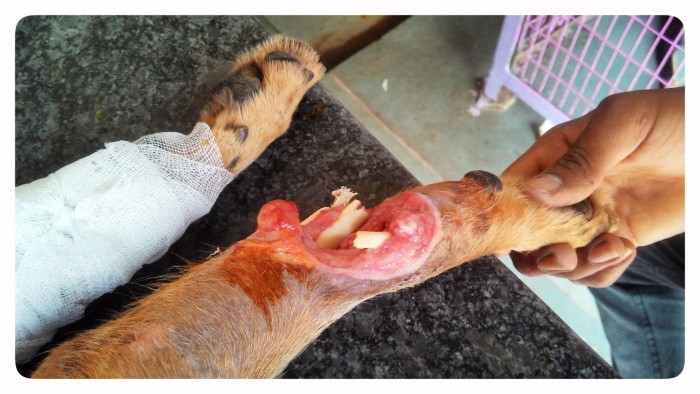 I asked our friends in Delhi to speak to them and tell them we would help her with Tara. Their response was incredible… total joy!. They knew Tara had absolutely no chance on the streets and they welcomed our help.
Tara was immediately driven to Delhi and we started her evacuation procedures.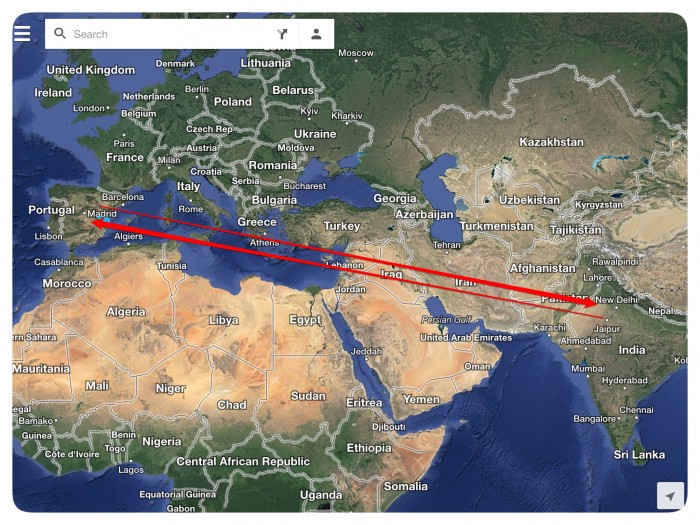 The plan is as daring as it gets. I will be personally flying to India on Wednesday morning. I will arrive to New Delhi at midnight. From the airport I will go where Tara is being cared for, clean and prepare her injured legs for the journey and fly back that same evening.  Literally, in and out.
24 hours in India to save Tara.
Please watch this video… it was taken at a Veterinarian in New Delhi and it sadly shows the reality of veterinary care in India, that is, a an amazing amount of love but very basic means and lack of proper health protocols. I cringe when I think of a veterinarian doing Tara´s cures without the use of simple gloves, but that is precisely what Guardians of the Voiceless and ourselves are fighting against. And that´s why Tara must leave India.
—
Wednesday 4 June 11.00
We are on the way!!!
—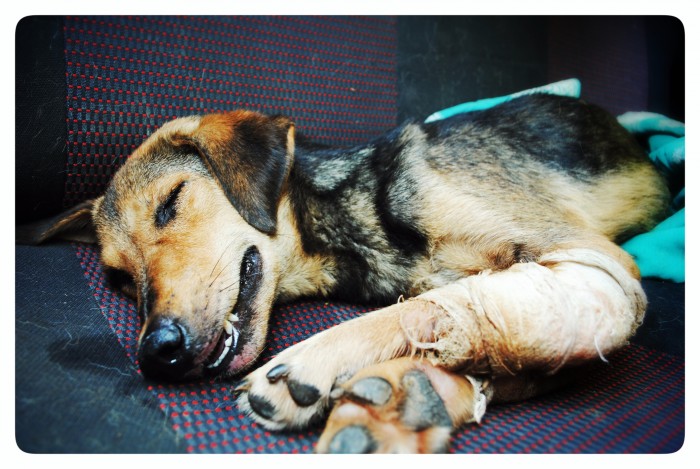 Friday 6 of June…
This has been the journey of a lifetime.. around the world in 36 hours to save a street dog. 
In India dogs like Tara are called DESI dogs, PARIAH dogs… to us she is not a Pariah, she is Tara, and her life is priceless.. 
Please watch this video… join me and Tara and our journey until now.

I went on this trip knowing Tara and I were not alone. We both knew you were behind us.
It´s to you that Tara owes her life. To fly around the world for 24 hours to rescue a dog with two open fractures? Who does this? We do… Because this is who we are.
—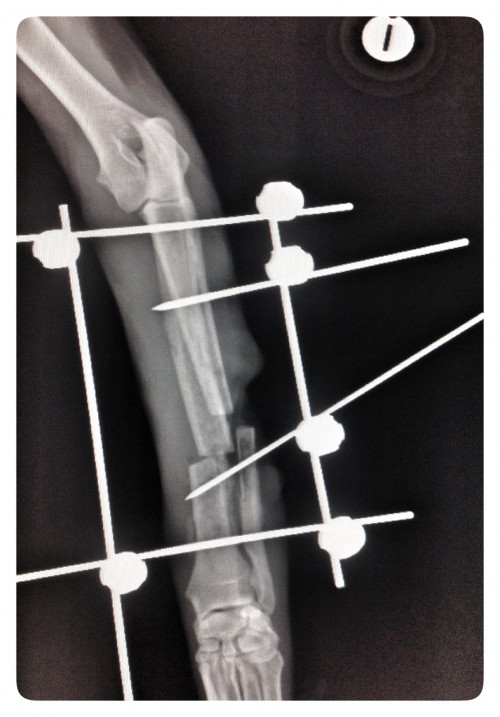 Monday 9 June..
Tara has been operated.  Her bones were in a terrible condition, very infected. We had to cut small sections in order to ensure proper healing. Everything has gone well and we are very confident she will run again. HOWEVER, the next few weeks are going to be critical. We will be monitoring those legs looking for infection and possible vascularity issues.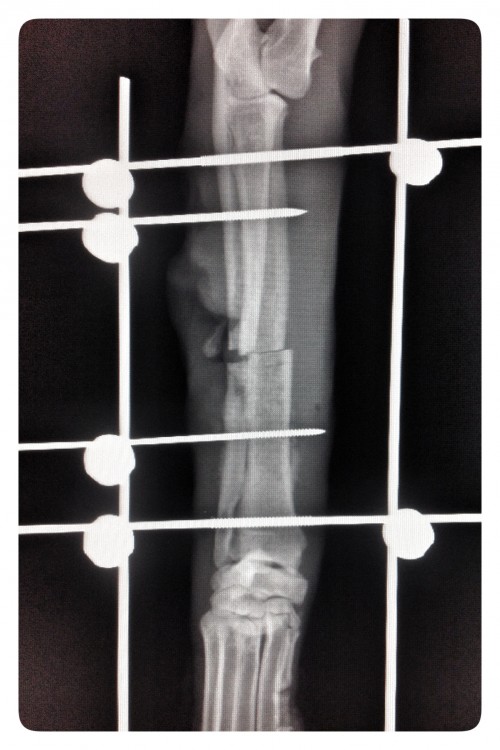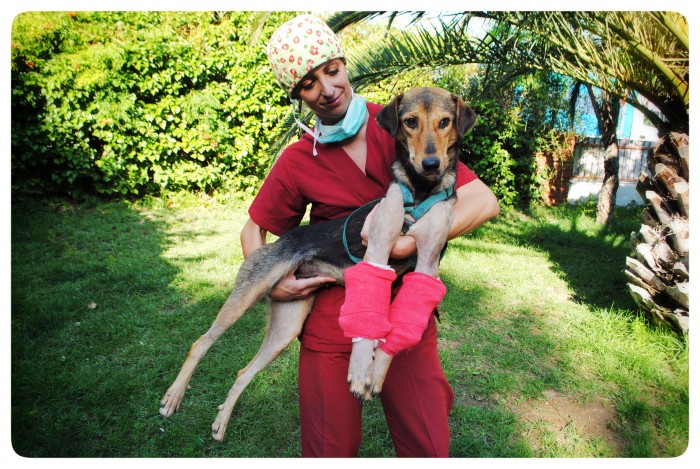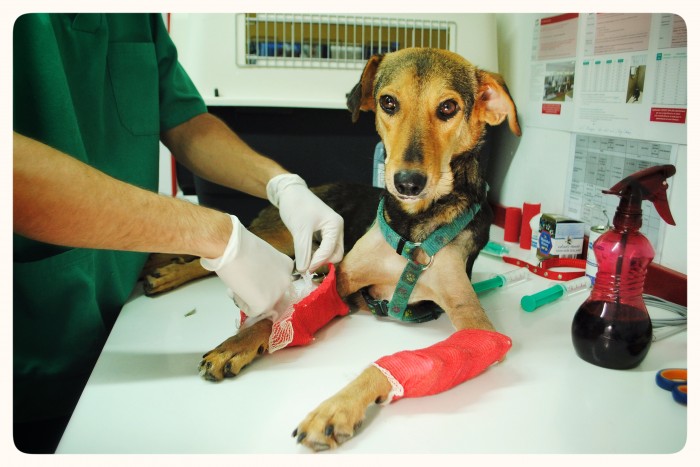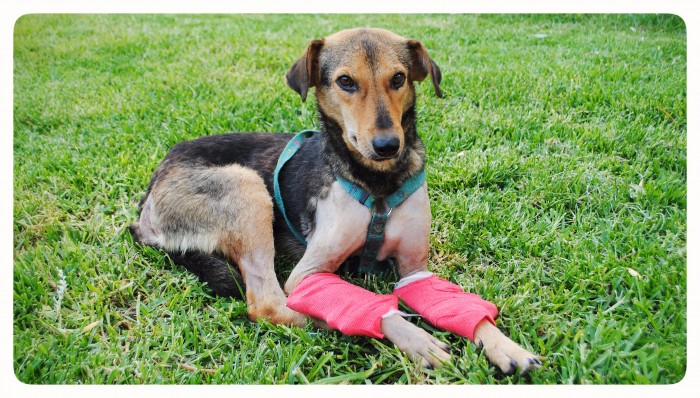 —
Update 18 june..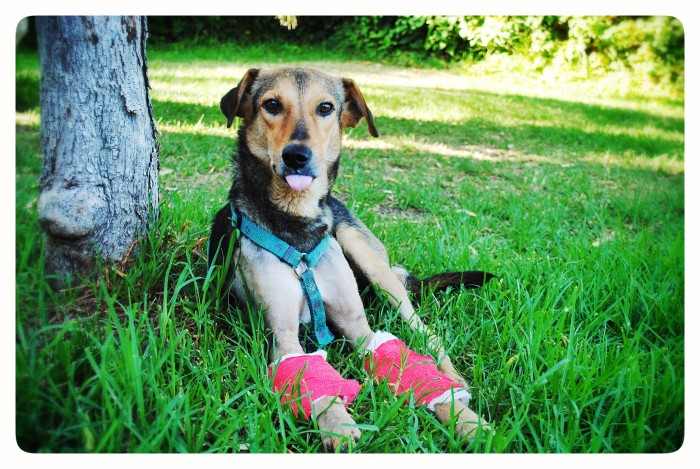 Here is Tara… smiling at life!!!  She´s doing incredibly well, whenever we look at her we remember how she was when we rescued her and feel like crying.. 
And how have a look at this!!! Her bones are healing very well… see the little part of new bone being formed?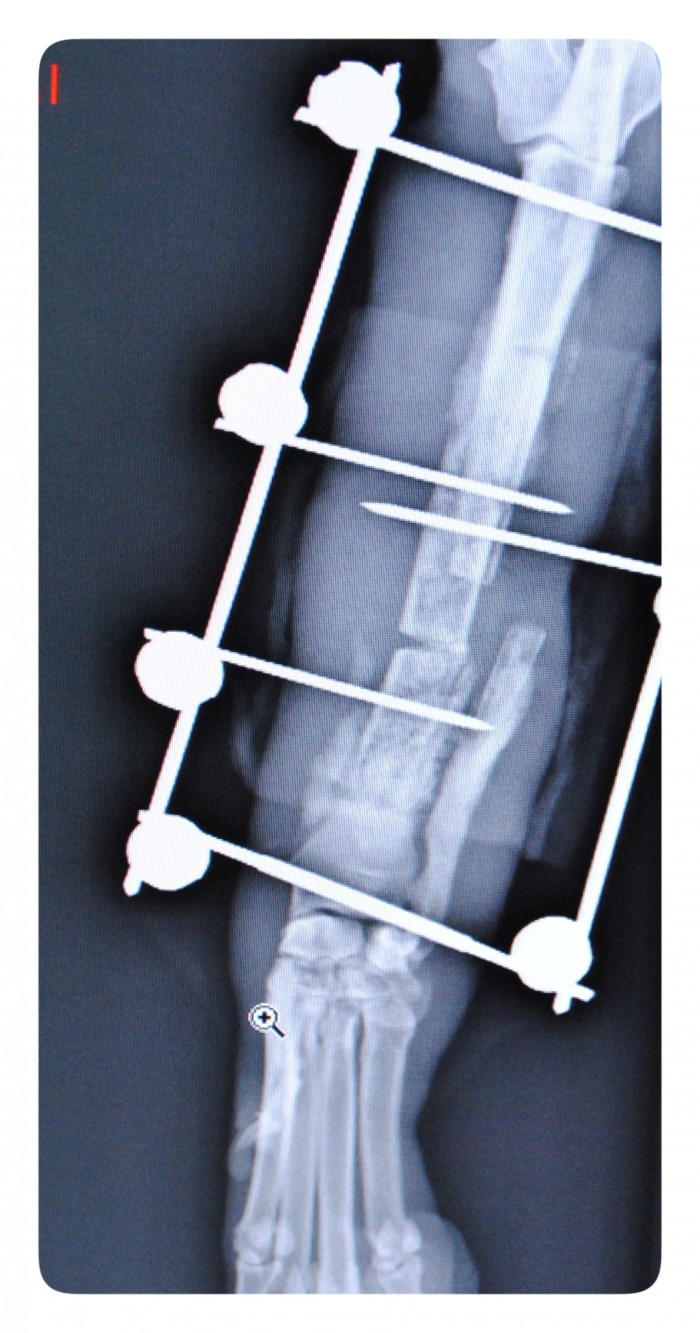 —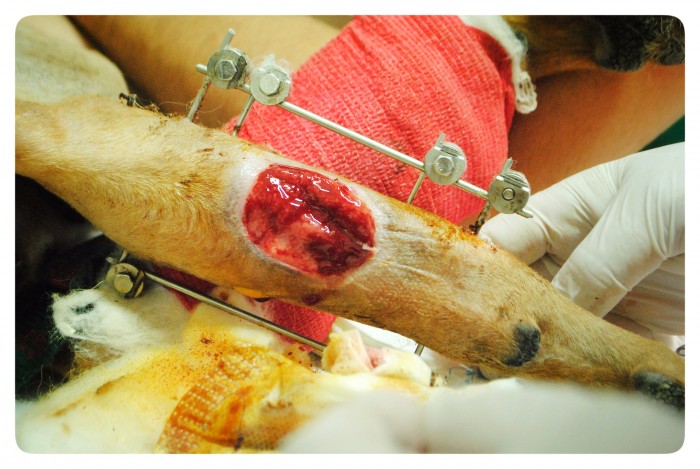 Update 26 of June… 
A close-up picture of Tara´s leg… in there you can appreciate the extraordinary level of healing it is experiencing.
Tara is doing wonderfully and in a great mood….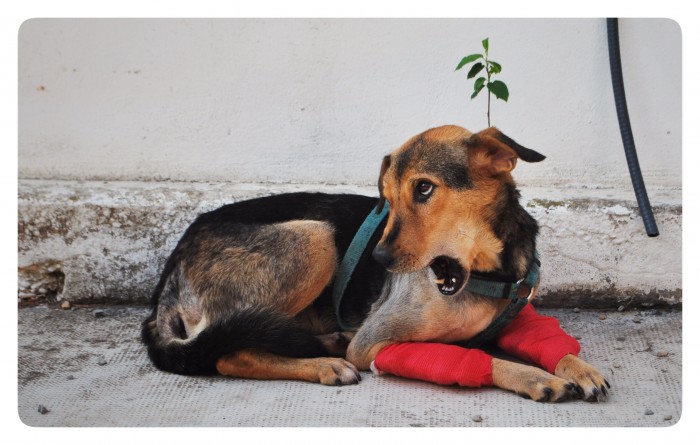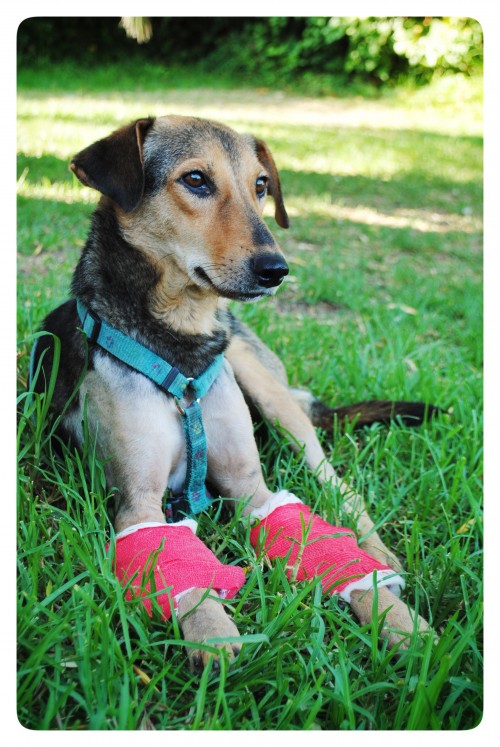 —
UPDATE 1st July…  
I believe this image speaks by itself…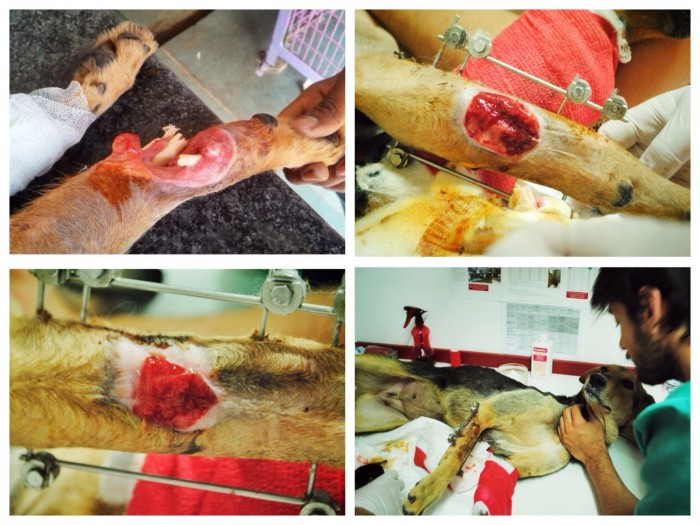 Tara is in the best hands she could ever be. The fractures were absolutely terrible, the bone was extremely infected, but day after day, she is making great progress, just look at the injuries and you will see they are nearly closed already…
—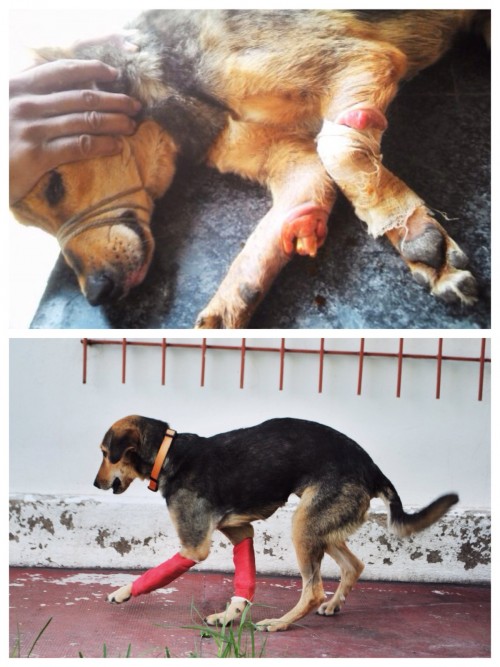 Update 5 July
This is the moment we were waiting for… TARA WALKS!!!!
Step by step…
—
Update 18 of July…

Tara continues making progress. The condition of her bones continues improving although the treatment is being far more complicated and costly that we could have ever imagined.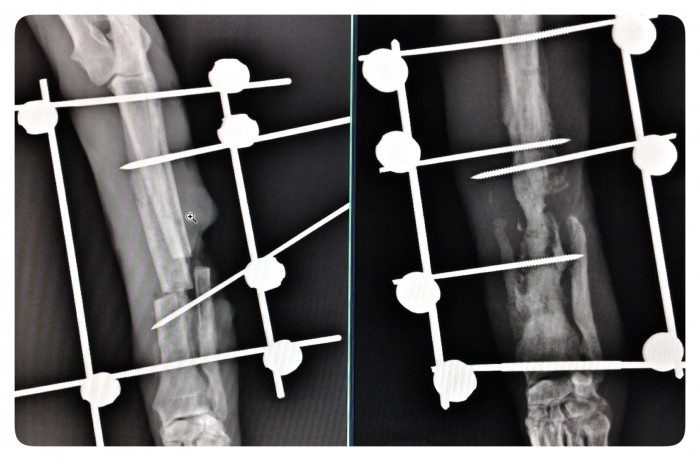 The problem was that her bones were affected by severe osteomielitis, they were terribly infecting and dissolving. We´ve had to work very hard to keep infection under control and to provide enough stability for new bone to be formed.  The plate above shows the newly operated and infected bone on the left and the new bone growing and little by little providing stability to Tara´s leg.. And now.. you are going to Love this video…!!
Please Help me save Tara´s life… You can see the work we are doing, I give you my word she will run again one day, but we need your help to make it happen..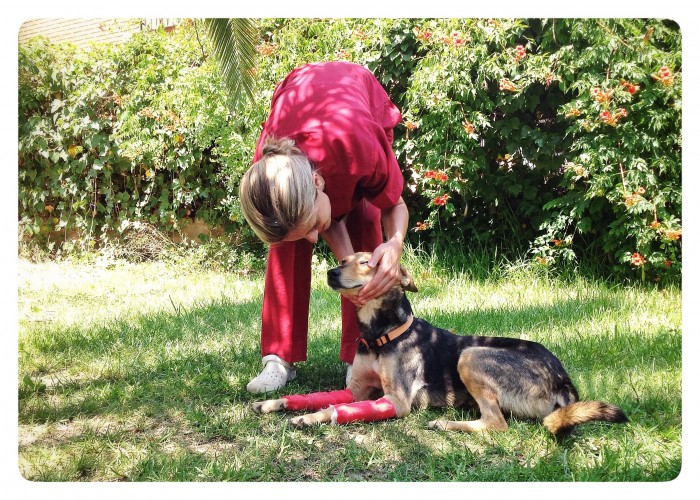 —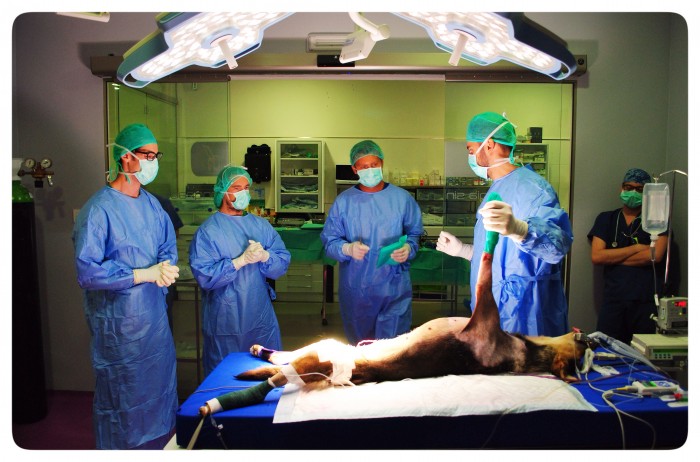 UPDATE 21 of August
This is AMAZING AND INSPIRATIONAL AND WORTH SHARING. This image speaks 1000 words as it´s probably the first time a rescued indian street dog has this kind of facilities at her disposal.
There were SIX PEOPLE assisting on Tara´s surgery today. Two surgeons, two anaesthesiologists, and two vet techs…
Without a doubt we are giving Tara the best modern medicine can afford. All of this thanks to YOU…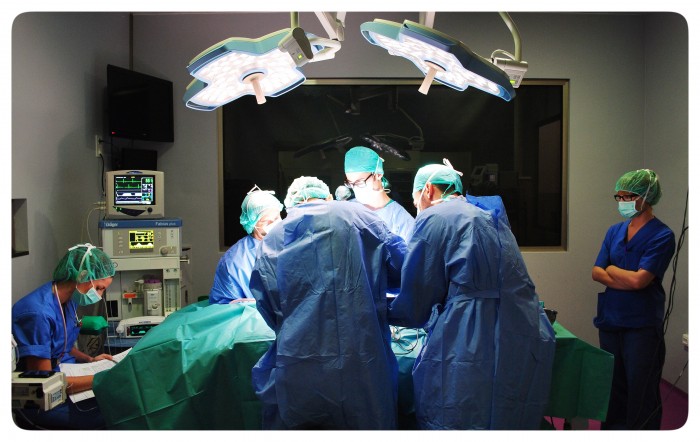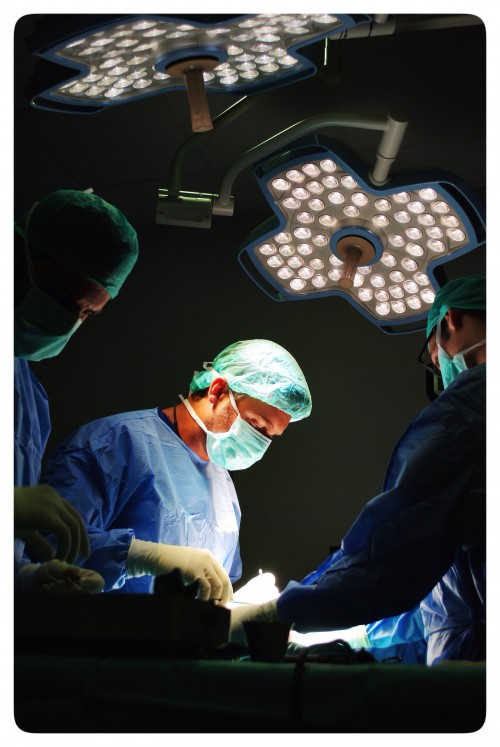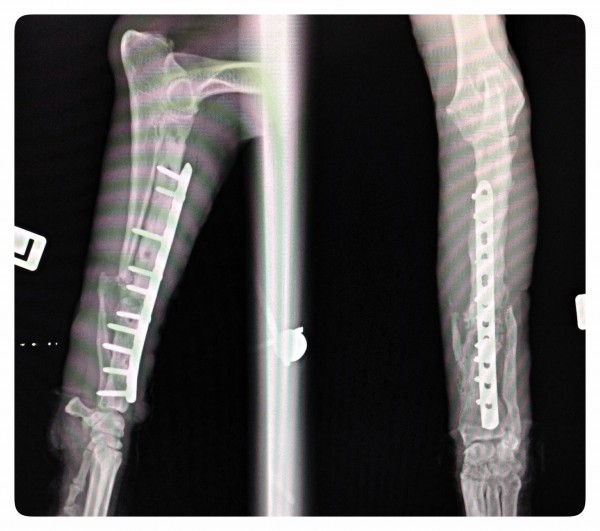 A few hours later… Tara wakes up!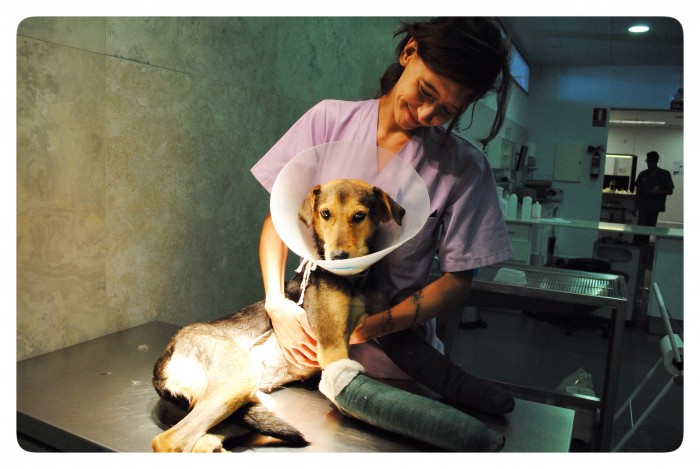 So… the first leg has been fixed… now we need to operate the second one!!!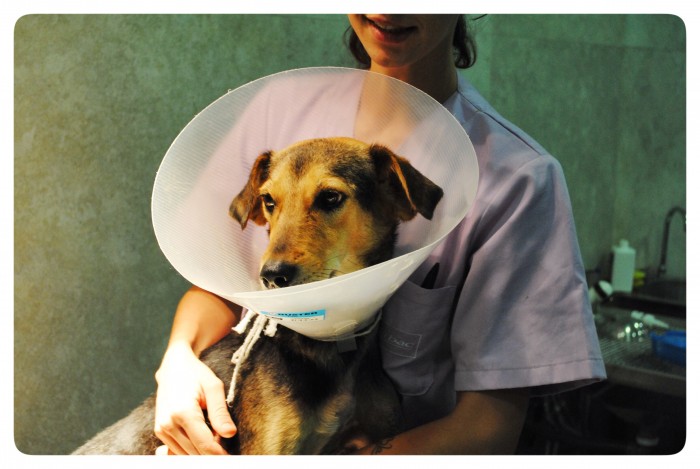 —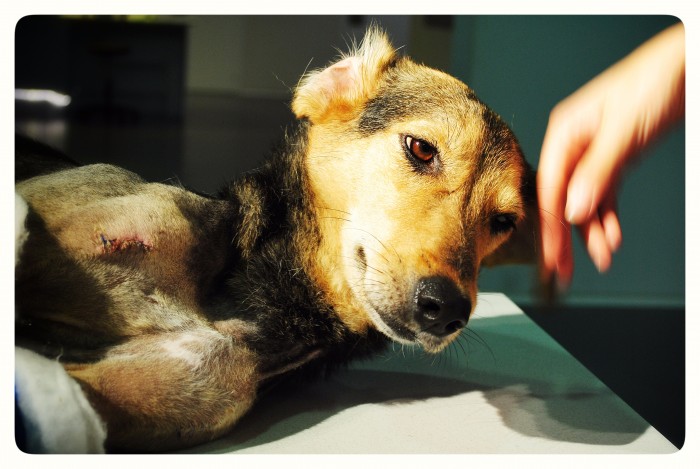 Update 8 September… 
Tara´s first operation was a total success… There hasn´t been any infection and the bone has started to re-grow… it´s time to operate her second leg and to finally end what we started the day we went to India to rescue her.
Tara´s second and final operation is scheduled to take place tomorrow morning. The procedure will be slightly more complicated than the first one due to some issues with blood circulation inside the bone but we are very optimistic..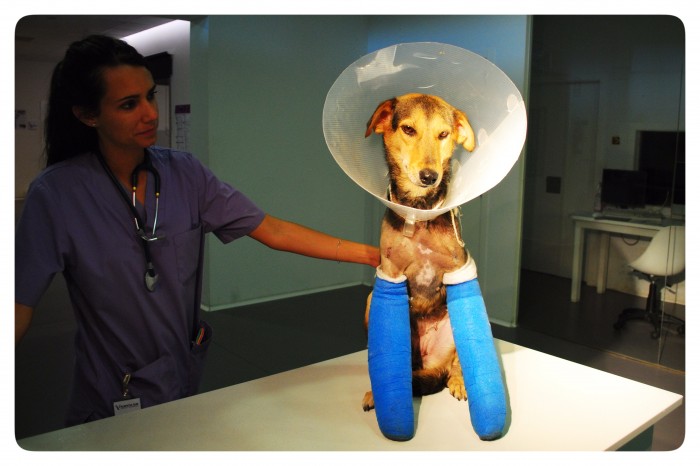 Please help us operate Tara´s second leg.. She has gone through so much, WE MUST FINISH WHAT WE STARTED…. this is the last stretch, the last sprint until she is finally able to walk freely, like your dogs do, like any dog should…
—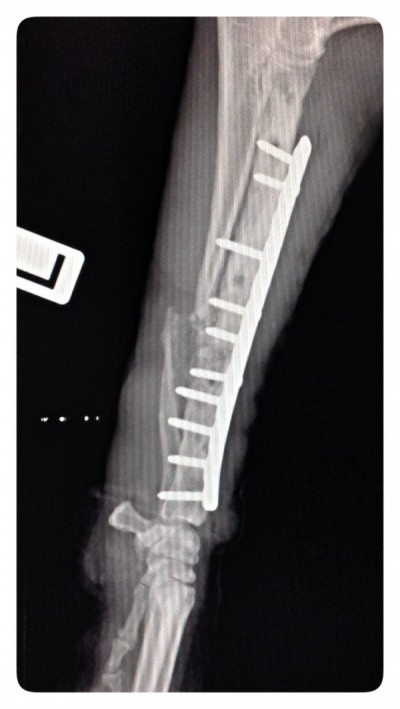 Update 9 September…
TARA IS OUT OF SURGERY!!!
It was a three hour procedure, everything has gone well.
We have given enough stability to the bone for it to scar perfectly and regrow… We hope this will be her last procedure.. if everything goes well we should be able to show you TARA´S NEW WALK!!!!
—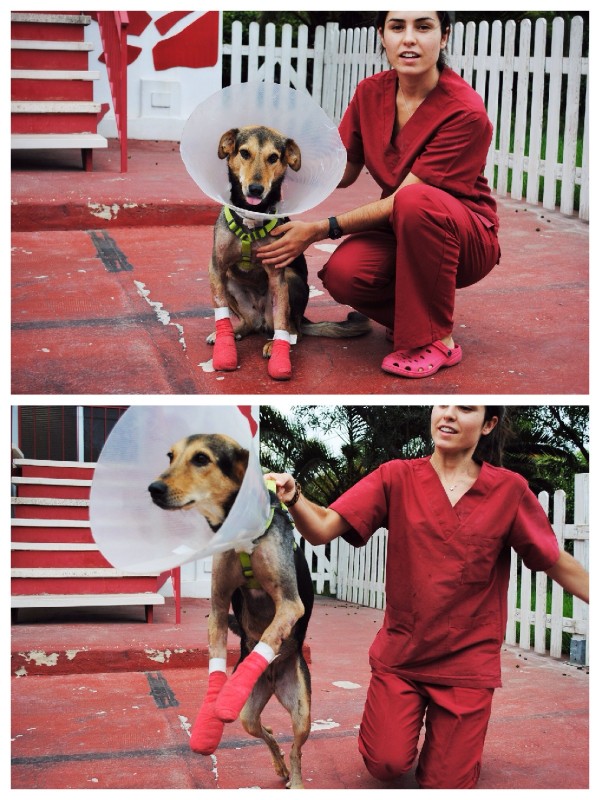 Update 16 September… 
TARA IS NEARLY READY TO RUN AGAIN!!!!
LOOK AT THIS!!!!
—
UPDATE 7 OCTOBER
Don´t miss this video…
—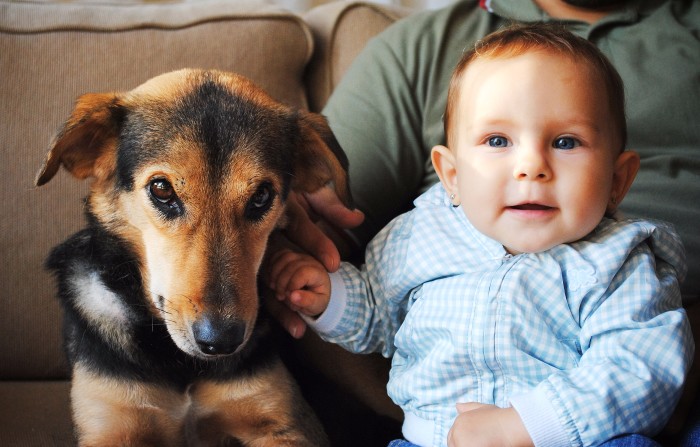 TARA… ADOPTED!!!!
Five months have passed from the day Tara was rescued.
During this time Tara went through endless cures and multiple surgeries in order to rebuild her TWO DESTROYED LEGS…
And finally.. today… Tara is getting to experience what she dreamed all her life… the warmth of a home, the love of a family, the feeling of belonging to a pack.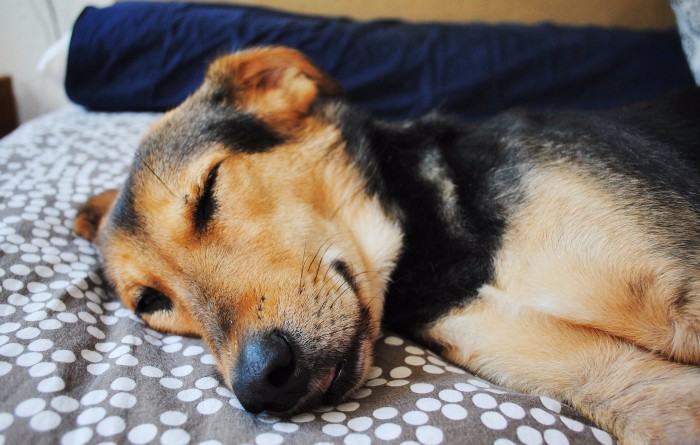 This was the most impossible of impossible cases…
From the streets of India to the family´s sofa… TARA IS FINALLY HAPPY…
P.S. PLEASE HELP US ON THIS MISSION BY SHARING THIS POST ON FACEBOOK