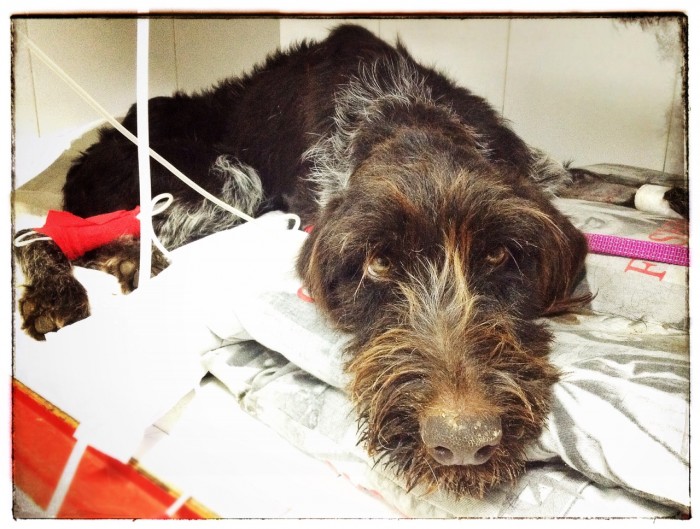 On his last breath Sherlock reached the village square and dropped like a stone. 
Emaciated, dehydrated, there is no knowing how long it took Sherlock to get to this point. Initially he was taken on by a local rescue that did everything they could for him but his condition continued to deteriorate. Finally they reached an initial diagnostic, a form of Megaesophagus, a condition that stops food and nutrients reaching the stomach, leads to extreme emaciation and unless managed properly, death.
Then, when they were taking X-rays to fully asses the condition the most horrible thing happened. The vet used a contrast made with Barium, a highly toxic chemical product. Sherlock vomited the substance and inhaled it through his lungs… Barium spread all over his lungs and remained there, creating infection and Pneumonia.
This is the condition of Sherlock´s lungs right now.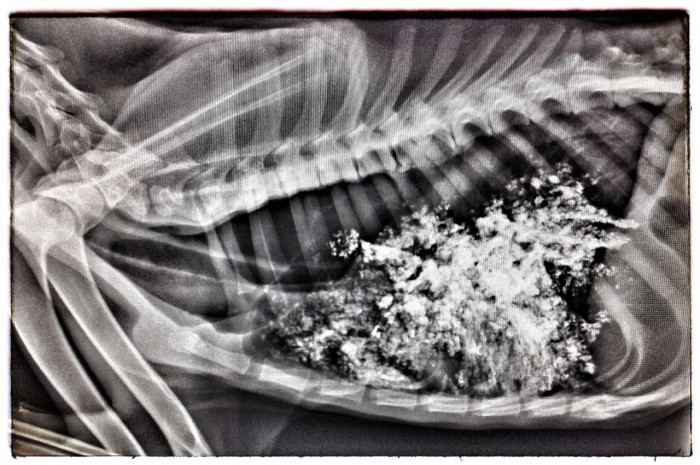 At this point the rescue gave up and asked for our help. The first thing we did was to move him to our clinic.
At this stage Sherlock has multiple issues:
1. He has pneumonia created by the inhaled Barium. We are fighting against it with antibiotic treatment.
2. His original condition is called Estenosis of the Esofagus and it is probably caused by an injury. The only treatment is an Endoscopy and the dilation of the esofagus with a system of valves.
The procedure is a high risk procedure. Risk compounded by the pneumonia and by his extreme state of emaciation.
There is no other alternative but to operate him within the next 48 hours. Initially we wanted to do it today but we have preferred to wait 24 hours more while pumping in nutrients and see if he regains at least a tiny bit of strength.
This is a high risk produre but there is no other alternative.
We either do this or he will die.
We are treating Sherlock like we would treat a human being. Euthanasia is not considered because there is a glimmer of hope through a medical procedure.
Sherlock needs your help. And he needs so today. We only have an extremely narrow window of opportunity, after that, it will be too late.
Please, look at his face, he is a wonderful dog, incredibly kind and loving, everyone that meets him falls in love with him ..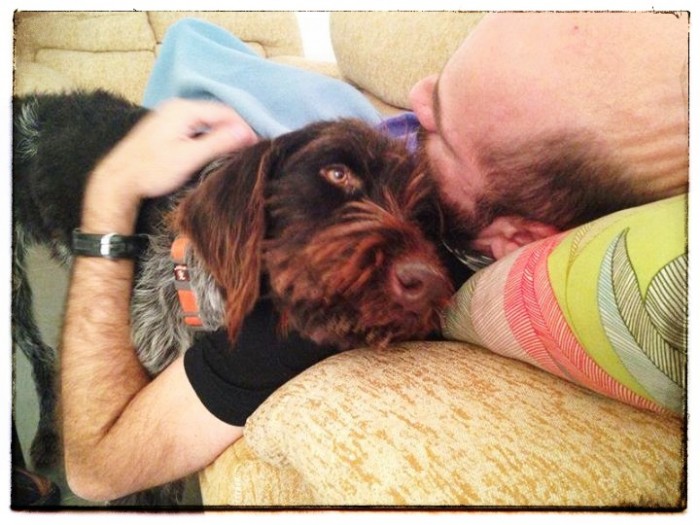 Please help us save his life…  it´s life or death for Sherlock.
Please help Sherlock, Donate and share his plea…. his life is in our hands.
Many thanks!!!
Viktor
—
11th of February
Sherlock went through an Endoscopy this morning.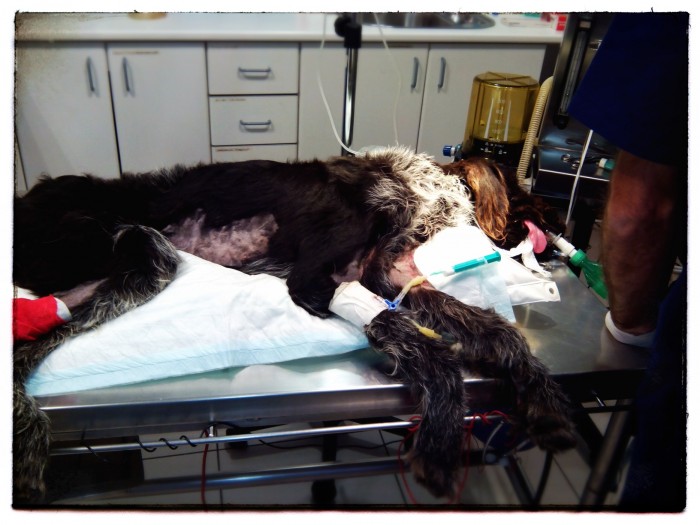 We have good and bad news.. 
The good is that he doesn´t have esthenosis, hence it was not needed to proceed to the dilations of the esofagus we intended to do. This is good.
We have installed a sonda that brings food and nutrients directly to the stomach. For the first time in a very long time Sherlock is receiving nutrients right where he should.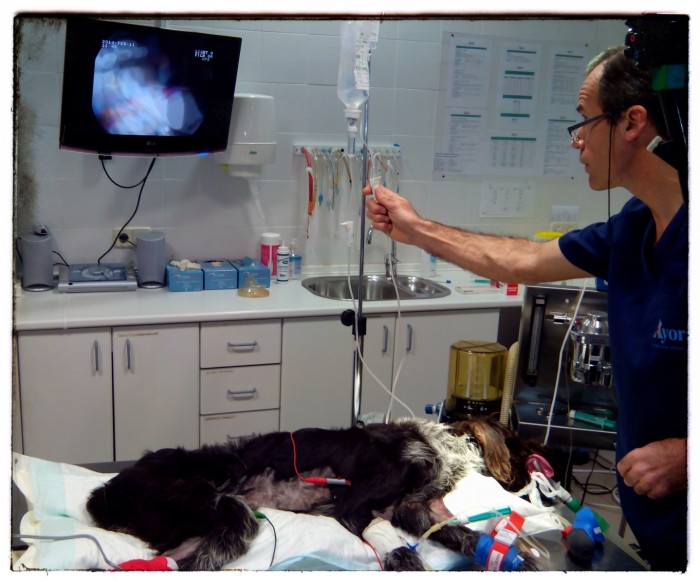 The bad news are that the muscles of the esofagus don´t show any kind of activity. There is a total lack of muscular reaction. We don´t know what is the cause of this. 
 We are considering several possible causes: a problem of the tyroids, Lupus, Miastenia Gravis or even an auto-inmune problem.
Right know we just don´t know yet.
The gravity of the situation lies in the fact that unless we manage to reactivate the muscles of the esofagus, feeding him with a Balley Chair alone is not going to work. We need at least some level of muscular activity for the food to reach the stomach. Right now there is none.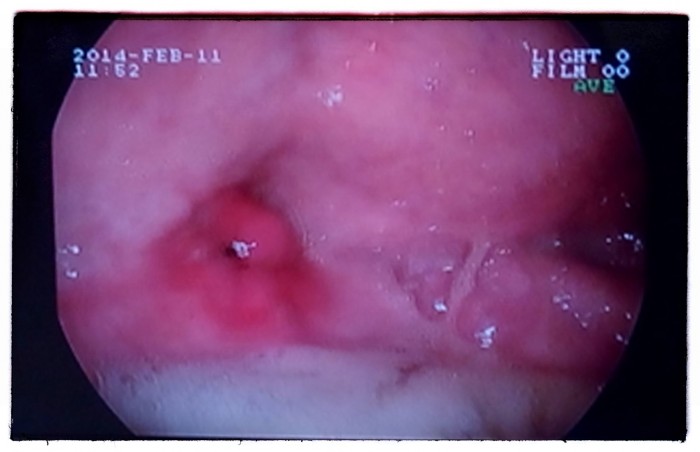 We are trying to correct the situation. It´s essential that the esofagus recovers at least some functionality.
Sherlock has also a bleeding gastritis caused by the extremely low level of acidity in the stomach due of the continued action of the digestive juices and the lack of food in the area.
Unfortunately Sherlock´s condition remains GRAVE. We are trying to stabilise him and feeding him with a sonda is surely going to help.
Now everything depends on the care and attentions that he will receive while staying at our clinic.
—
UPDATE 18 of February…
It has been 10 days since Sherlock came to us, more dead than alive…
As long as he fights, we will fight with him…
—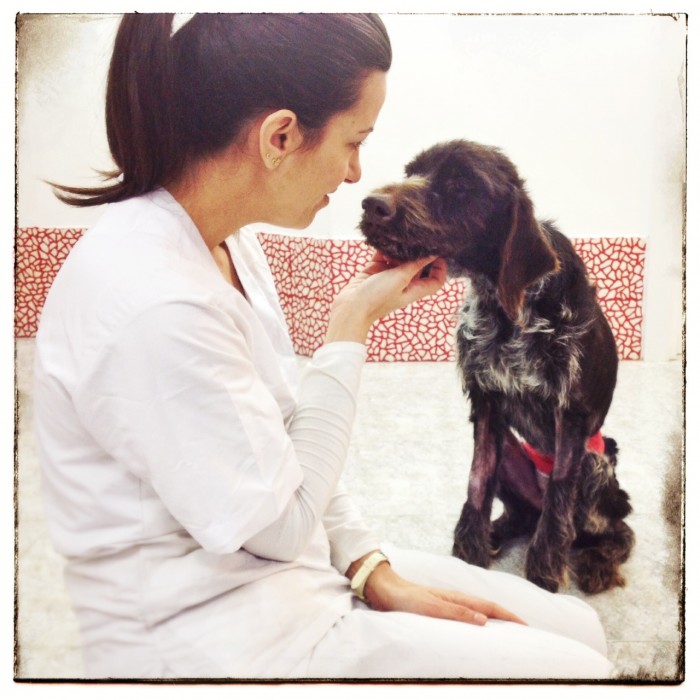 Update 3rd March
Sherlock´s last chance
Sherlock has been with us for three weeks now. Three weeks of intensive care during which he has been in the loving hands of the most brilliant and compassionate veterinarians we know. Our vets. 
For three weeks we have been fighting multiple problems. The Barium inside Sherlock´s lungs triggered pneumonia. We had to fight that. At the same time we had to figure out the reason why Sherlock´s oesophagus didn´t respond at all, not even the slightest bit to treatment. For three weeks Sherlock has been receiving food directly into his stomach. It has been a very delicate balancing act. Administer too much and he would vomit, give too little and it wouldn´t be enough. His stomach would only admit 120 cc, that´s about half of a glass… we kept giving him this, increasing the frequency. It has been purely try and error but for three weeks Sherlock has been resisting, regaining strength and weight some days, becoming weaker others.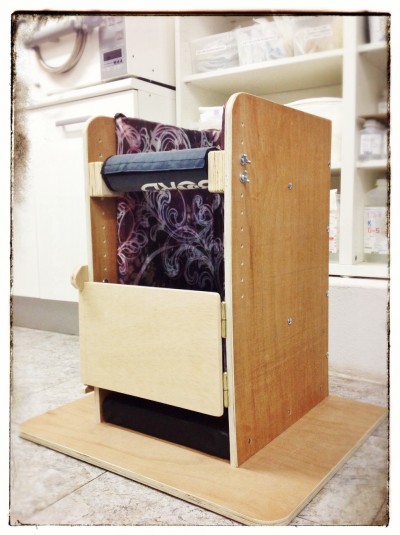 We have been using the Balley chair with mixed results. He eats with great appetite but only a small portion of the food eaten through his mouth finds his way to his stomach. It´s not enough. The sonda had to remain in place.
Every possibility, every scenario has been studied, we discarded lupus as well as any infectious and viral disease. His condition is an enigma to us and to any specialist that we have consulted, and we have consulted many.
There is only one option left for Sherlock. There is a possibility that his is an auto-inmune condition, that his own inmune system is creating havoc with his digestive system.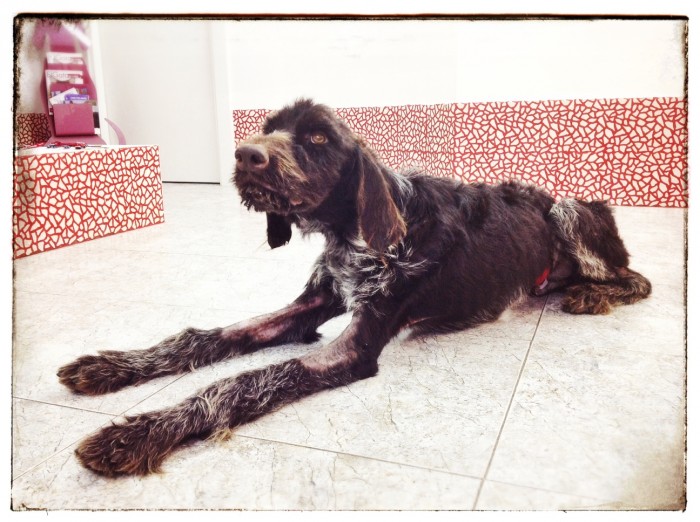 The only way to be sure of this is to depress his immune system through the use of corticoids. Problem is, doing this will increase the risk of the Barium in his lungs killing him. 
We have no other option. We really don´t. This is Sherlock´s last shot at life. There is nothing else we can do. The treatment is risky but he is an incredibly strong dog and he deserves this last chance.
Over the last three weeks we have fallen in love with Sherlock. He has proven an uncanny strength, resilience and will to live. If there is a dog in the world that deserves to live, this is Sherlock today.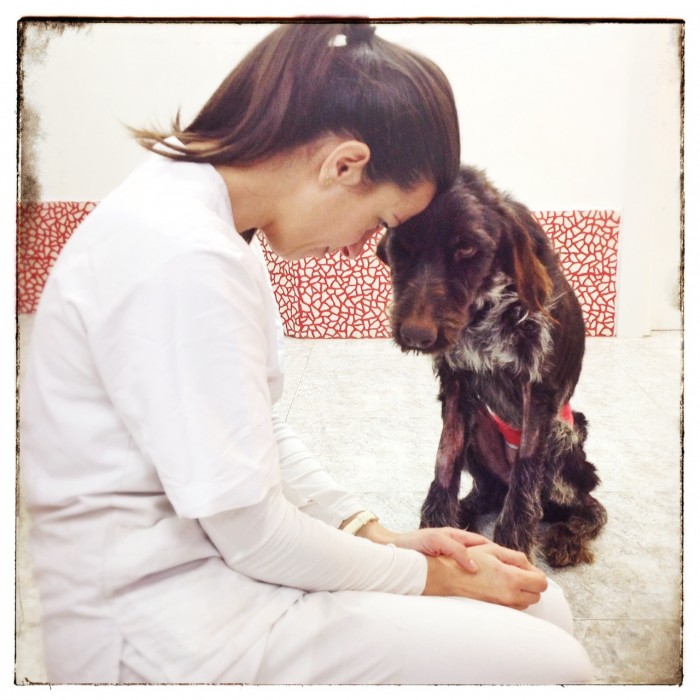 Unfortunately Sherlock´s treatment has completely depleted our reserves. At over 1.000 USD a week for his treatment the funds we raised for his care are long gone and we have been drawing onto our meagre safety net. 
Our work never stops, you see it on our page daily. Every day animals are saved, flown to their homes, Let´s Adopt Global has become a massive network working 24 hours a day, 7 days a week, this is why we can´t afford to be in such dangerous position on a constant basis.
Sherlock still has a chance. Please help him take it.If you donated to him already please show your support again, and if you didn´t, please do it now. If Sherlock´s makes it it will be the greatest joy, but if he doesn´t, we will at least know there was nothing in this world we could have possibly done.
Please help Sherlock one last time…
—
18:05 SHERLOCK has left us.
We did EVERYTHING for him but sometimes everything is not ENOUGH.
Rest in Peace dear friend…