HERE IS RUDOLPH FULL STORY UP TO NOW!!!
Someone sent us his picture. Rudolph had just been taken to a shelter and literally, stored there among many others.
Rudolph was abandoned as a kitty, left to fend for himself in a feral colony. Poor thing was never much of a stray cat. His kind and loving character didn´t help him assert himself in the colony, everyone hit him all the time. And then there was the problem with his eyes… people thought it was a small infection at first but in time Rudolph´s eyes had become progressively worst, reaching the point where he couldn´t open them. He was walking around with his eyes closed, blind. He lived like this, barely seeing shadows and using his sense of smell until he was hit by a car.
He was taken to the shelter unconscious and barely able to stand… and that´s how we found him.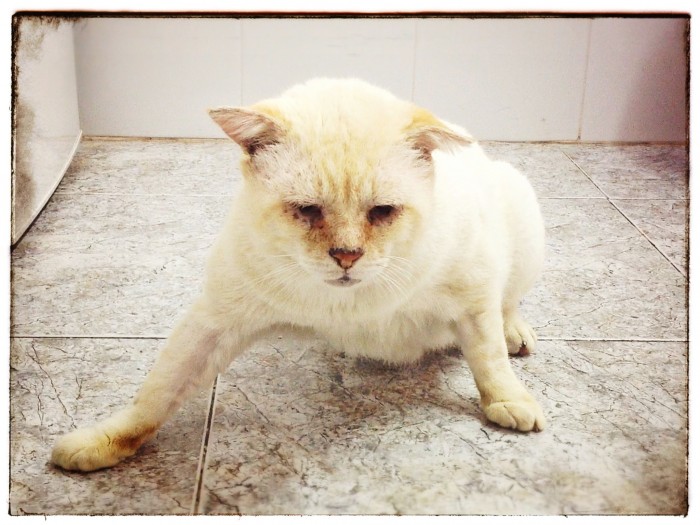 This video describes his rescue until now. We have done all possible tests on him, he has strong anemia and he has FIV. The impact of the car has triggered a vestibular syndrome that we hope we will be able to resolve. But most importantly, right now he needs an urgent eye operation to allow him to see again.
We need to raise funds for his surgery ASAP… Can you imagine living your life with grains of sand scratching your eyes? This is how Rudolph feels… we hate even thinking about it. We must give him his sight back.
Please, if you can, help us with his surgery… he is a wonderful cat that deserves far more than what he has had so far.. Please help Rudolph regain his sight, and his life…
Many thanks!!!
Viktor
P.S. As usual, there will be updates on his condition through our page, Let´s Adopt Global. Please join us there.
P.S.2 Rudolph is an incredibly sweet cat with a big cheeks. It´s impossible not to fall in love with him. FIV is a disease mostly unknown by the public. It is transmittable only through blood in bites and through sexual contact. He´s wonderful, and peaceful and there is NOTHING that should stop him living in a home with other cats.
Please write to me on viktor@myletsadopt.com and tell me everything about you and your family. Together we will decide if Rudolph should join your home..