I've made a video that explains the story so far. If this doesn't move is because you are already dead and nothing ever will.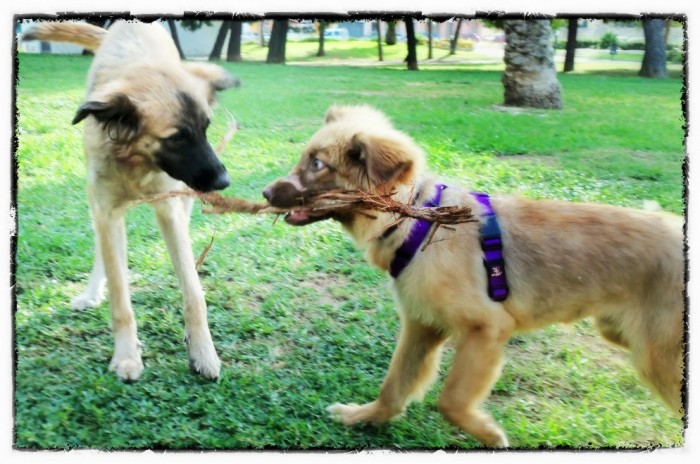 His name is Tidus, and what happened to him, could happened to your dog…
Two weeks ago, Tidus was happily playing in the park with his owner, a normal evening walk/play socializing with other dogs… All of a sudden, Tidus was nowhere to be seen.
His owner looked everywhere for him. He was wearing his collar, tag with telephone number, microchip, surely if he was lost he would be found and returned to her… Minutes passed, one hour and there was no trace of Tidus. The park and every adjacent street are combed. There was no trace.
Someone says he has seen a group of youngsters walking towards a solitary part of town walking with a tail wagging dog.
Tidus was found three hours later, and nothing could prepare it's owner for what she was about to find.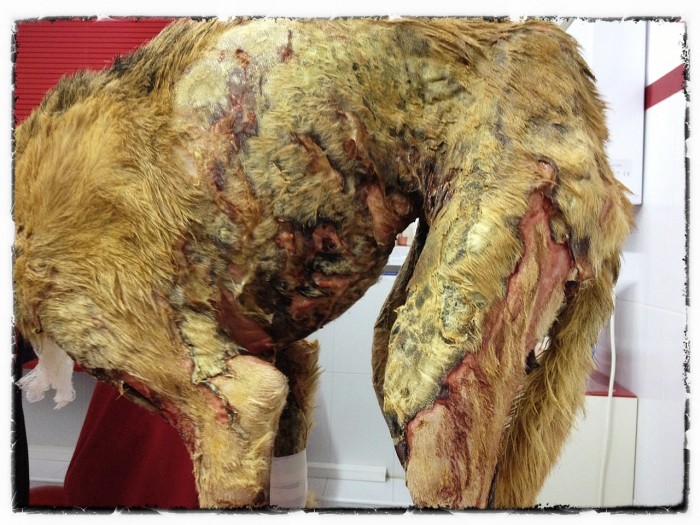 There he was, tied to a fence, she called him but he doesn't come, he twists and whimpers in agony.
Tidus had been burned alive. Someone dozed him in alcohol and set him alight.
Judging by the extent and depth of the burns, for a time that must have seemed like an eternity Tidus was transformed into a ball of fire. 75% of his body presents third degree burns, both the epidermis and dermis have been consumed by the fire.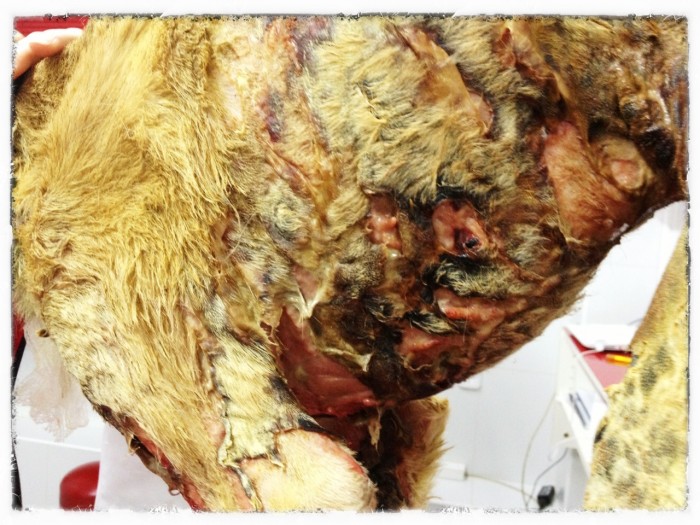 The brutal attack happened two weeks ago. During this time, the impoverished owner tried to reach out for assistance, but noone helped. The offers of help she received never materialized, some people sent her gaze, others towels, serum, gave her suggestions on how to tend the wounds herself, but noone offered help to take the dog to a vet.
Two weeks… two weeks living as walking burnt skeleton, in excruciating agony, barely able to eat, every single move hurts… no treatment.
Tidus has lived in hell for two weeks, but the wait is over now.. Yesterday night we heard about his plea and immediately took action. It was late at night when he arrived to our clinic, the stench of rotten flesh engulfed the room instantly.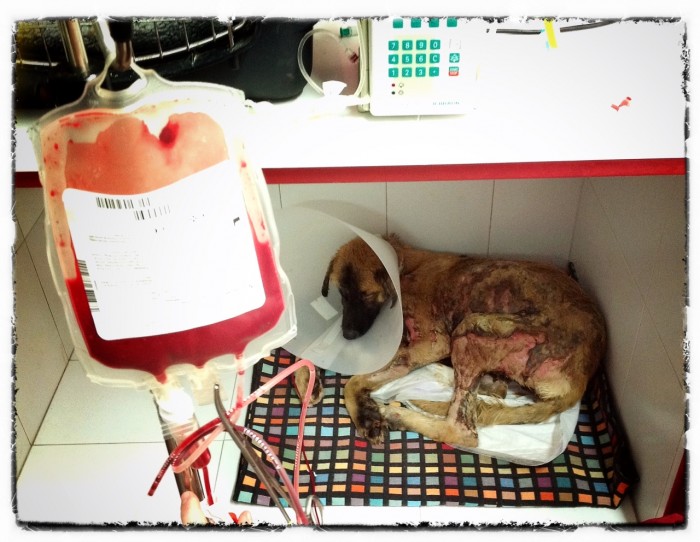 Tidus is now on intensive care. He is receiving IV, painkillers, anti-inflammatory medication and antibiotics. We must bring the pain down to manageable levels, keep him hydrated, and stop the spread of infection before starting work on how to get his skin back naturally or through skin grafts. But for now, the challenge is to stabilize him and keep him alive.
This morning Tidus received a blood transfusion from one of my own dogs…
Tomorrow we will start the painful process of cutting the dead skin, cleaning the area and carefully treating the burns section by section. The healing process will take months.
We are Tidus last hope. His last chance, his last shot at life. After us, there is nothing but pain and death for this little brave dog.
Please help us offer him a second chance. Help him prove the world that he is a big and strong brave dog. He has survived two weeks with little to no care.. We must help him. I cannot think of more worthy cause today …
===
Update November 28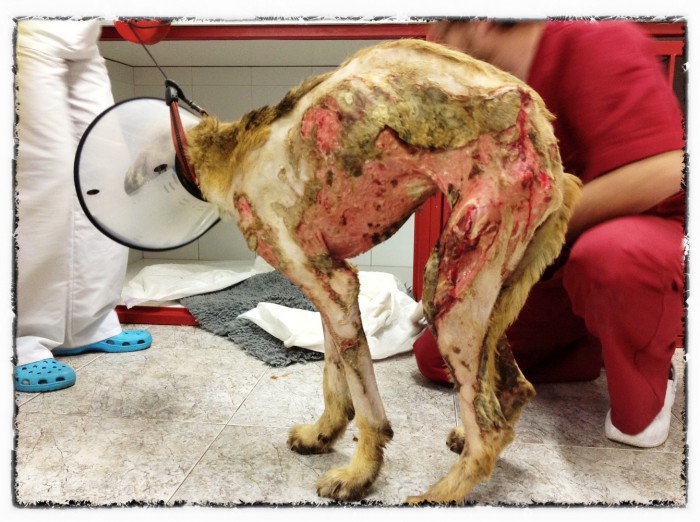 Today it has been an incredible day for Tidus. We would go as far as saying that this has been the first day since those criminals burned him alive that he experienced something similar to peace and comfort.
Right now our priorities are to strengthen his immune system so that we can avoid widespread infection. We are using antibiotics and painkillers and their effect has given Tidus the first few hours of deep sleep in a very very long time.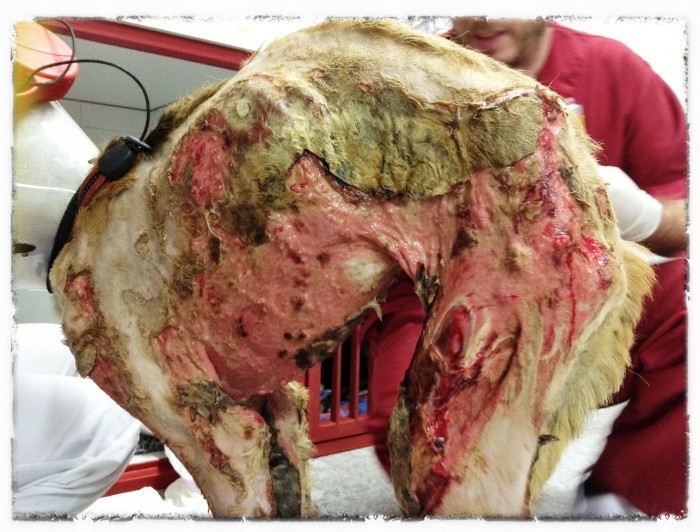 Tidus condition, however, remains critical. His blood levels are horrible and although he is fighting infection as hard as he can it's too early for us to say that he's out of danger. Once he'll be totally stable and on the way to recovery we will start looking into the best possible option to treat and repair his burned skin. For now Tidus is being treated with a special cream, honey-based, that works wonders for burn patients….
Some of you ask me, is he in pain? Wouldn't be better to gently put him to sleep? The answer is yes, he is in pain, now, but he won't be in pain in the future, and would it be better to kill him? Better for whom? For Tidus? No. He wants to live, he's eating, he's fighting, he's someone that has seen a crime commited upon him and he needs help, not a needle in vein.
We are a rescue group, we rescue, we treat, we heal… killing is far too easy, doesn't even require much thinking or skill. Everyone could kill Tidus, that's easy… not everyone can cure him…  That's what Let's Adopt Global stands for…
==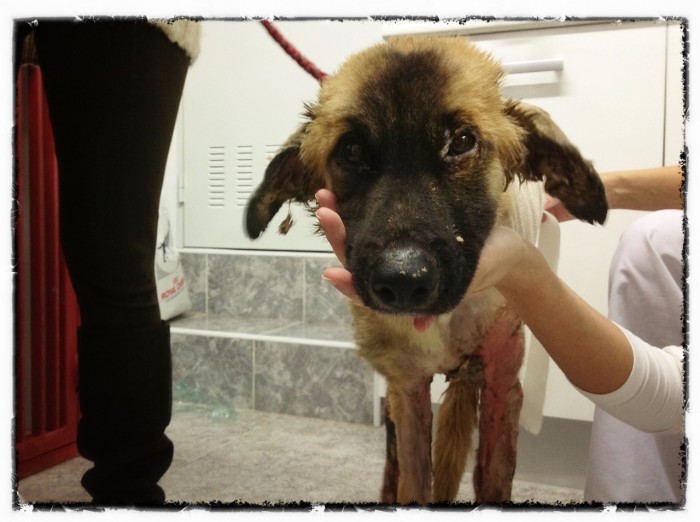 Update November 30
Dear friends,
I really don't know how to start… well.. I do… I must start by saying thank you. Thank you for your incredible vote of confidence and trust.
Last weekend I was away from home when my brother alerted me to an article in the newspaper, it described a horrible story about a dog that had been burnt alive. The owner was desperate, she had no money whatsoever and everyone she had contacted had either ignored her plea or told her to kill the dog.
Deep in my heart and I knew the poor dog was dead unless Let's Adopt took charge and accepted the full responsibility for his treatment.
When Tidus arrived to us he was in a state of shock, completely dehydrated and with blood levels so terrible that we didn't understand who come he was still alive.
But things are changing…
Over the last three days we have stabilized him, we have hydrated him, we have treated his pain so effectively that for the first time in two weeks Tidus can sleep at night. There has been a remarkable improvement in his attitude, and at this stage on his eyes, he doesn't look like a dead dog walking, now he looks like a severe injured dog that want to live and is on the way to recovery…
It won't be easy, it won't be cheap, it will be long, the road is an unknown both to him and to us, so many things are in the air, so much uncertainty. But right now I can only tell you that we are very optimistic, that he is doing well, that he is getting the best possible treatment and that we are looking for solutions in the mid and long term…
The best thing I can do is to show you Tidus TODAY:
Please look at him, feel the change in his position and energy... and be proud because he is here today, and will be here tomorrow, purely because of your help…
Many many thanks…
Viktor
For further updates please don't forget to visit and Like our page, Let's Adopt Global: https://www.facebook.com/LetsAdoptGlobal
—-
Update December 7
I do not know where to begin to tell you the rollercoaster of emotions we've had this week. One one hand Tidu's condition has improved remarkably, he is awake, alert, you can see in his eyes and demeanour that he is ready to make the most out of life, like only a dog can do. On the other hand, we have had some very sobering moments, where even us, armed with all the determination in the world may have had some doubts and fears.
The state of his knee is worrying us enormously, but Ill get to that a bit later.
Here are some pictures taken during this week that show his evolution and some of the moments we have lived with Tidus at the clinic: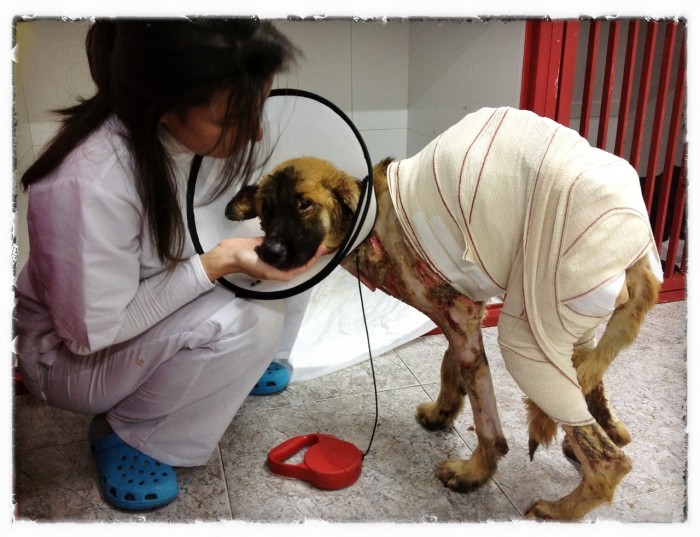 Tidus receives cures two times a day, over the last week the state of his skin has improved enormously, and we can notice scattered areas where new skin tissue is being formed. We are treating the injuries with Hanuka Honey, specially imported from New Zealand, and we are very pleased with the results.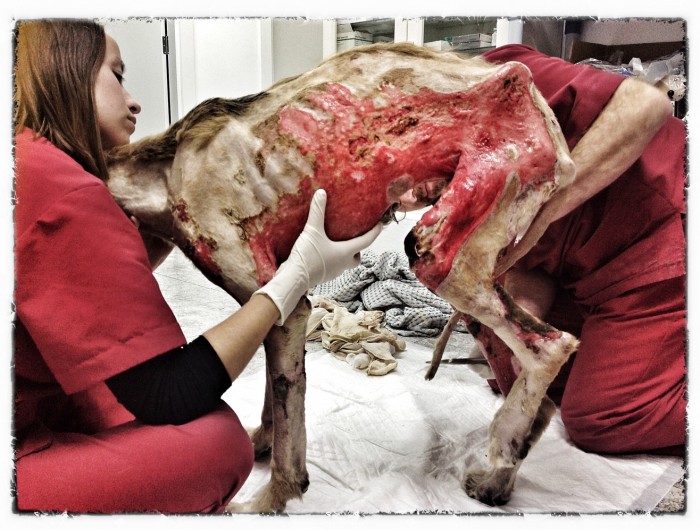 The road will be very long… this won't happen in a few days.. .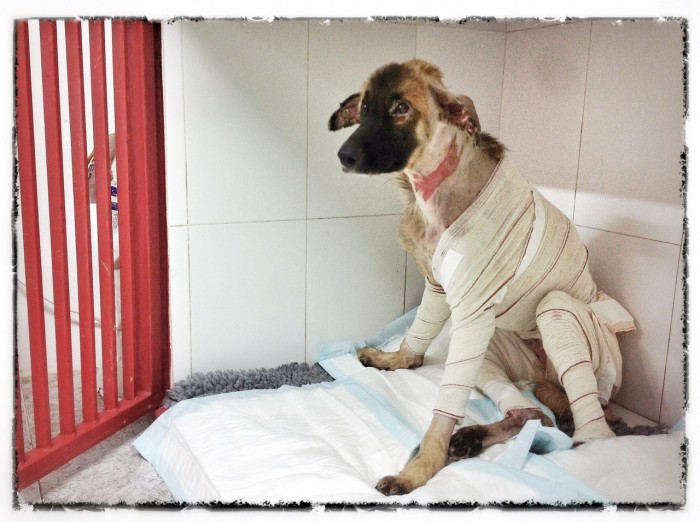 One thing is for sure… even if his condition remains critical, Tidus is absolutely full of life, I have never before met a dog like him. Tidus EATS life… literally:
But then… right now one of the biggest problems is the condition of his knee… but I won't write about it now, I want to be able to give you as many details as possible on how we plan to solve this problem.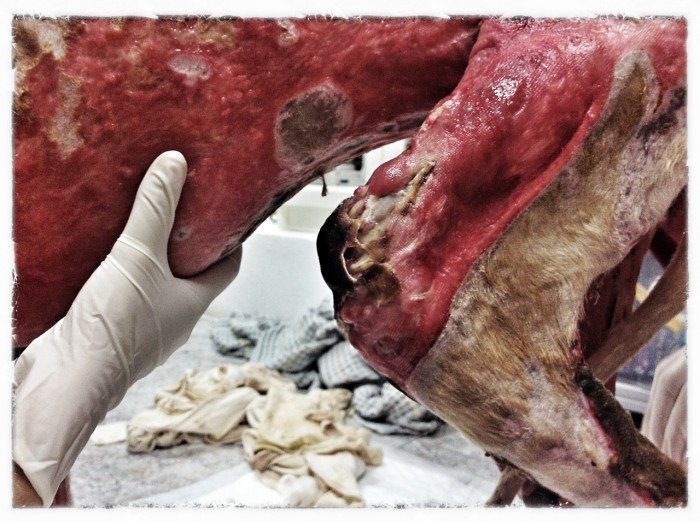 For now please rest assured Tidus is in great hands. A multidisciplinary team is taking care of his every need, and we will spare no effort to restore his health and give him a second chance in life. As long as he fights, we will fight for him.
The support for Tidus has been overwhelming, but as you can see nothing is clear at the moment. The treatment of both his knees, burnt by the fire, will be a challenge, one that has worried us since day one and that it is giving us sleepless nights.  We need to be sure we will be able to face whatever procedure or challenge we are presented with.
—
Update December 12
What two weeks ago seemed impossible today it seems a bit closer to reality. The regeneration of Tidus skin is continuing at at incredible rhythm. In these two pictures you can see the speed of creation of new tissue that has everyone astonished.. Anyone with a medical background will marvel at the two images below…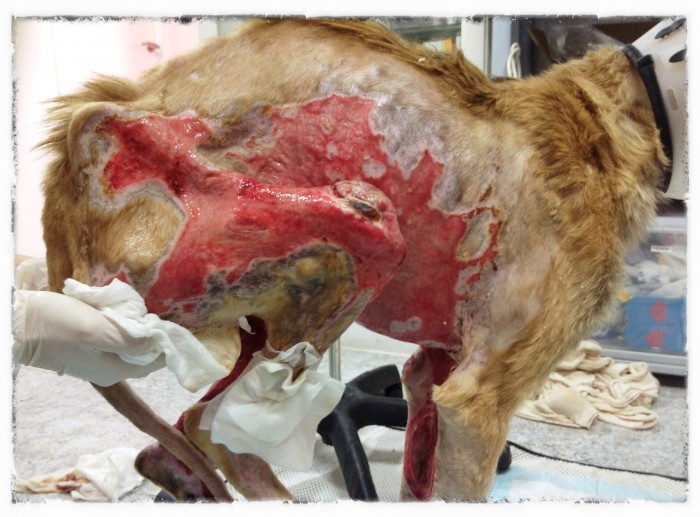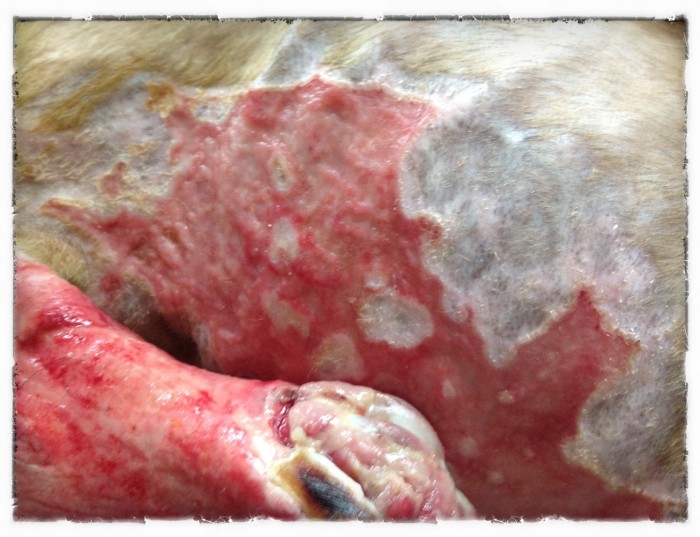 The speed and level of regeneration is just unbelieveble… unbelieveble…
Tomorrow, Tidus is going to face a big challenge. We are going to perform a procedure that hasn't been attempted before, a world's first carrying incredible complications and challenges.  We are going to do a transplant of soft tissues, muscle and skin on Tidus Knees. As far as we know this is the first time this procedure is done on a living patient!
In this video, our surgeons Juan Arguelles and Alvaro Chasan explain the procedure Tidus is about to endure to save his knees and with it the possibility of a wonderful life after he is fully recovered…
===
Update 16 December:
This has been an extremely important week for Tidus. On one side the recuperation of his skin continues at an accelerated rhythm that is marveling everyone that meets him, on the other the condition of his knees had become a big problem that we had to solve.
To do this, and thanks to the wonderful work of Tisulab, the Spanish Biotech company that from the beginning of this rescue has been providing us with amazing scientific support, we have performed an operation that, to our knowledge is pioneering, a knee transplant of skin, muscle and connective tissue. The operation was a success and we are keeping a close eye on the evolution of the knee…
I leave you with some images taken during this week… GO TIDUS!!!!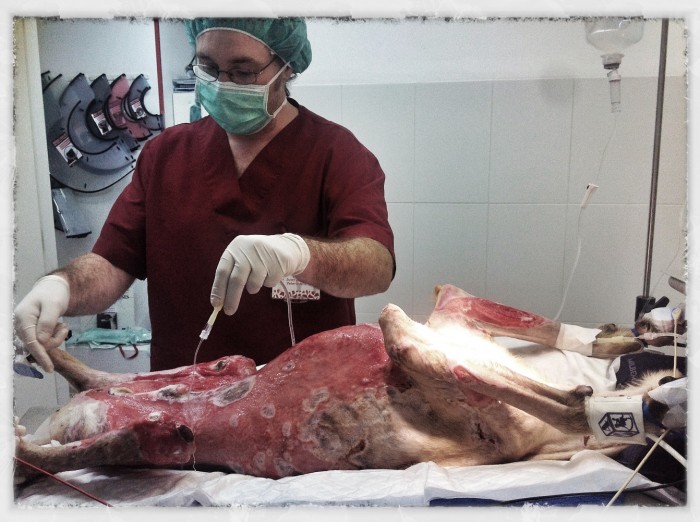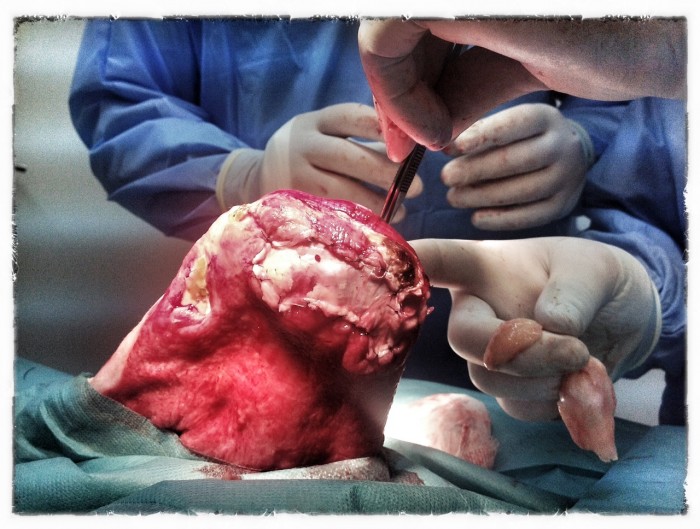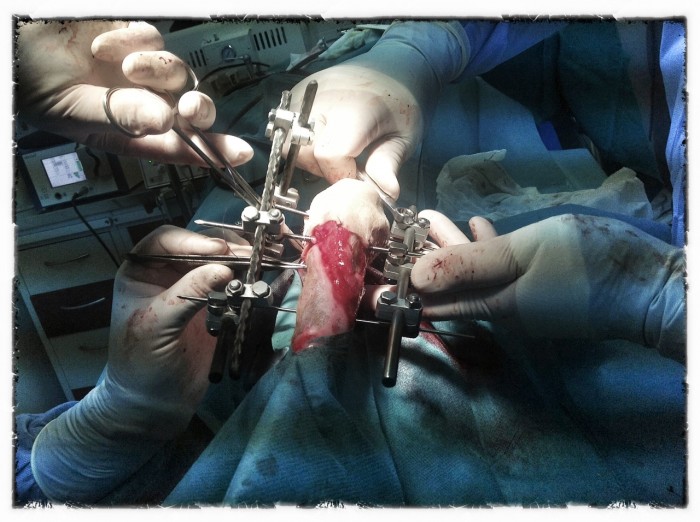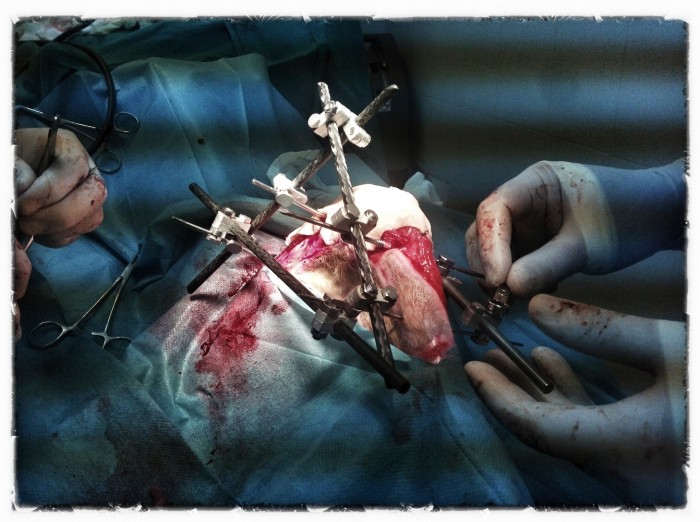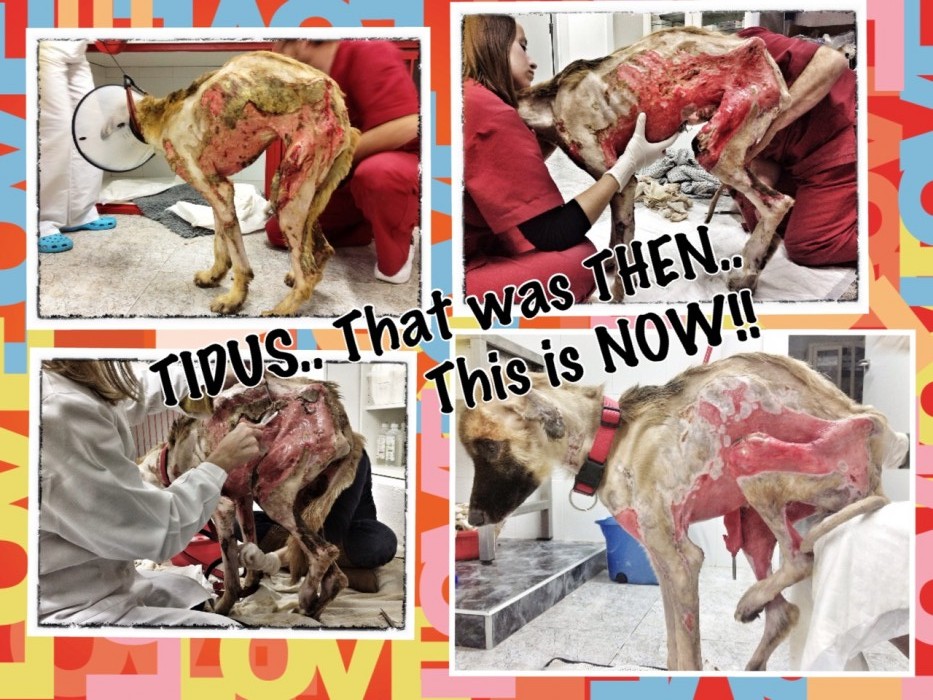 We want to thank to the 1.427 donors that, with their contributions are making this incredible rescue possible.  As days pass and things are getting more and more complicated we wonder how far this will take us.