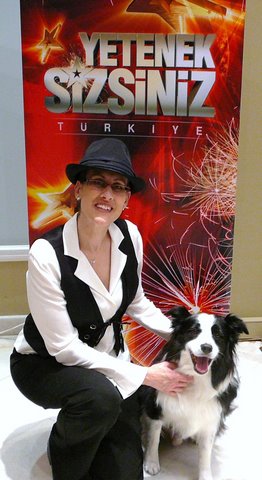 Let's Adopt member, Sharon Yildiz, and her dog, Savvy, appeared last Saturday on "Yetenek Sizsiniz" (Turkey's Got Talent") on Show TV. Sharon needs the help of every Let's Adopt member in Turkey to get to the finals.
Sharon has rescued 12 injured/orphaned cats and 1 dog since moving to Turkey in 2008. She will donate 20% of any Yetenek Sizsiniz prize money to animal rescue in Turkey (hopefully Let's Adopt!) (the grand prize is 500,000 TL). Even if she does not win money, the finals will give Sharon the chance to promote spay/neuter and street animal adoption on Turkish TV and in newspapers.
If everybody in Let's Adopt sends a text vote, Sharon will almost certainly have a chance to compete in the finals. Please send your vote NOW! Just send the SMS "228" to Turkcell number 6620.
Here is a video of Sharon & Savvy on Yetenek Sizsiniz last Saturday:
Sharon, Savvy and myself thank you for your vote!