Since we went public with the information disclosed in our latest blog publications, Ivan Jimenez, aka Viktor Larkhill understandably retaliated. Here you will be able to find a running update of our responses.
Has Let's Adopt cancelled payment for Claudia and Fozzie?
No. On August 13, 2015 we settled Claudia and Fozzie's bills in full. After receiving an email from Ivan Jimenez (Viktor) regarding that payment we contacted the vet who had Claudia and Fozzie and requested that he comply with several conditions before the payment was finalized. The vet responded positively and payment went through.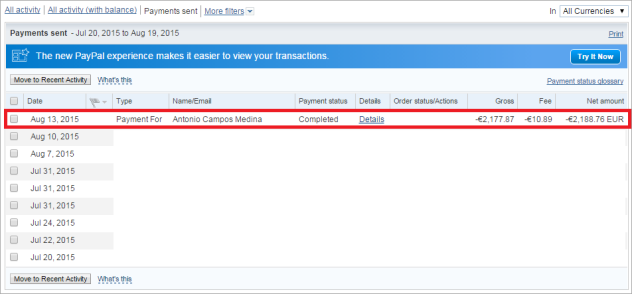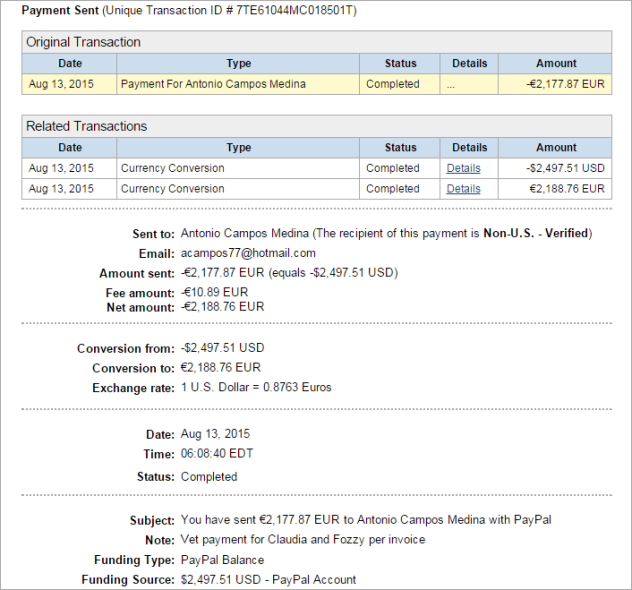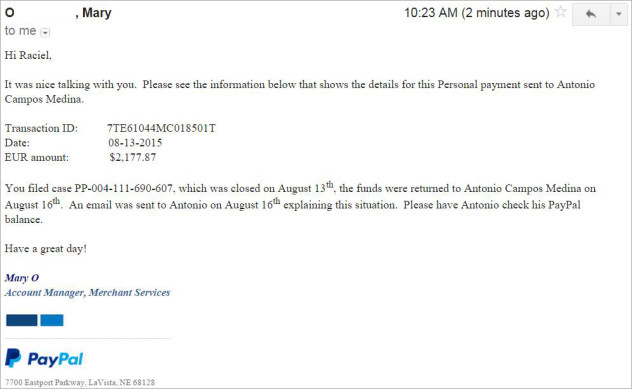 We recommend that Ivan Jimenez stop interfering with the animals he left behind and focus on his new venture instead. If Ivan cared for those animals he should have stayed with the organisation until all of them were safely in new homes. Instead he chose to move on and start a new rescue. Every lie Ivan decides to perpetuate on the subject is causing us to spend time explaining and is interfering with our continued efforts to deal  with the problem he himself created and conveniently abandoned.
Has Let's Adopt abandoned its animals?
No. Let's Adopt! Global has been paying the bills of the many animals in Spanish pensions since Ivan Jimenez (aka Viktor Larkhill) departed. A few incidents happened in the last few months, with the last one transpiring in the beginning of August, which made us issue an open letter to the Spanish boarding and veterinary facilities we work with. In that letter we request that the animals are legally transferred to us in order for us to be able to help them best. At the moment they are legally owned by Ivan Jimenez.
Why ownership matters in this particular case, and why it is in the interest of the animals that it is settled, you can find out in this disturbing account of some recent and not so recent events.
Is it true that LAG has paid no bills for months?
No. For months we have been paying the bills of the animals in boarding in Spain, and he knows that very well.
Is it true we are having problems paying those bills? Yes. Why is that? Well, because Viktor kept those animals kind of hidden. He never raised funds for their boarding, trying to hide the fact that there were so many of them. He paid for the boarding bills with funds from other rescue cases. That is unfortunately a vicious circle and one of the bad practices the board members wanted to stop.
So we suddenly had to tell people there were those over forty animals in boarding facilities in Spain, and that they had the corresponding monthly cost. We started working on stories for each animal so we can share them with the community, and ask for help. In the meantime we continued to pay as best we could. To see the exact amounts we have paid so far please follow this link.
Why don't we "sort the situation right now" and "just pay the bills"?We have been working on solving the situation, however, it is a slow process, and as time passed became bigger. When this mess fell entirely into our hands, everyone who came forward and jumped to the rescue of Let's Adopt Global was a volunteer – people came together from different countries,except Spain, and they are what is helping Let's Adopt! Global operate at the moment.We do not have a ready solution, as we didn't expect to need to move all at once for fostering and adopting of forty plus animals. Raising the necessary funds to also cover everyone in one settlement has been made difficult because of the sabotage being done to undermine our donor base. Our available emergency fund cannot stretch to cover that amount. We have been and are addressing the issue as fast as we can. We will keep you updated.
Are some of the boarding facilities Ivan Jimenez had chosen luxurious?
By all means! We are very impressed. Perhaps that has something to do with the daunting boarding bills he was always racing to pay by taking on more and more new cases, on which to fundraise in order to cover same boarding bills – which the community knew nothing about.
We have no problem with the facilities the Spanish animals are stuck in. We have a problem with the fact that some have been there for years and that there are so many of them. Upon Ivan's resignation their number turned out to be around forty.
Why "no animals waiting to be delivered to their families were delivered"?
Ivan Jimenez accused us of not delivering adopted animals, who were waiting to go home at the time of his resignation. Please find here the entire story on how he deliberately kept those animals in an expensive facility in Spain until he registered his new venture, and then took them home himself three months later. Let's Adopt! Global was left with the boarding bill and his accusations of inactivity.
Is it true Axel is dying because his vets bills are not paid?
No. We have requested information on this and will assess it. Last information on Axel we received from his vet is that he has atopic dermatitis and is being treated for it.
Did anyone steal Let's Adopt from Ivan Jimenez?
No. The Board of Directors, who in late February 2015 initiated, yet again, a difficult discussion on old issues with Ivan Jimenez, did not want him to leave, and he was told that many times. What we wanted was for him to comply with these while rescuing and rehoming for LAG. Simple as that. We were all volunteers, with day jobs, personal lives, hobbies, and we did not have any aspirations of running LAG instead of Ivan or without him.
Are we soulless heartless robots?
We love animals and we are all long time rescuers. Those of you who care for animals will easily sense it in the publications on Let's Adopt! Global's Facebook page.
What you may have seen as an immediate change is a lot less URGENCY, a lot less animals needing an operation that have ONLY 24 HOURS TO COLLECT THE MONEY, and a lot less animals TERRIBLY HURT BY PEOPLE. Exaggeration and gore does have a certain place in the narrative but when overused it desensitizes the audience.
---
If you have heard that Let's Adopt! Global has abandoned animals and is not paying vendors, please follow this link: Open Letter Regarding Suspended Payments.
---
Please follow these links for more information
---
Ivan Jimenez, aka Viktor Larkhill – Q&A (running updates)
---
Ivan Jimenez, aka Viktor Larkhill – Resignation announcement (diplomatic)
Ivan Jimenez, aka Viktor Larkhill – Resignation  (non-diplomatic, pending)
Ivan Jimenez, aka Viktor Larkhill – Unethical fundraising 
Ivan Jimenez, aka Viktor Larkhill – Lying and manipulating
Ivan Jimenez, aka Viktor Larkhill – Misappropriating donor funds (pending)
Ivan Jimenez, aka Viktor Larkhill – Hoarding in Spain (pending)
Ivan Jimenez, aka Viktor Larkhill – Harassment (pending)