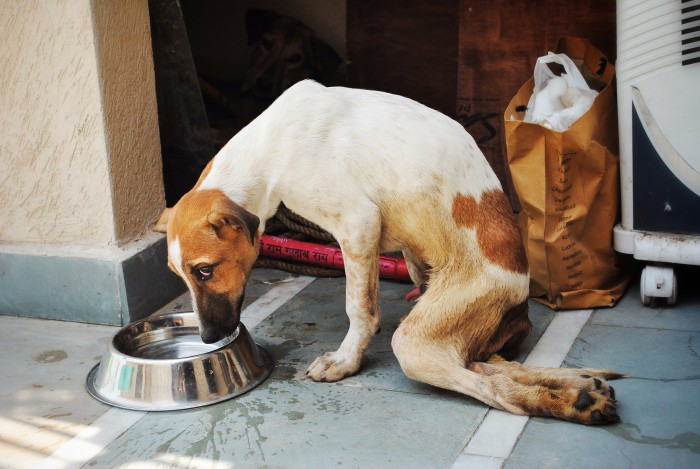 What follows is heartbreaking but it´s necessary. It´s animal rescue. Please help us transform Rockett into a symbol of Hope for every other animal out there, laying paralyzed, waiting for help… Please read, help if you can, and at the end, SHARE this post on Facebook.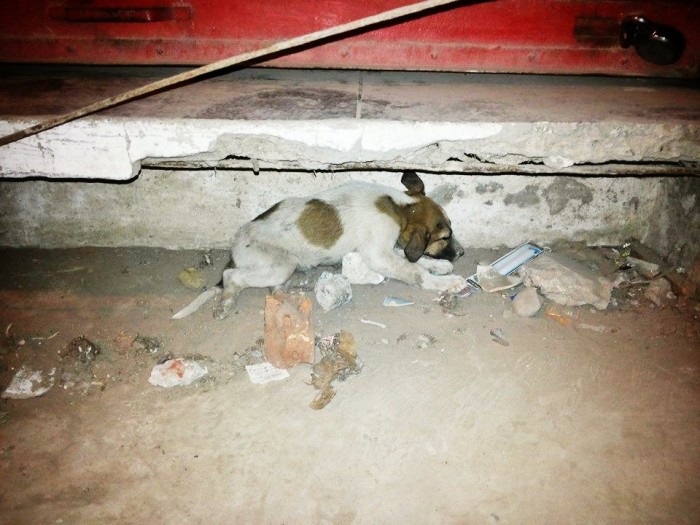 On March 9, the Guardians of the Voiceless received an urgent call, a little pup laid on the floor in a dirty street. They rushed to his help and what they found made them weep… There he was, Rockett, thrown on the floor like a broken doll, trying to protect himself against the curb. He had been separated from his mother, he been abused and bitten by other dogs. He was crying and like a little boy would do, he was asking for help.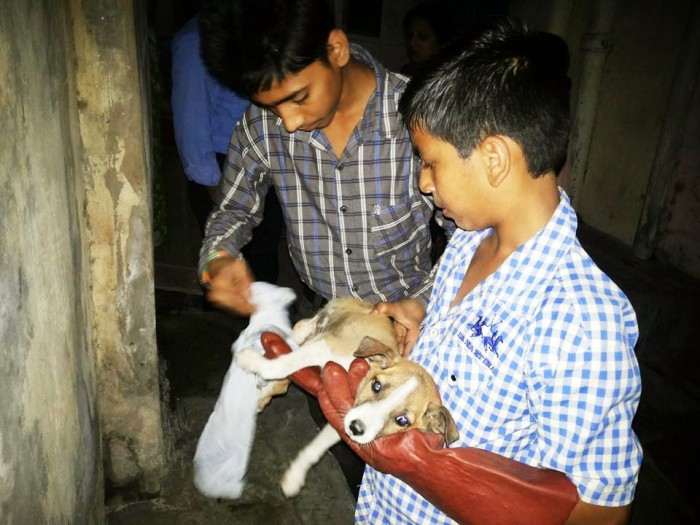 The Guardians took him out of harm´s way and brought him to their home. The following day Rockett was taken to a vet that with just a look immediately suggested euthanasia. Heartbroken they went to another vet for a second opinion. Same verdict… Paralyzed, unable to control his bladder, Rockett should be euthanized.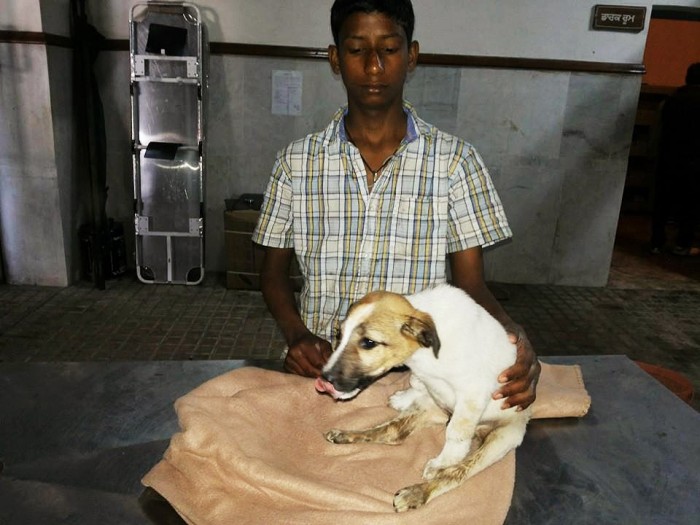 But the kids would have none of it.. and instead of killing him they took him home and regardless of his condition and handicap they showered him with love… Surrounded by such pure and kind souls Rockett blossomed. The crying pup regained confidence and poise and decided that, no matter what.. he would live.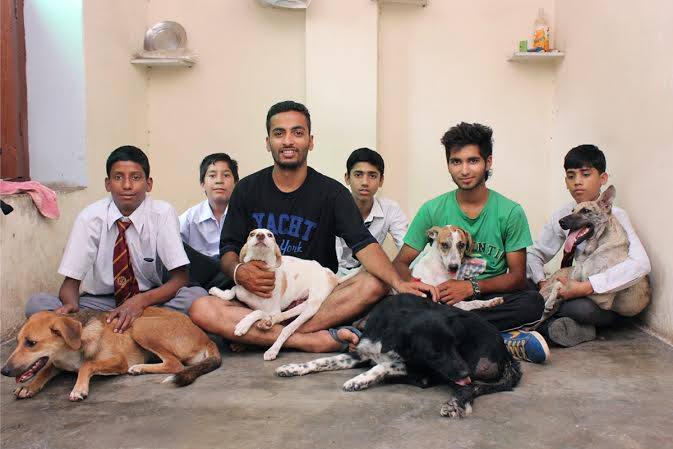 But without proper veterinary care and without any prospects of adoption Rockett was facing a very uncertain future. Everything changed the moment we offered our help. Excited by the possibility of Rockett being saved the Guardians asked us to please help them and save Rockett together with Tara to be treated and rehomed. We said yes right away. Tara and Rockett would be saved. Rockett and Tara travelled to Delhi and they would have flown to Europe together hadn´t he encountered problems at the airport in Delhi last week. Please Watch this video…   It´s time to bring Rockett home… it´s time for Rockett to have proper veterinary care and it´s time for Rockett to be adopted by a loving family that loves him, understands him and protects him.. for life. —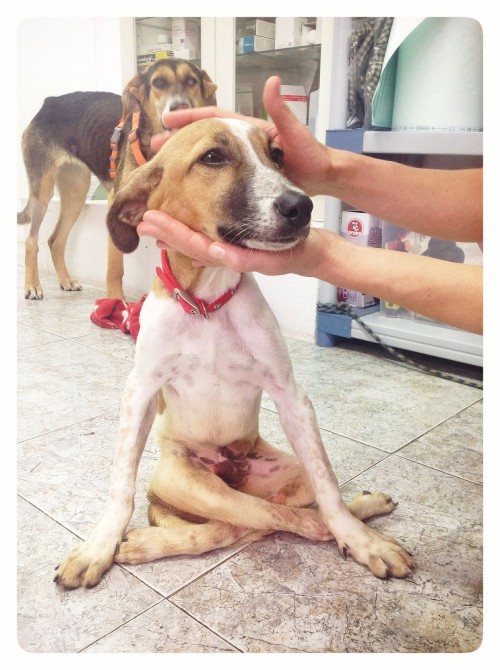 Update 15 June Rockett is now in Spain… after a 16 hour trip he finally made it. From the airport he went straight to our clinic to meet Tara again and to make new friends with our other rescues currently on treatment. —
16 of June Rockett is feeling more and more at ease with us… what an incredible little dog… He is amazing. The nurses jokingly said they wanted to change his name and call him FLECHA, which means ARROW.. that´s how fast he goes around… We have done a complete radiological study and here is the main lateral image of his back.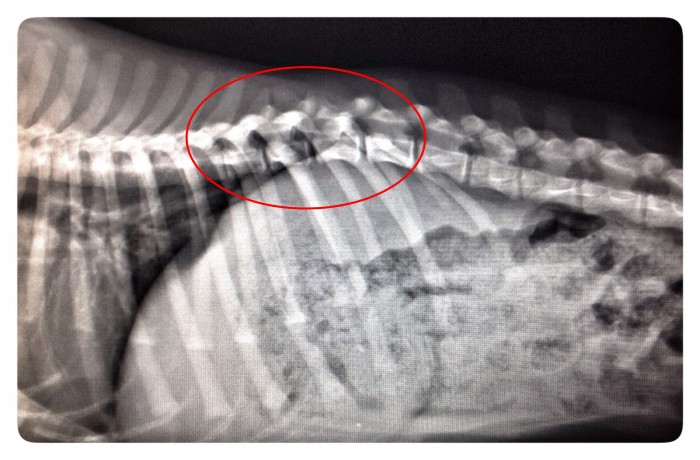 We can see there is something there but we don´t know exactly what it is. The curvature of the spine is clearly atypical but we are not entire sure there is a fracture there. What is clear however is that Rockett has been paralyzed since he was a tiny puppy. We will be looking at this in coming days but we are starting to think at ways to help manage his incontinence and improve his mobility… Rockett is going to need an extraordinary home… Please write to me on viktor@myletsadopt.com telling me all about your family and your animals. HELP US Turn Rockett into a symbol of hope for all those handicapped animals that somewhere out there may be in similar conditions to Rockett. Rockett is here and we are going to do our absolute best for him…
Rockett is going to need an extraordinary home… Please write to me on viktor@myletsadopt.com telling me all about your family and your animals.  HELP US Turn Rockett into a symbol of hope for all those handicapped animals that somewhere out there may be in similar conditions to Rockett. PLEASE SHARE ROCKETT on Facebook and Twitter
—
Update 18 June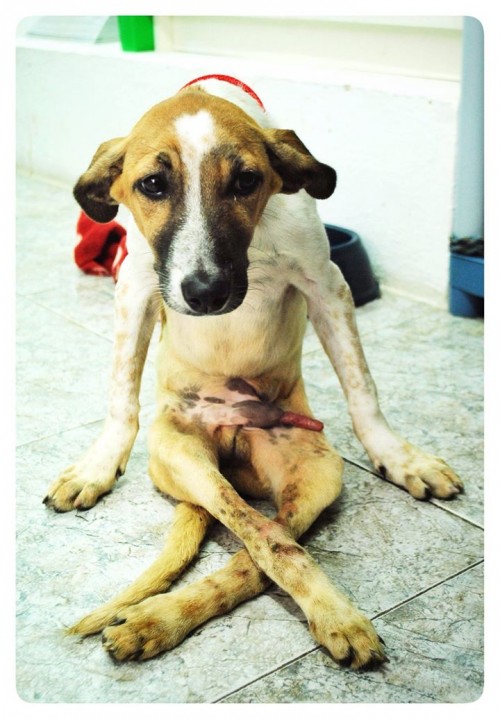 ROCKETT's HOPE!!
Look at this picture. Here you can fully appreciate the situation we have in front of us. Rockett is paralyzed, not only that but he is incontinent and has priapism, a constant erection of neurological origin.
Facing this the objective of the treatment is both to improve his mobility and quality of life as well as reducing the risk of complications due to his incontinence (appearance of sores).
The fact is that Rockett already walks on his two legs lifting his body. His body structure allows him to do that very easily. So we are going to give him total freedom of movement and at the same time we'll eliminate those legs that because they dont have sensitivity and fonctionality they are a possible source of complications in the future.
Have a look this will be Rocketts evolution..
We believe this is the best option for Rockett at this stage… His first procedure will take place today.
Keep fingers crossed…
—
Update 18 June… late evening..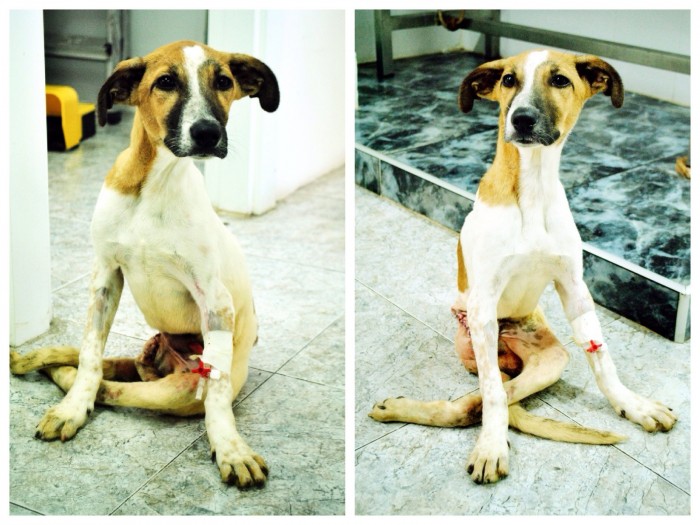 ROCKETT IS UP!!!!
The operation went well… he woke up, looked around and starting saying he wanted to go out play with the others. Due to his condition he feels absolutely no pain and believe me.. he doesn´t miss his leg a bit!
We are going to wait three or four days for his next procedure.
In the meantime, all is well.. and yes.. HE´S HUNGRY!
—
Update 19 June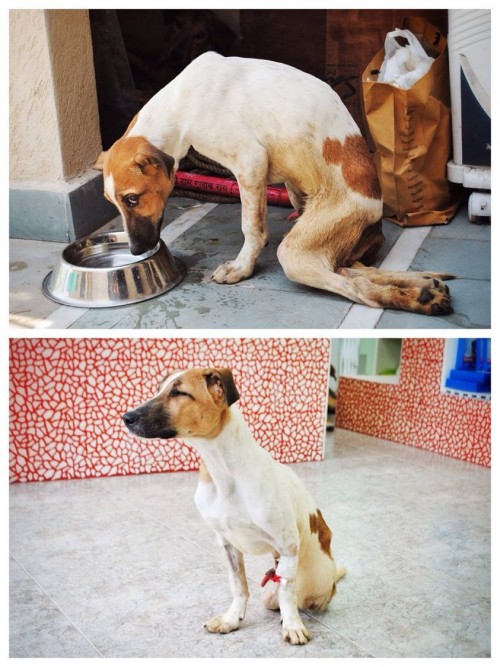 WHAT DO YOU SEE HERE?
I see a dog that was struggling to survive in the harshest of conditions.
I see a dog that has travelled across the world to save his life and it´s starting to live again.
I see pride.
ROCKEET´S PRIDE…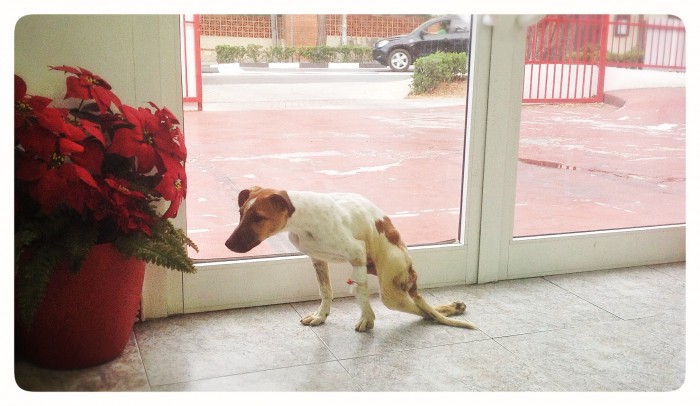 —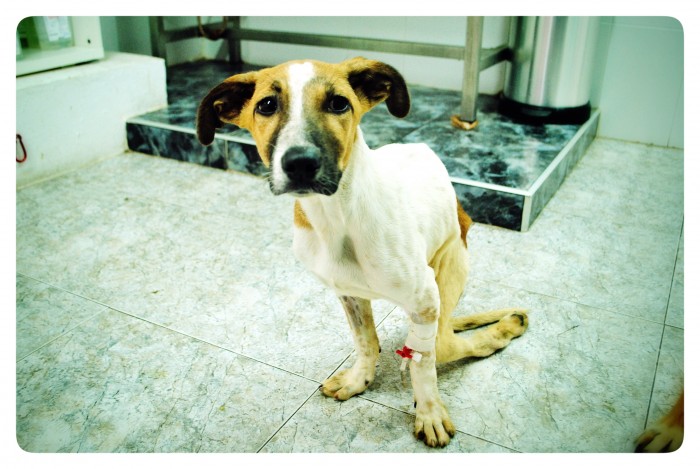 SOMETHING IS WRONG WITH ROCKETT!!!
WE have a problem… ROCKETT has just started exhibiting neurological symptoms, strong shakes, convulsions. We have immediately isolated him from our other animals and are proceeding to do a full battery of tests. We have taken two samples and send it to two different labs to find out what it is. Normal hemograms show nothing abnormal. His operation went well and there is no infection, so complications from the surgery are completely ruled out. We have a set of neurological symptoms that would initially fit with two possibilities:
1. Toxoplasma, a parasite that spreads through the feces of adult infected cats or
2. Distemper, a condition that is very present on indian streets and shelters. Both conditions are potentially fatal.
Toxoplasma is not contagious to other animals without having a carrier in the middle but Distemper is highly contagious.
Until we have fully identified the problem we are taking measures to prevent spreading of the disease. We have separated Rockett from Tara, Lady and Nube, our other dogs right now staying at the clinic.
Right now Rockett is in a room on his own, mildly sedated to control convulsions, receiving fluid therapy and antibiotic treatment to prevent complications while we find out what the problem is.
We are doing detective work right now in order to prevent what could be a real crisis here. I will keep you informed as soon as we find out what´s wrong…
—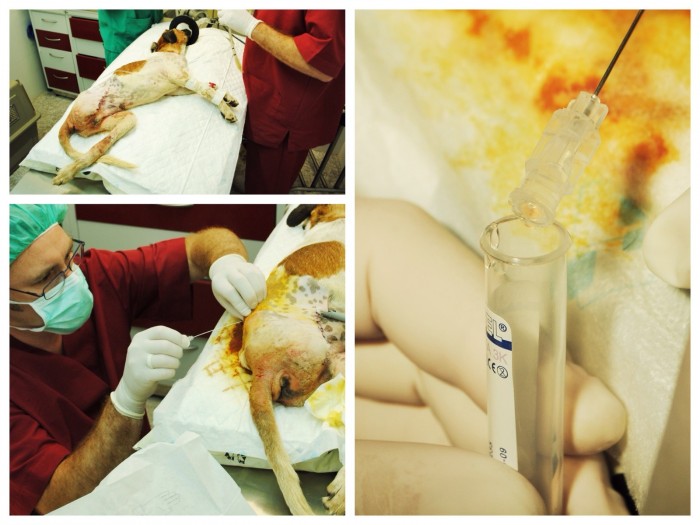 ROCKETT HAS DISTEMPER!!!
I have just returned from the clinic. We stayed up all night.
The second lab results arrived. It showed a clear positive to distemper. Facing different results we have just done a Cerebrospinal fluid extraction needed for a final and conclusive confirmation.
In any case Rockett is been treated for distemper since yesterday. He is receiving every single posible help modern medicine is aware of (and then some more). We are taking extraordinary measures to contain the spread of the disease.
Please keep Rockett in your hearts and minds…. He is fighting the fight of his life..
—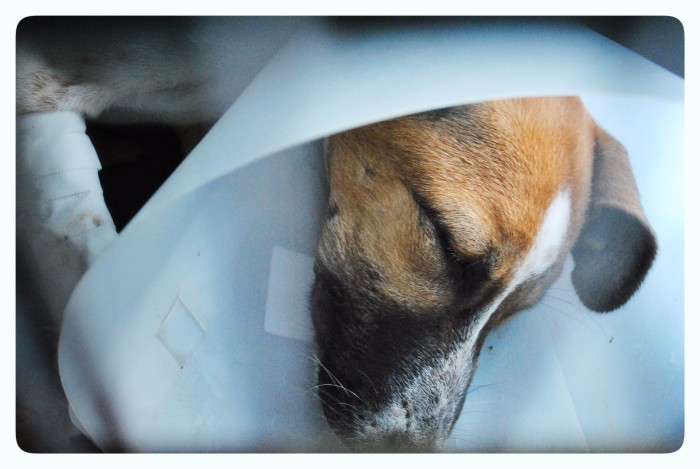 Sunday, 22 of June… 
Goodbye ROCKETT…
The lights have gone off for you, my beautiful Indian prince.
All the love, all the hope, all the illusions of a life that would never be.
All that is gone now.
Ten thousand eyes will weep tonight.
You leave many behind… Your Indian friends that rescued you and warmed you with their smiles, your doctors and those who loved you even if they never met you.
Your Spanish friend, Lady.
And you leave me.
To us you were never just a dog. You were family.
To us, you are, and will forever be, in our memories and our hearts… ROCKETT.