I have spent a large part of my life away from my country, Spain. I left as a young teenager, although we always had adopted animals I wasn't an animal activist then. It hasn't been until my return, 20 years after I left that I found about the reality of the animals here…

I wish I never knew.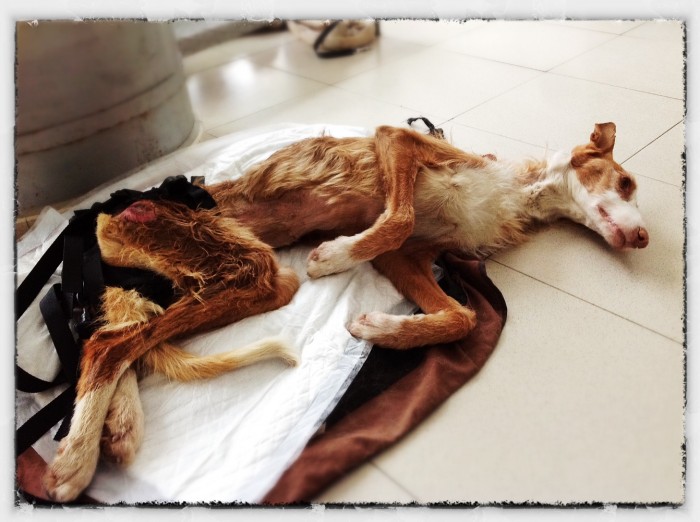 Meet Queen.. she belongs to one of the world's most unique breeds, the Ibizan Hound, a dog descending of ancient breed. One of the most majestic animals, funny, loyal, energetic, a joyful marvelous dog…
Look at Queen… a young female dog that has been used, abused, exploited in every single way a dog could ever be… and when she couldn't be used anymore she was discarded, like a old rag. Queen was brought to us by a small group of rescuers that felt couldn't do anything for her.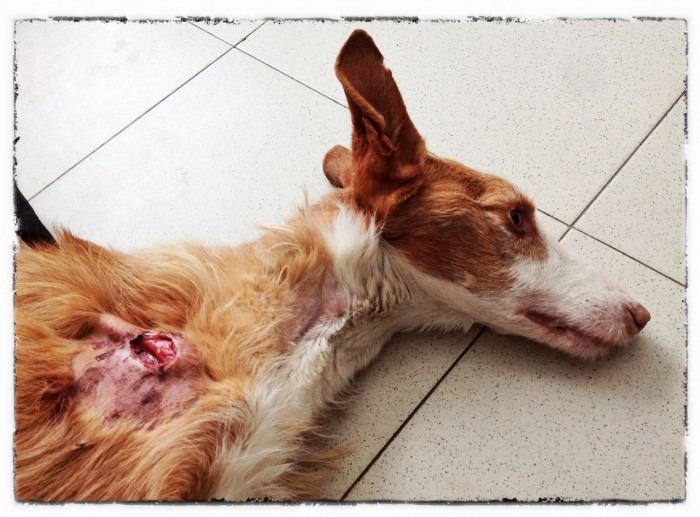 We took the case… rushed Queen to our clinic and started performing a full range of tests, from scratch, real detective work to find out what had reduced her to this pitiful state.
We did a full radiological study and a mielography, there was no fracture in her back.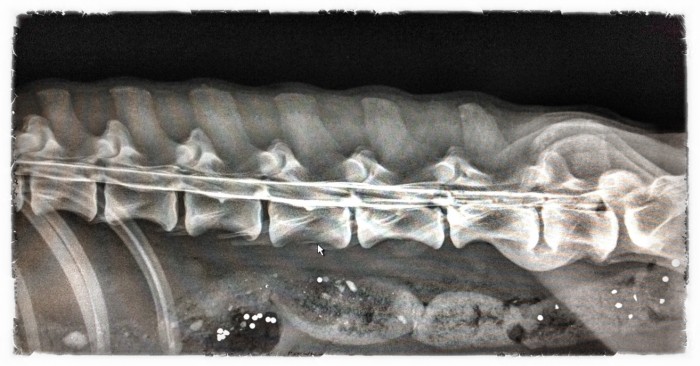 But what we found was an extremely high level of Leishmania that at the last stage has developed into Polyneuropathy… This is why she couldn't stand up!!!!. The hunters used her, worked her to death and when she fell sick they dumped her on the fields to die… 
The spinal cord is intact, she's in good spirits, she's very alert, she's eating ravenously… I'm confident with the right treatment, and lots of time and patience we can save her life.
Before Queen arrived to us two vets suggested euthanasia… we intend to show them, and eveyrone that there is another way to deal with a case like Queen… a harder way perhaps, but the right way.
Before you turn the page and move on with your life and obligations please give Queen one last look… She's is everything we fight for, the very reason for Let's Adopt! existence..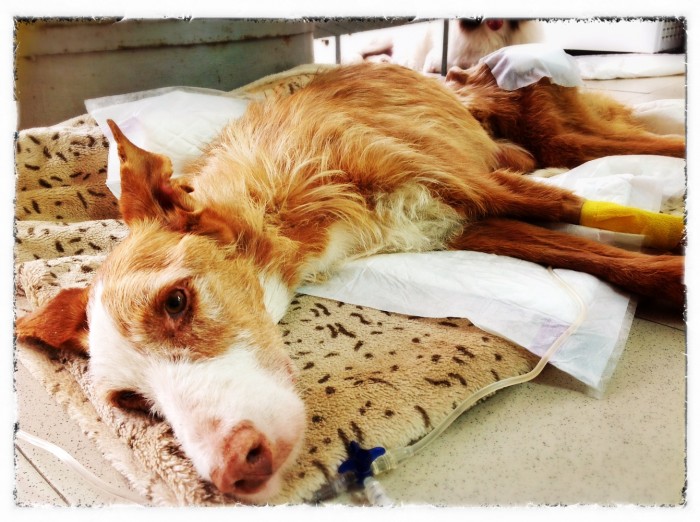 The treatment will be hard, difficult and extremely long… but we are committed to save Queen's life and to fight for her all the way.
Would you help her?
Please, if you can, help us save Queen today…
Many thanks!
Viktor@myletsadopt.com
We know times are tough and many are struggling right now, if you are not in a position to contribute please, at least help us save Queen's life by SHARING this blog on Facebook, Twitter, you name it… anywhere you can… please.
Many many thanks… as usual we will provide personal updates to our donors as well as through our Facebook Page, Let's Adopt! Global
—-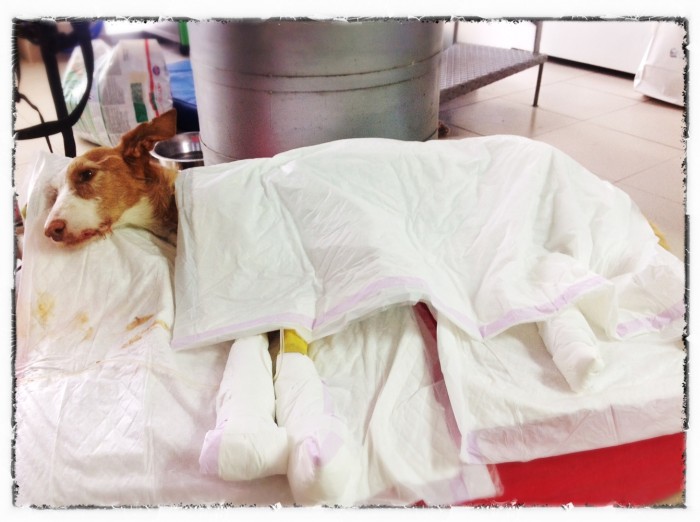 UPDATE February 10
Good morning..
Need to send you an update on Queen's condition..
Her situation is grave. Her worn out body hasn't been reacting to the treatment. Her albumina levels are extremely low and nothing we've done so far seems to be working. She's crashing.
Her owner allowed her to decay to the point of no return. I can't possibly understand how someone can watch a dog crumble to this point without doing anything about it, but that's what they did.
We are doing all we can to save her life, but sometimes, all we can, is not enough. We got her too late.
In a few minutes we will be carrying out a blood transfusion and give her body a few hours to react to it.
If you pray, this is the time to pray. If you don't, please at least keep Queen in your thoughts this morning.
Many thanks for being there for Queen… How I wish she could know we are not the only ones here with her. How I wish she could know you…
—
Update February 10 21.30 hrs
Queen has left us.
She now runs in fields of gold…
You'll remember me when the west wind moves
Upon the fields of barley
You'll forget the sun in his jealous sky
As we walk in fields of gold
So she took her love
For to gaze awhile
Upon the fields of barley
In his arms she fell as her hair came down
Among the fields of gold
Will you stay with me, will you be my love
Among the fields of barley
We'll forget the sun in his jealous sky
As we lie in fields of gold