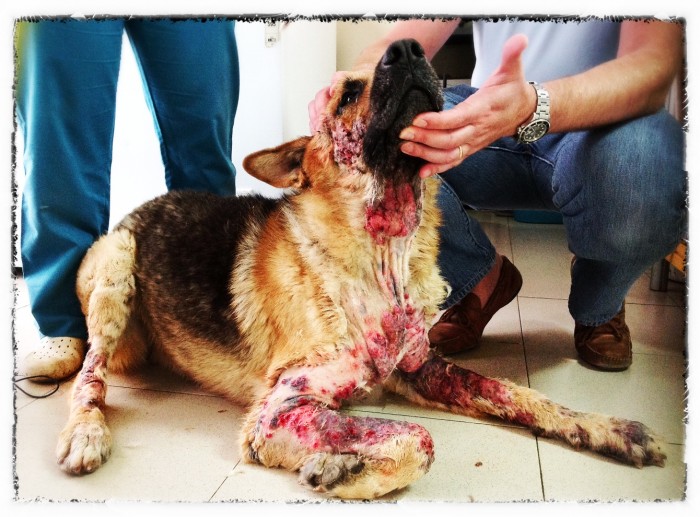 He had no name.
To his torturers he was just The Dog, and for years, he lived chained inside a basement in shack in the countryside. A dark wet hell where there was no difference between night and day.
His owners used to go there and drop some food every once in a while, just to keep him alive. To them, he was nothing but a living alarm that would scare intruders with his barks.
Neighbors had complained several times about this inhumane treatment but nothing had been done about it, and so it went on, and on, for years that may have seemed like an eternity to a dog that yearned for human contact and freedom.
And then, his captors stopped going to see their prisoner. There was no more water and food. His destiny had been sealed, he would die slowly, his body would shut down, and at the end of that dark corridor he would find peace. This was his destiny until a kind soul entered the house and found him chained, twisted, mangled and being consumed by a thousand larvae feasting upon his flesh.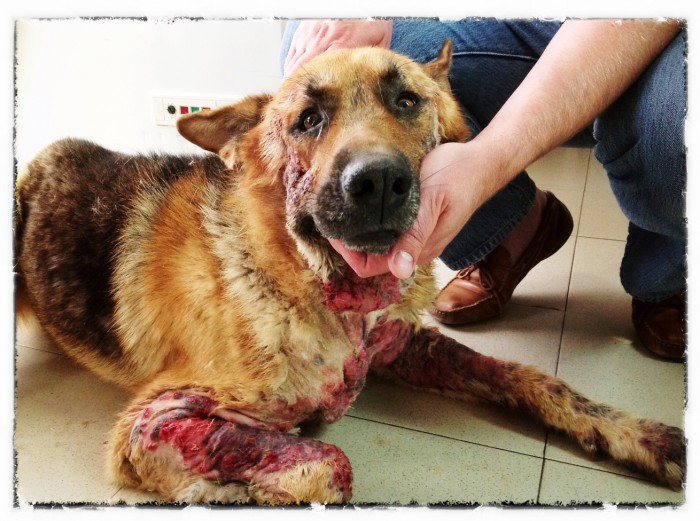 He has arrived to us in a critical condition, dehydrated and unable to stand, whimpering, a bloody mass of hurt.
He is positive to Leishmania. His leg is twisted, we don't know yet the extent of his injuries there.
Our initial protocole is to stabilize him with fluid therapy, clean and empty his wounds of larvae and other parasites, fully evaluate his leg injuries and start his Leishmania treatment.
After all treatment is over Axel will need a home, one that is willing to offer him the things he never had…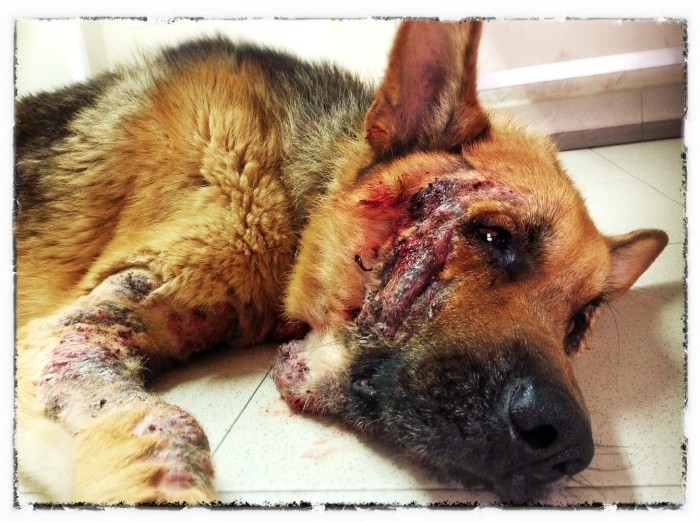 We know times are tough and many are struggling right now, if you are not in a position to contribute please, at least help us save Axel by SHARING this blog on Facebook, Twitter, you name it… anywhere you can… . Please help Axel today, because it's important, because it will save his life and because it sends the world the message that we must not abandon the weakest, human or animal in their moment of need.
P.S… Many people needed to see a video of Axel to believe he is real… I have no idea how can people convince themselves something so obvious is not real but here it is:

===
Update June 10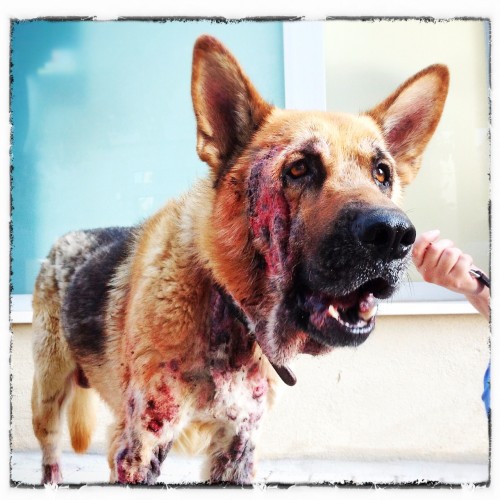 Axel has been with us for six days. At some point, early in the week his condition was so weakened that we thought we would loose him. Luckily the blood transfusion performed  helped greatly and he bounced back.
The injuries all over his body were thoroughly cleaned and they are being treated. Our biggest concern in the past days has been to control his blood levels and his anemia and glad to say things seem much more under control.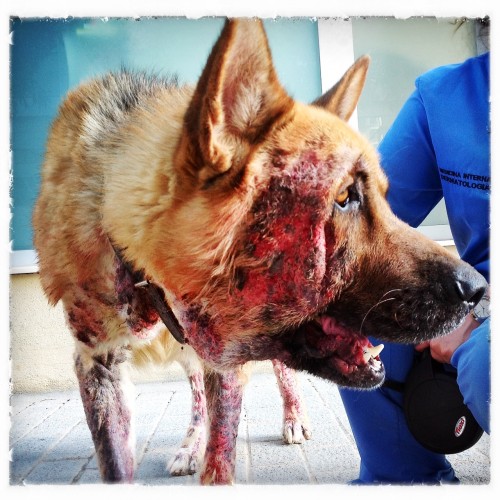 However, this is just the beginning. Leishmania is a terrible disease, that although it has no cure it can be managed. We are working hard to control it's evolution and get him strong enough so that slowly slowly his recovery becomes more apparent. We believe he will be as strong as Troy was…
—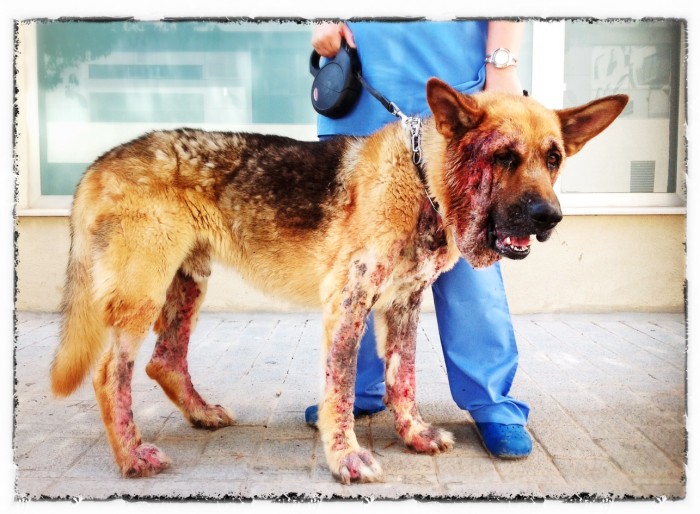 UPDATE June 13
Axel's mood continues improving and although he gets tired quite easily he enjoys his walks outside the clinic and interacting with people and other animals.
He is still weary and protective due to his weak condition, but I'm confident once his true   character comes out he will be a most magnificent dog…  what am I saying? he is THAT already!. The evolution of his injuries continues…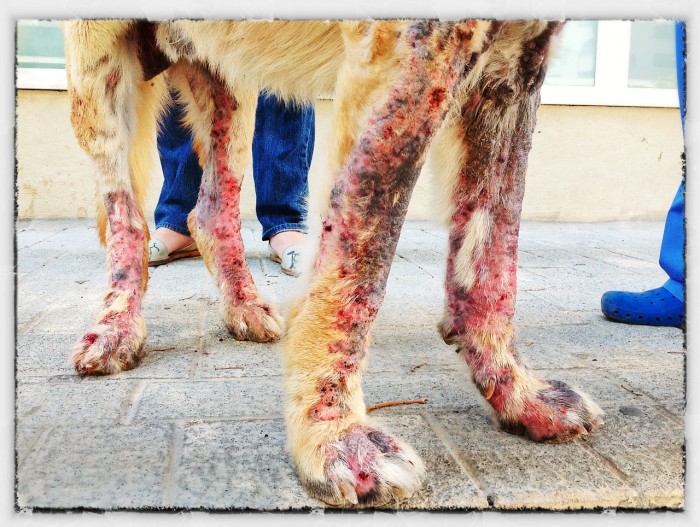 After we took these pictures we had a meeting with our veterinarian team, none of us is fully satisfied with the evolution of Axel's injuries and lesions. We have given him a closer shave to allow a much deeper treatment.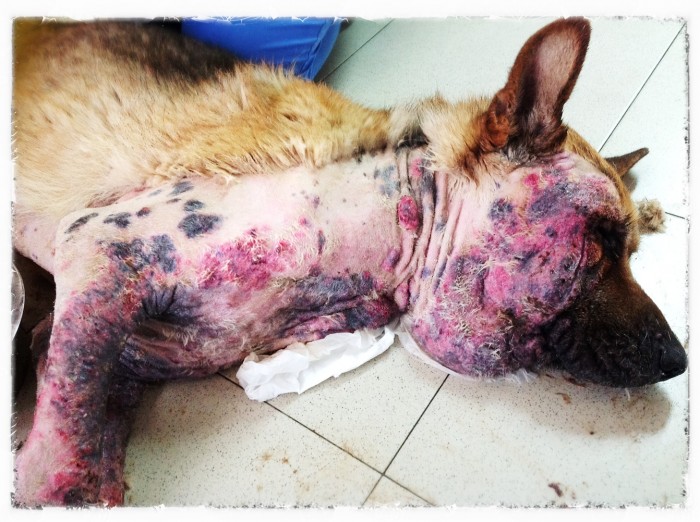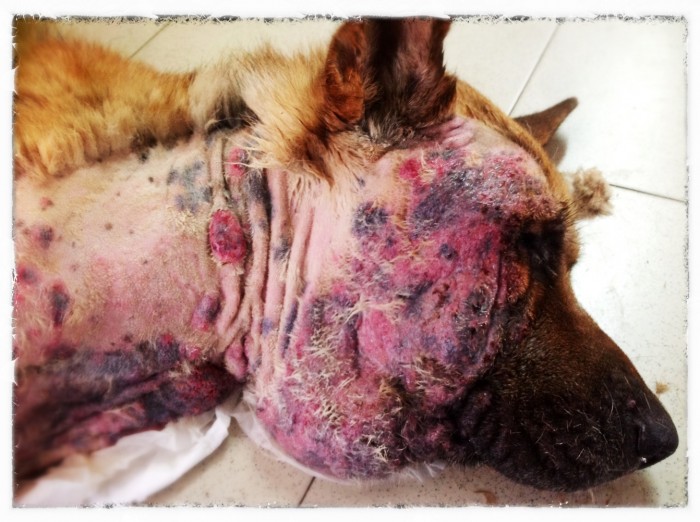 =
June 14…
Recording Alex on his morning walk… his mood is better but he's obviously very worn out… Still… a reason for optimism..
==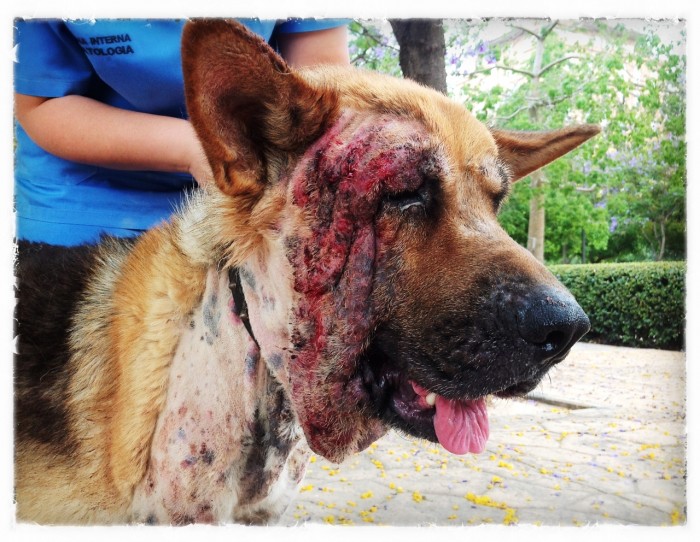 UPDATE June 17
Axel's evolution is positive, but it will take time. Our doctors are surprised he managed to  come out of his seclusion without further damage. Leishmania is being treated with Leisguard and Alopurinol and his mange is being treated with Moxydectine and Clyndamicine, we are also added Ketoconazol for a bad case of Malassezia.
Poor Axel… he's figthing..
—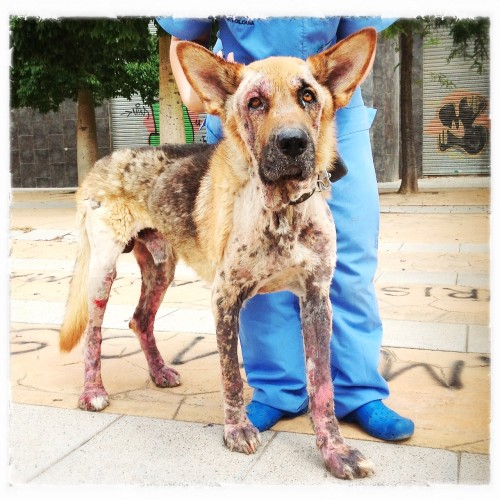 UPDATE June 21
Little by little… Axel is changing. 
His mood is different, his attitude is transformind due to the gradual improvement in his skin. He's eating great, every few hours he looks like us like saying: What about a steak?
He's a great dog… we are so happy not to have listened to the naysayers that wanted to euthanize him… look at him.. look at that face of pleasure when he gets his cures!!!
—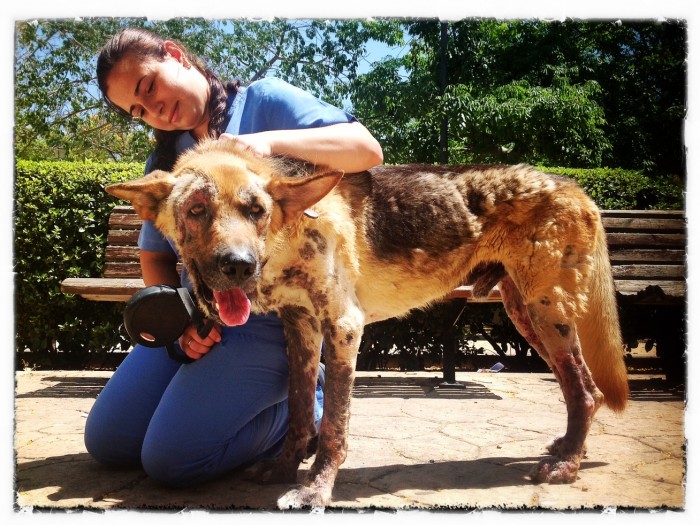 Axel has become addicted to the park. It's impossible to be in the clinic without his eyes meeting yours and asking you to take him for a walk and a lay on the sun…
I want to go to the park.. I want to go to the park his eyes seem to be saying..
—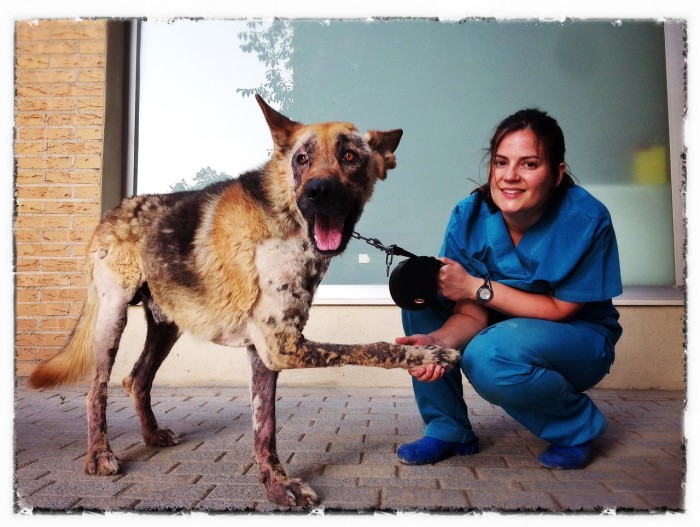 UPDATE 1 July
Alex has completely recovered the joy of life. He is totally out of his shell now, he's making friends, learning and experiencing life as he never before did.
One day at a time, the journey is slow, and hard, but it is worthy…
—
Update July 14
What I'm going to show you is the real, living proof of the recovery power of animals. You all remember how Axel was when we rescued him.. Now, you need to see this and experience the joy Axel is experiencing right now. The joy of painless living…  Inspiration.. The work of Let's Adopt!
—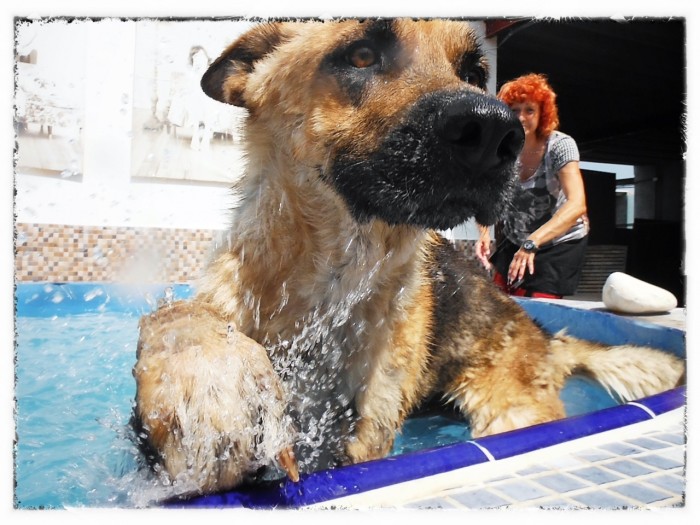 UPDATE JULY 31 st… 
Axel is, without any doubt, enjoying life for the very first time. He's like a young puppy playing and discovering everything. He has build trust with people, he knows nothing bad is going to come from there. He now understands that food will come regularly and that those plastic things are not sources of pain but of fun and play!
And he loves water… oh boy he loves water!!!!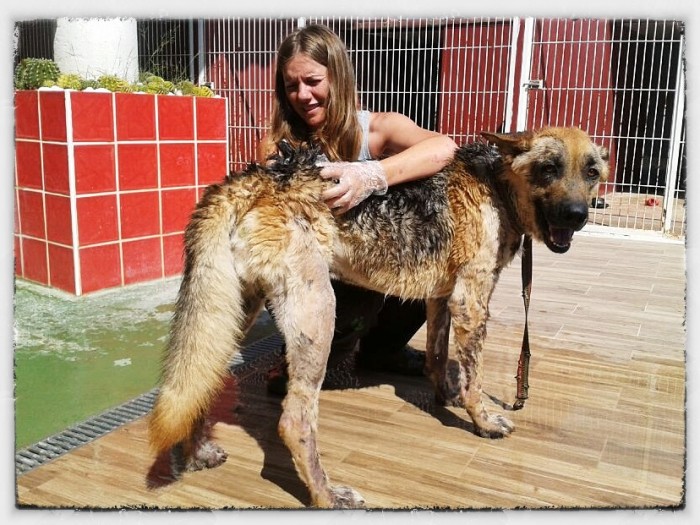 ==
Update August 8
My name is Axel… and for the first time in my life, I HAVE FRIENDS…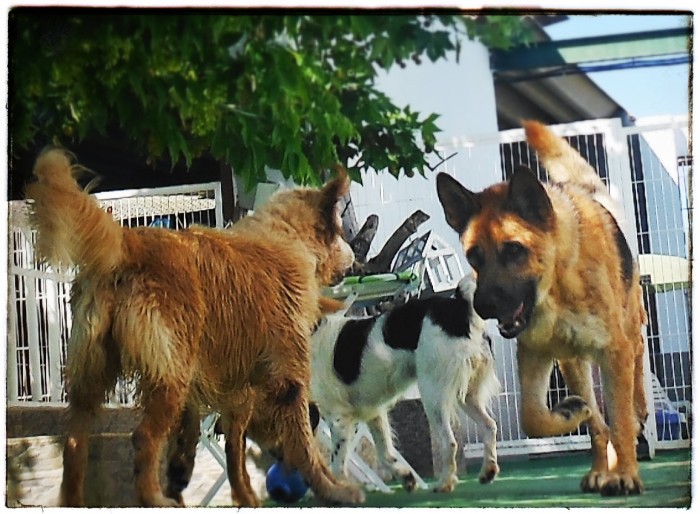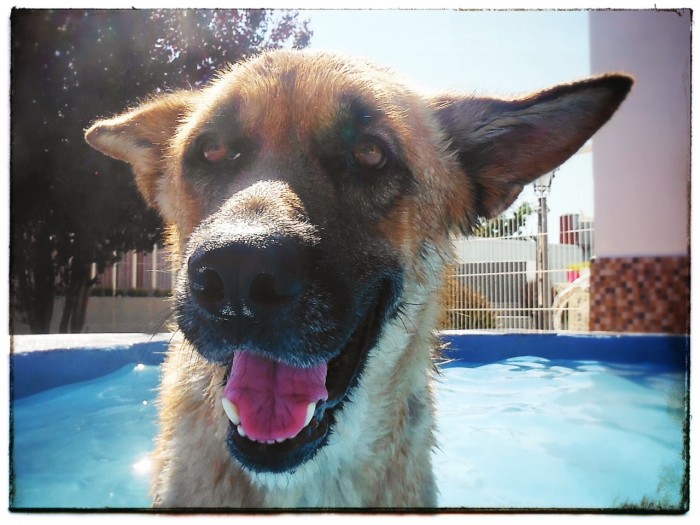 ==
UPDATE August 19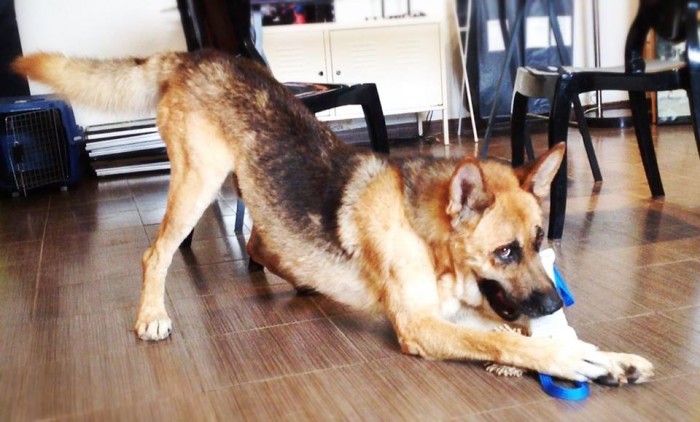 With every day that passes Axel makes new progress.. He has now made friends, he is also learning how to play with Toys.
Toys… we take them for granted, we have them everywhere. Axel never had any before today. He spent his life chained to a wall with a short chain.. but look at him now!!
and of course.. being summer Axel is also learning how to enjoy THE POOL!!!!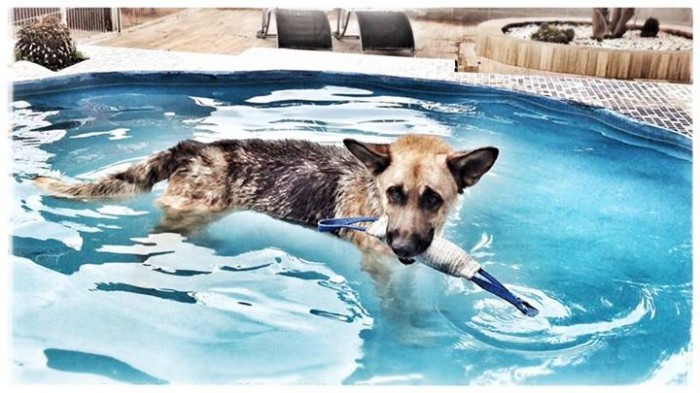 Look at this.. look at Axel's face… he can't understand what he's doing there. He must think he's died and gone to heaven..
—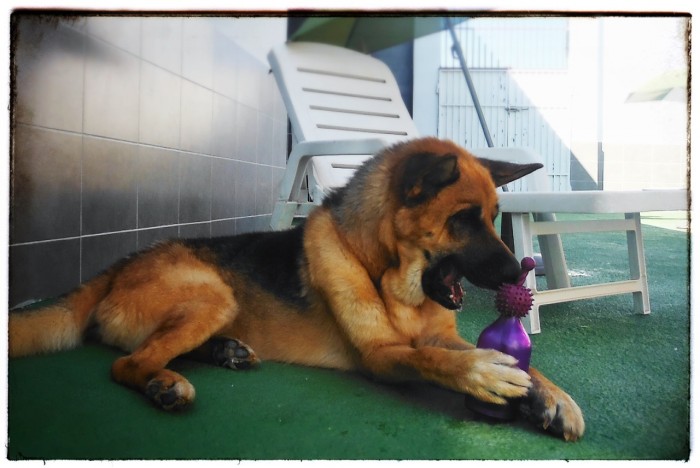 UPDATE 6 September
AXEL IS LEARNING TO PLAY…
He grew up without freedom, in darkness, without contact with other animals or people. A life of loneliness, pain and despair.
He was nothing… NOW HE IS SOMEONE.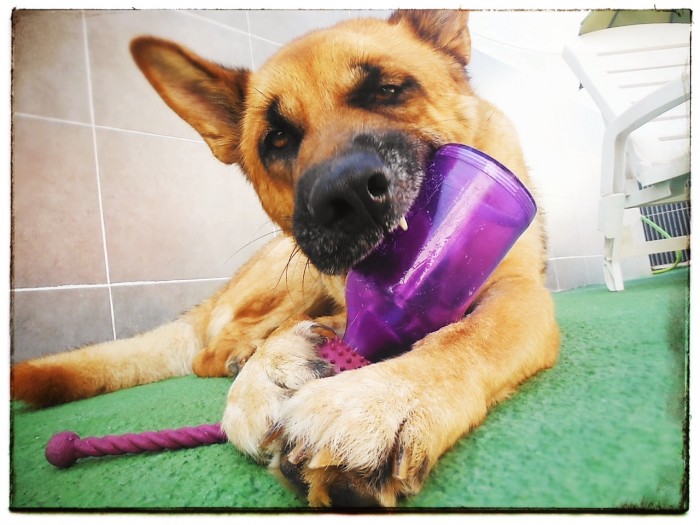 —
UPDATE 10 March..
Axel has long forgotten his former life of suffering and neglect. He remains with us while waiting for the perfect family to appear. He is an extraordinary dog. He is big, powerful, incredibly playful… he is going to need an incredible home, one that understand him perfectly, that can handle a dog of his size and strength and that never, ever gives him up.. Are you that family? Write to me on viktor@myletsadopt.com
Have a look.. this is Axel today..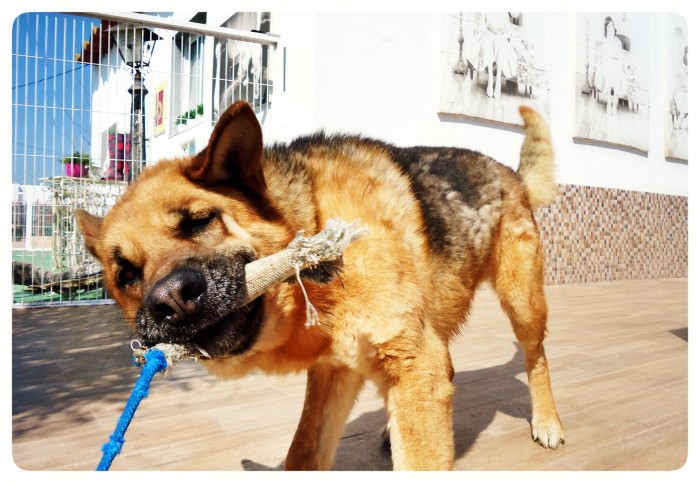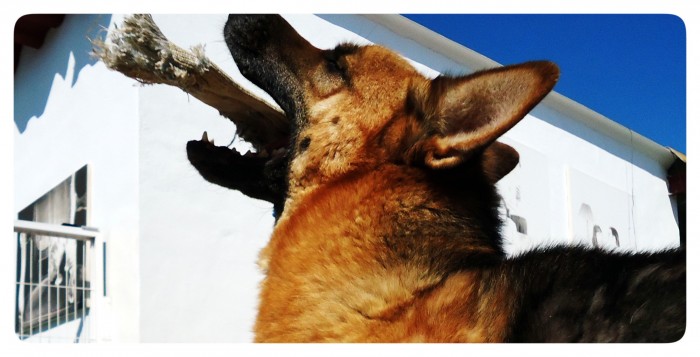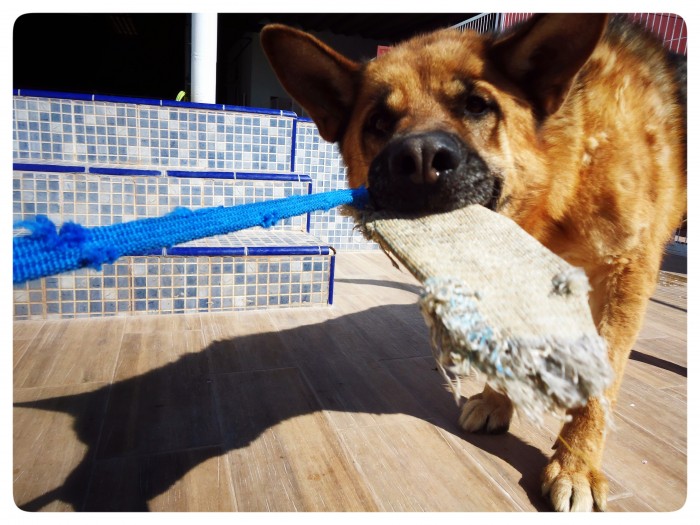 —
Update 22 of July.. 
In all these years of rescue we have never had such an spectacular recovery. Axel is a totally incredible dog and his zest for life is absolutely unbelievable…. Have a look at this… THIS IS AXEL FOR YOU!!!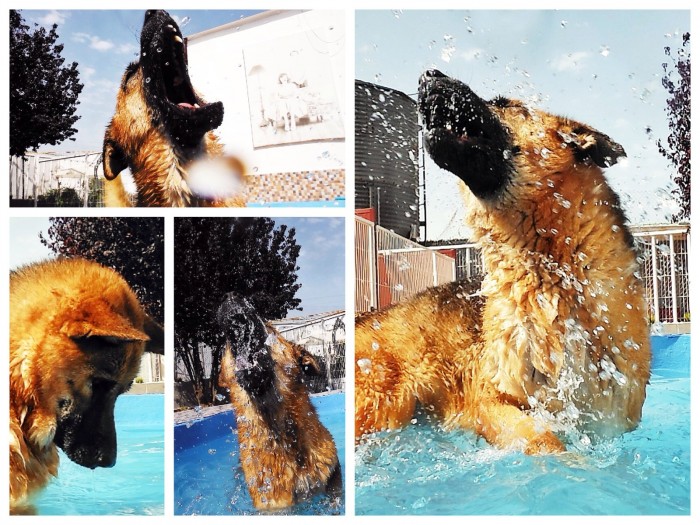 AXEL has been with us for over a year now and the ideal family hasn´t been found yet. In the meantime he´s having an spectacular time, of course, but we really need to find a home for him…
IF YOU ARE THAT INCREDIBLE FAMILY PLEASE WRITE TO ME ON viktor@myletsadopt.com