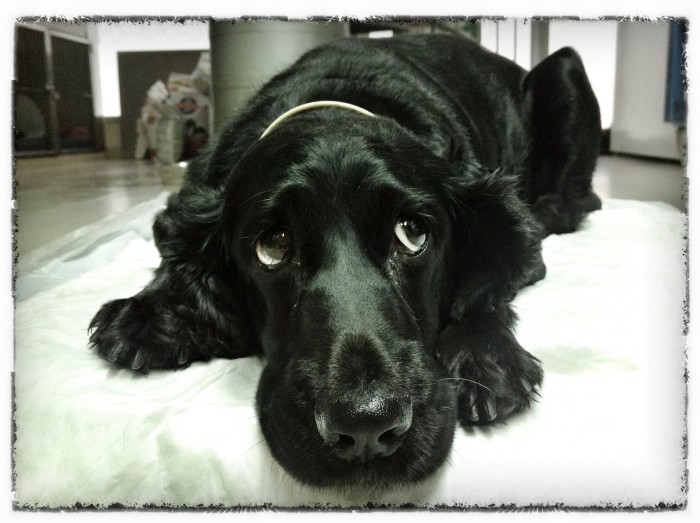 Truffle, small, round and black… you have to admit it's a great name for this baby…
Truffle arrived to us yesterday with a broken back. It was an emergency, the dog had been run over by a car. The driver run away, leaving behind this poor baby whimpering and unable to move.
Truffle came to us in a terrible state, paralyzed from waste down and having lost her ability to poo and/or pee.
The Xrays showed the true extent of her condition. Just have a look, you don't have a doctor to understand the trouble here…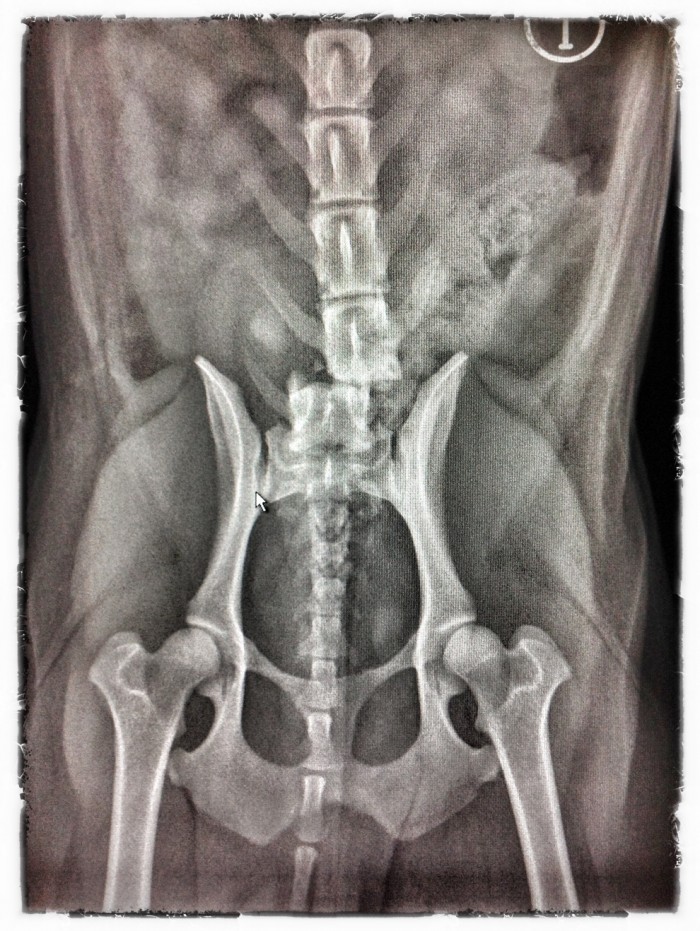 Let me be honest. I'm overwhelmed. The rescue of Tidus and dealing with the logistics of all our cases around the world has got me completely drained and in bad need of a break. But we couldn't leave Truffle behind. Before she came to us she had seen other vets who immediately suggested euthanasia. The operation would be difficult, expensive, and there are very few surgeons able to do it right.. The rescuer was devastated and then.. luckily for Trufa, she found us.
I believe we can fix Truffle. We have done it before, with your help we will do it again. Look at the injury. The easy way out is to kill her, the right thing to do is provide her with the necessary help.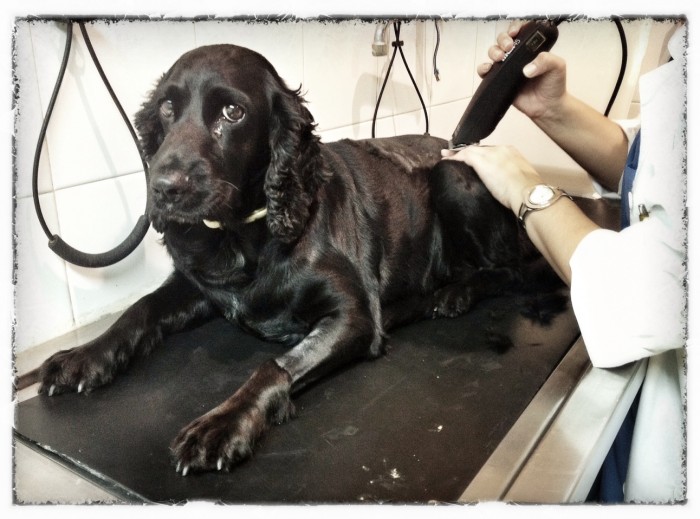 It's a gamble, there are no guarantees that it's going to work, but I have the gut feeling that it will. I believe so because I'm an optimist, and because time and time and time again animals prove us that they will fight like no human would. Humans give up. Animals don't. They cling to life until their last breath, we are here to make sure this last breath doesn't come any time soon for Truffle.
Please, if you can, give us a hand covering the costs of this surgery. There is no time to waste. Truffle has been stabilized and the operation will take place tomorrow morning, I hate to present this sense of urgency but with every minute that passes her chances or recovery become less and less likely… .so, we are in a race against time here.
Please, if you can, contribute to her Chipin here.
(Note, if you are a MAC user, you can click and donate HERE instead… )
As ever, many thanks.. I will be updating this blog periodically and show you Truffle's progress…
Viktor
—
Update December 6…
The operation has been a total success… Truffle was a trooper !!! Here are some pictures of the operation, it will make you understand what we do and how hard it is to carry on these rescues…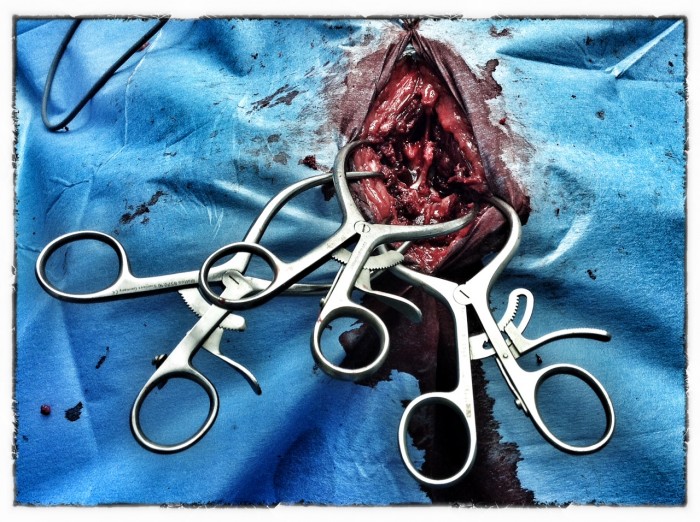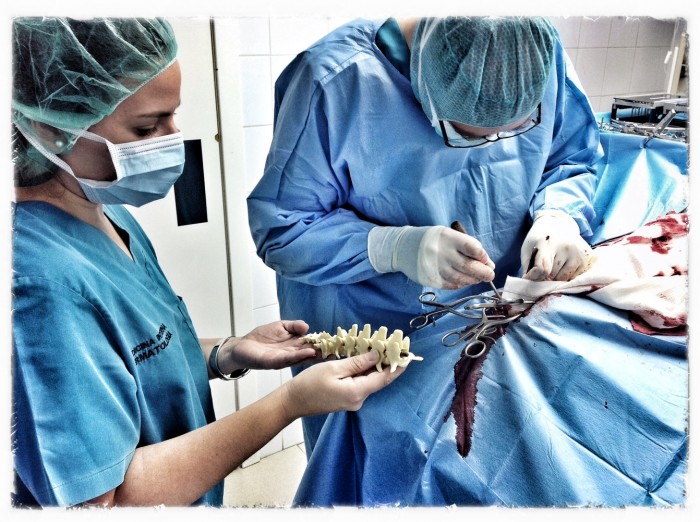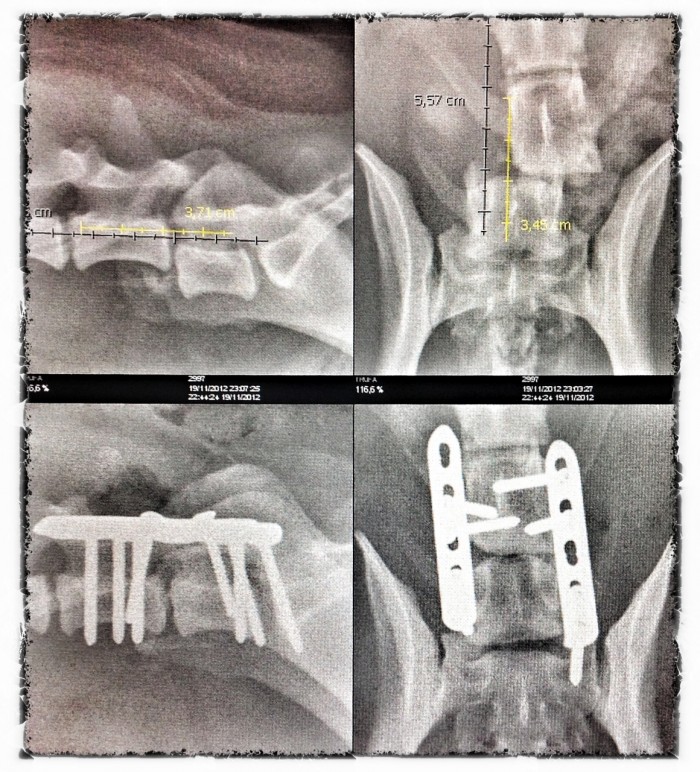 Her operation has been done, but this is only the beginning.. now she has ahead a long period of recovery… We would be very grateful if you could please help us cover the costs of her operation, and if you can, contribute to her Chipin here.
(Note, if you are a MAC user, you can click and donate HERE instead… )
===
UPDATE December 16..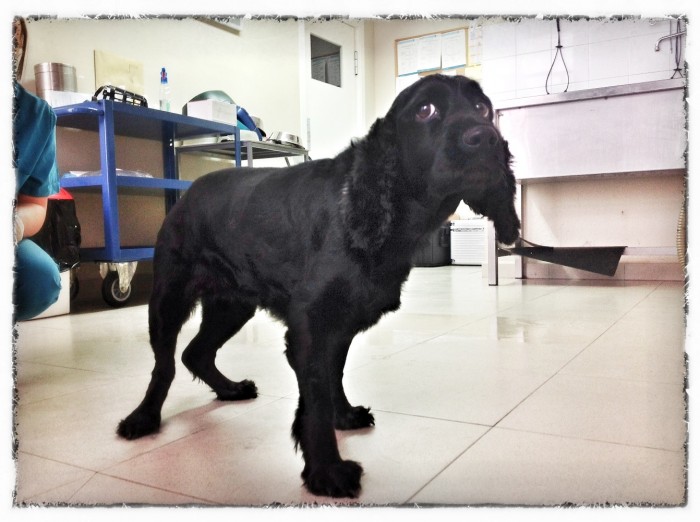 TRUFFLE: A journey of a thousand miles begins with a single step
千里之行,始于足下
– Laozi
Truffle's journey continues…