A broken spirit.
She was exhausted, her emaciated body showed the terrible ravages of neglect and starvation. Her limbs could barely support her weight, and so, she collapsed at our feet.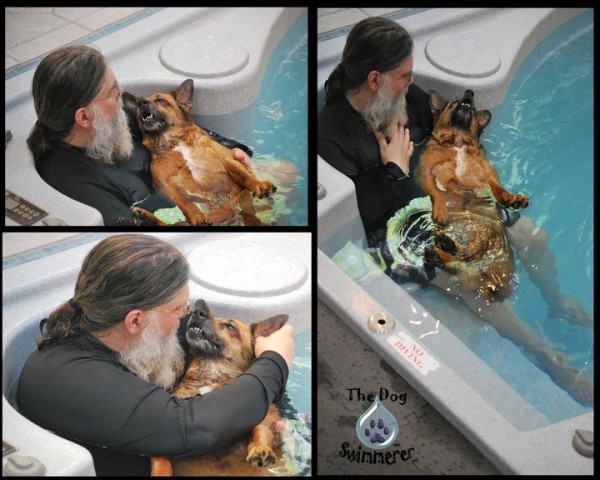 Bill Gerew is a fortunate man. He has the dream job.
Bill swims with dogs, to be more precise, dogs swim with him.
Every morning he enters the pool with an animal whose injuries or illness compromise his mobility and quality of life. Bill enters first, the dog, more often than not large breeds suffering from painful conditions like hip dysplasia or rheumatoid arthritis, follows.
Weary at first, the animals soon realize that the large bearded man is in fact a gentle giant that is not going to hurt them, that the strange environment is not a threat but an opportunity unlike any other.
There is nothing more expressive that the face of a dog that, after experiencing unbearable pain for far too long, finds himself liberated, comforted and freed. (see Miss Sadie's face on the picture)
Miracles happen in that pool.
Sometime this month, Ada, our once-paralyzed rescue pup, will be boarding a transatlantic flight that will carry her straight into Bill Gerew's arms. Once in that pool Ada will claim her birthright completing her transformation, from stray dog kicked and abused in the merciless streets of Istanbul, to Super Dog, canine center of the universe, to the wonderful animal she was always destined to be.
The Simba Fund is the community initiative that covers the costs of the Let's Adopt! rescues. This time the Fund will once again be of assistance to Ada, covering her journey to the USA.
Please help us change Ada's life as well as the lives of every animal we rescue. Please, if you can, contribute to the Simba Fund, I can assure you that every little helps.
Don't miss this video of The Dog Swimmerer in action.
—-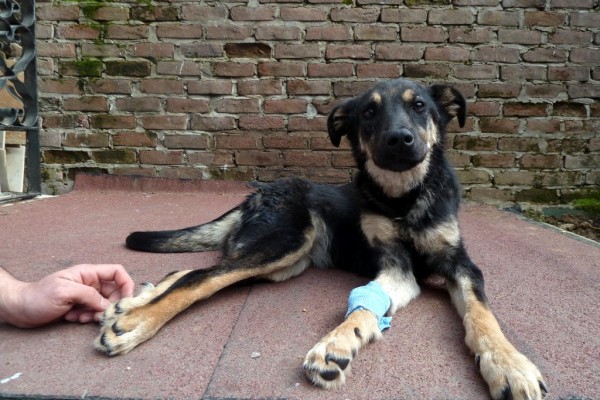 A broken spirit.
She was exhausted, her emaciated body showed the terrible ravages of neglect and starvation. Her limbs could barely support her weight, and so, she collapsed at our feet.
The dog was immediately rushed to our clinic, where she showed no signs of neurological response in any of her legs. It was like if the effort she made to reach us had completely drained her of all vital energy. She was ready to die.
The X-ray showed an abnormal scar tissue had developed at the base of her neck. That tissue had somehow affected the transmission of all nervous impulse from the brain down to the rest of the spinal cord and as a result her four legs were completely paralyzed.
Over the years L
et's Adopt!
has worked with many cases of paralysis, on one and two limbs, and we are always amazed at the resilience of the animals. As long they wish to fight we will be there to help them, but we didn't know how Ada would respond to the treatment, or if there was a possible treatment at all!.
Ada's journey has been a complicated one. At times painful, at times frustrating, but always filled with hope.
She has done most of the work on her own but our conditions in Istanbul are not ideal to deal with her injuries.  Ada is about to embark in the journey of a lifetime.
At some point during June, ADA will board
a plane that will take her to Rochester City, in New York State,
just south of Lake Ontario, where she will be entrusted to the loving care of
K.9 C.A.R.E
, a deep water aquatic center built specifically for dogs. In that swimming pool  Bill Gerew, the celebrated dog Swimmerer, will work out his magic and give Ada the last push she needs to get her life back on track and do what she has always craved,
run like the wind.
Please Help us get Ada to New York for this incredible one-way journey of recovery by contributing to the Let's Adopt Simba Fund today.
Note: The comment section in our blog is closed. The goal is to increase the number of posts shared on Facebook and Twitter. I would please request to share this posts in your profile and adding your own personal commentary in your wall.. I believe this will increase the spread of our appeals. Please SHARE