Where there is much light, the shadow is deep.

Johann Wolfgang von Goethe
When we are faced with such horrors done upon an innocent soul it shakes us, it kicks the very earth out from under our feet.  Even the most seasoned rescuer looks at these pictures and can't feel but heart-wrenched and defeated.
Is there no hope in the world?  Is this what we do as a species to our fellow companions?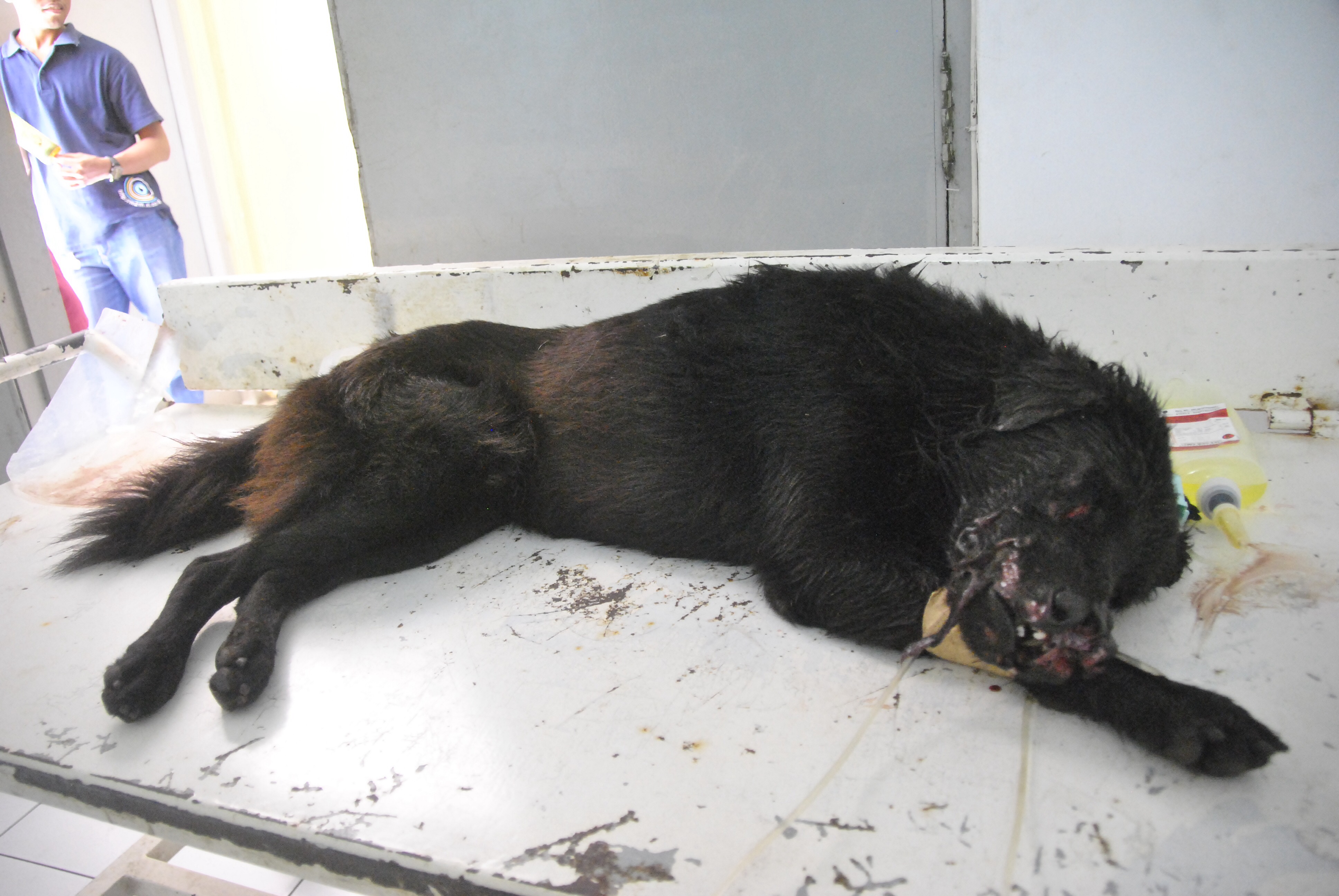 The following is the eye-witness account from Patrick's rescue.
Patrick story began when he was dumped by someone into a Jakarta neighborhood.  Residents said that he used to be fat and healthy, obviously someone's companion that was abandoned.  Since he was such a friendly dog, the people in the neighborhood didn't mind having him around.
Except for this one man — The shadow over the neighborhood.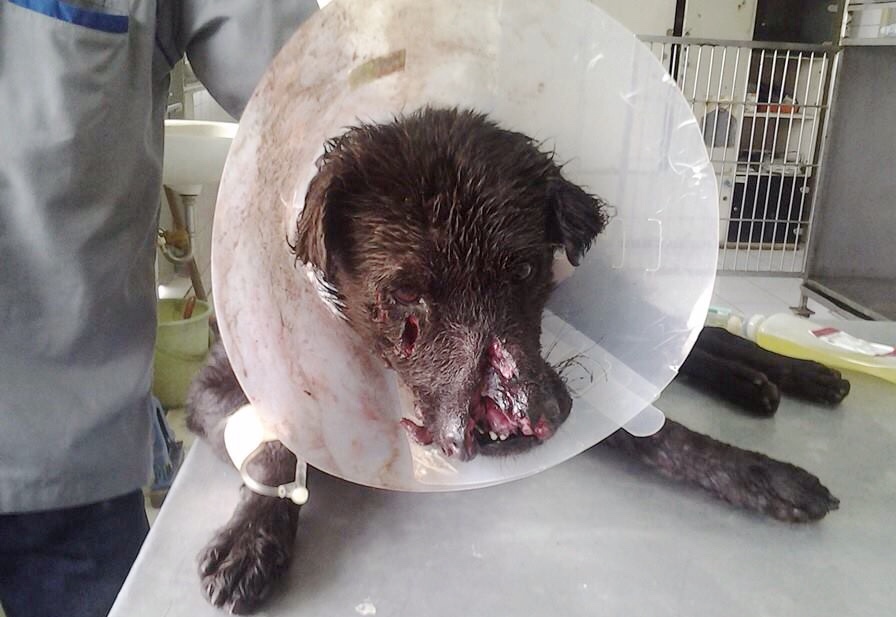 The man has a son and a dog of his own. When they walked the dog the friendly Patrick was always following, looking for company. The man didn't like it and he and his son would beat up Patrick using heavy objects and sticks. Patrick stopped following them, he started avoiding them, but this wasn't enough and they continued abusing him. One day Patrick was left with no choice and he defended himself – Patrick bit the son and what followed was a revenge of a monster… The father gathered a mob to chase Patrick.  When they cornered Patrick they beat him and hacked him using a CLEAVER. Patrick was left for dead.
A group of good people that cherished Patrick's kindness and friendship immediately brought Patrick to the hospital in the middle of the night. These are the people that give us hope when faced with such despair.
And so Patrick's life will now change. We'll make sure he is helped to heal and then is taken far away to a place with less shadows and darkness.
His face is almost unrecognizable. Split in half through the bone.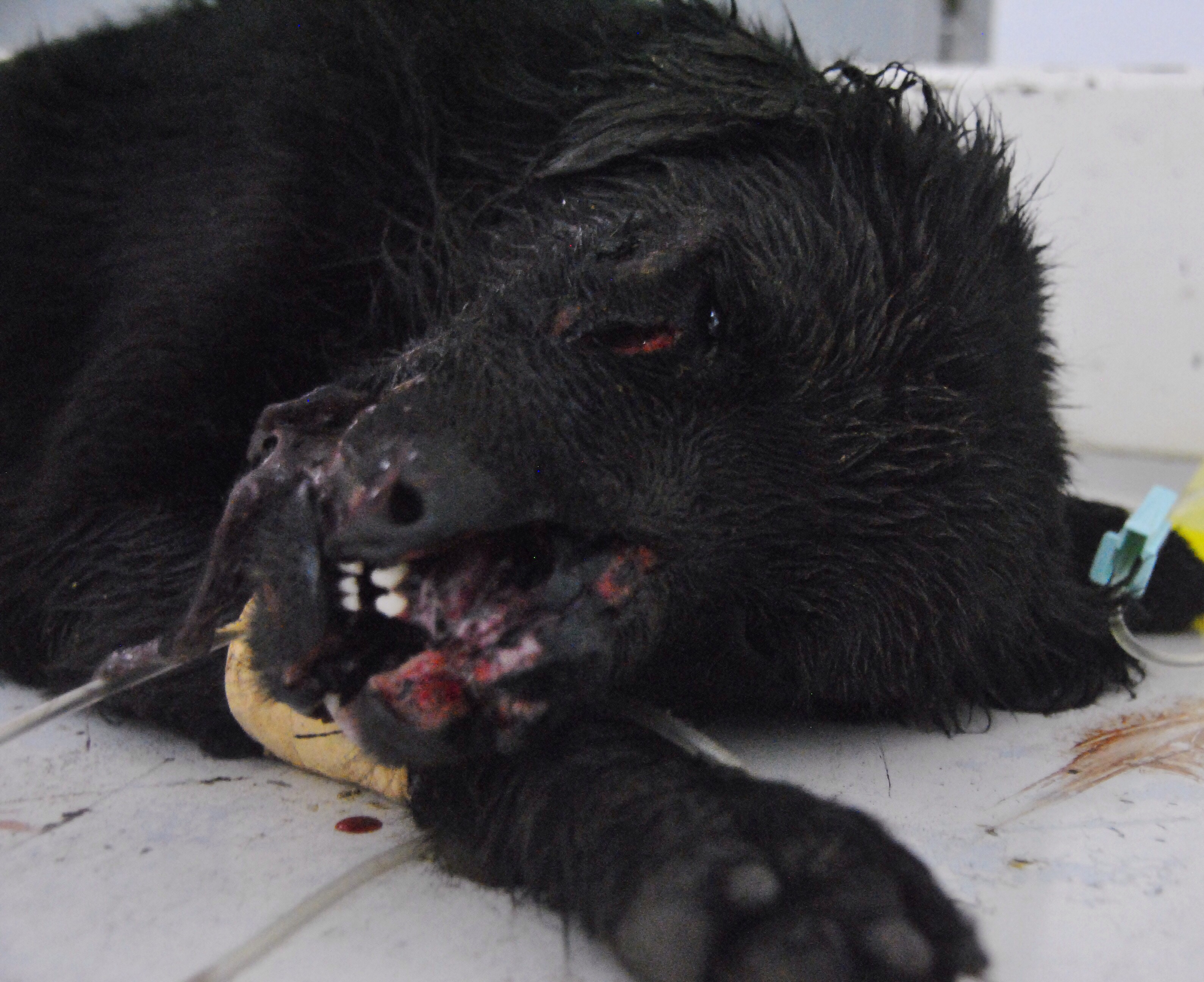 We are repairing his shocking injuries.  He will most likely need several surgeries to reconstruct his face. He is also now malnourished and in need of intensive care. The next several days are critical for him.
UPDATE, September 8 2015
Patrick has forgiven & forgotten the people who hacked his face with a cleaver and is looking forward to flying to the US on September 14th for reconstructive surgery. A hole in Patrick's upper jaw is preventing him from eating properly. Everything is arranged, a lovely foster family is expecting him, we now just need to get him there.
Will you stand in the light with Patrick? Please donate so we can cover his travel and medical bills. Help pull him out of the shadows :
Donate in US dollars:

Donate in Euro:

UPDATE May 17, 2015:
The first emergency surgery went well. He's already drinking, trying to eat, and dealing well with the pain. However, Patrick must still be stabilized. When he arrived he was already showing signs of an infection. His biggest battle now will be fighting off from having the infection spread. If he makes it, he'll be airlifted to another hospital for reconstructive surgery. We wait, pray, and hope now. Come on, Patrick! We're all with you, boy!
UPDATE May 21, 2015:
PATRICK IS DOING BETTER! Changes were made to his antibiotics and he is responding well. A piece of his nose and upper jaw had to be removed after the surgery because they were becoming necrotic, but at least things are now hopeful.
We have never met a dog that has suffered so much at the hands of a monster, yet is still friendly and loving and seeks the comfort of people. Patrick truly was tortured for being a good soul. When he is better he will need a home worthy of his love.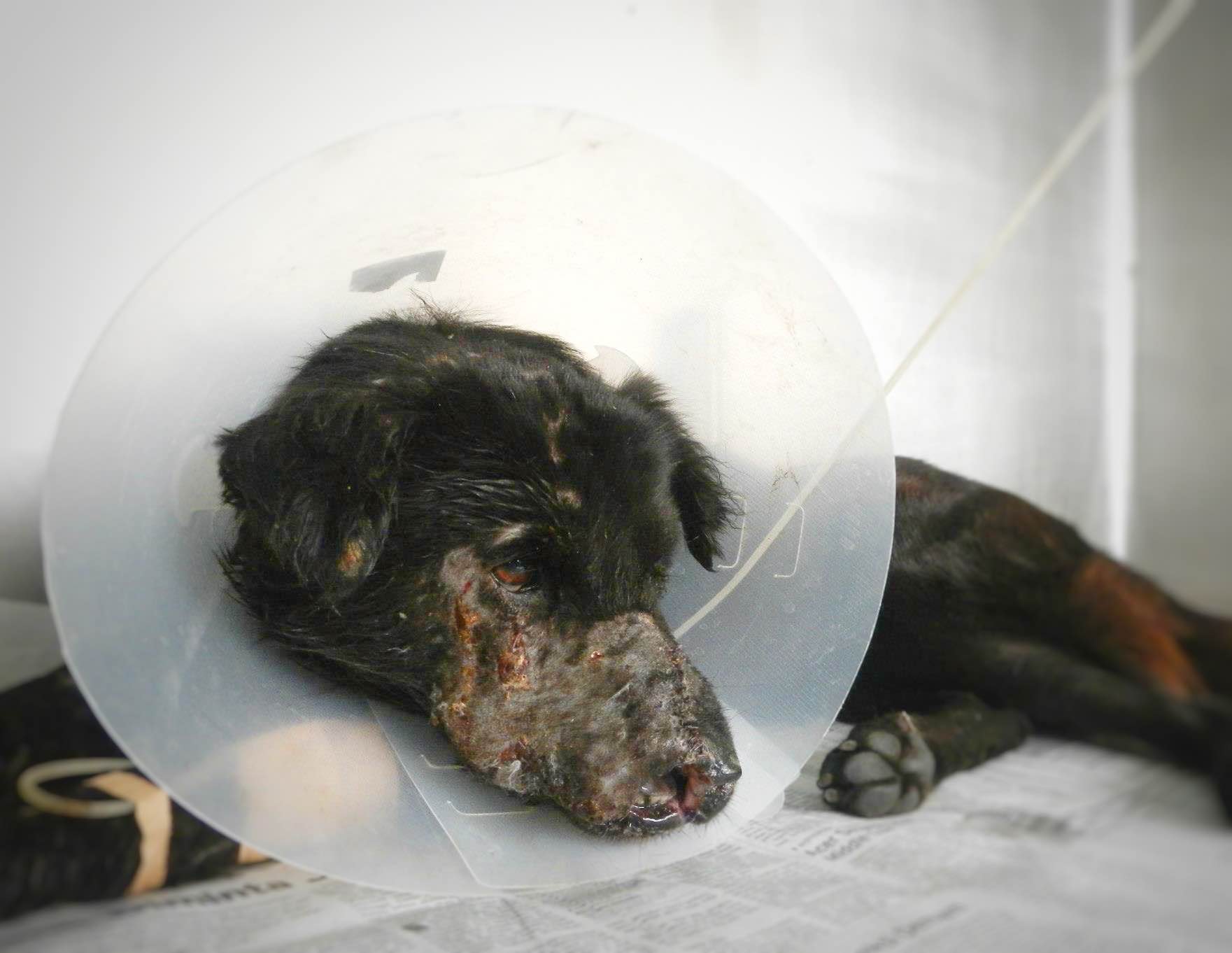 Patrick continues to desperately need our help.  Please join us in putting Patrick's life back together again:
Donate in US dollars:

Donate in Euro:

UPDATE November 2, 2015
SCAN FINDINGS
On October 28th Patrick had his long-awaited CT scan at the state-of-the-art facilities of Veterinary Medical & Surgical Group of Orange County, in San Juan Capistrano, CA. Patrick's doctor Marcos Unis, Medical Director of the clinic, operated the famous pelican Nigel, pioneering a break-through procedure after Nigel's beak was damaged by fishing hooks.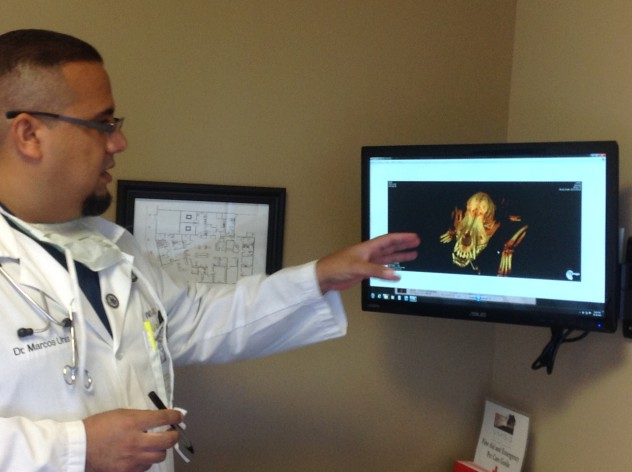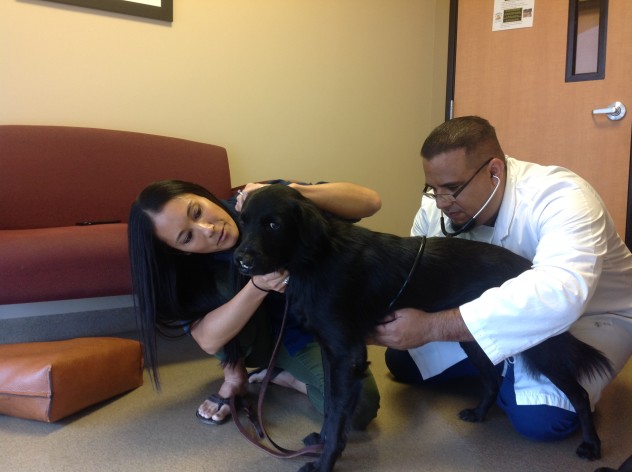 The scan took 45 minutes during which Patrick's body was re-positioned several times to obtain a variety of angles and views. We filmed the procedure from an observation deck, with Patrick's surgeon discussing the images with us in real time.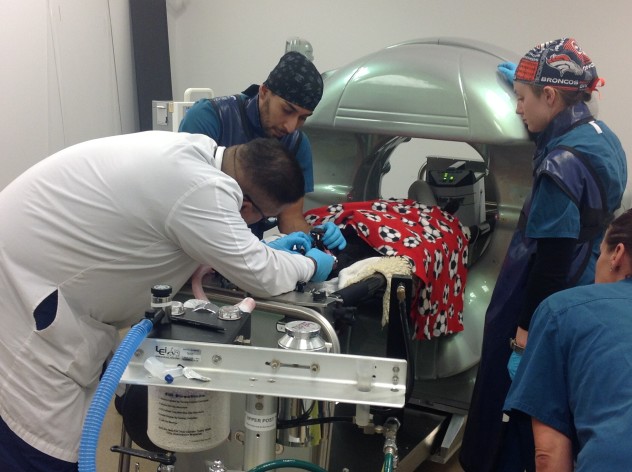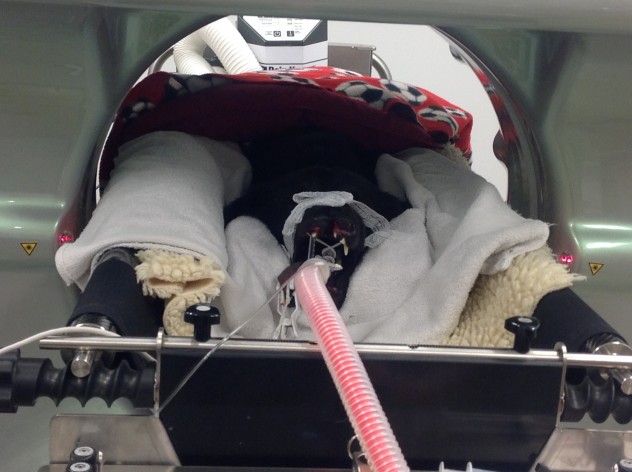 We were shocked to finally see the full extent of the raw injuries that remain inside Patrick's mouth. We saw much more damage than we had hoped for.
There is no bone left in the front of Patrick's upper jaw. All teeth in that section are gone and there is major soft tissue damage. One nostril and nasal passage are completely gone and the other is sliced right open. The interior of the nasal cavities are clearly visible in that sliced section.  Despite all efforts to close this during his first surgeries, they remain exposed.
Several of Patrick's teeth have major issues and are probably causing extreme pain. One has been cut open from the attack and has an exposed nerve.    He'll have several tooth extractions and some repairs will be made to his gums.
RECONSTRUCTIVE SURGERY
Patrick's nasal passages will need skin grafting and significant reconstruction. Dr. Unis is not sure if there is enough tissue available to reconstruct everything; this will be determined during surgery.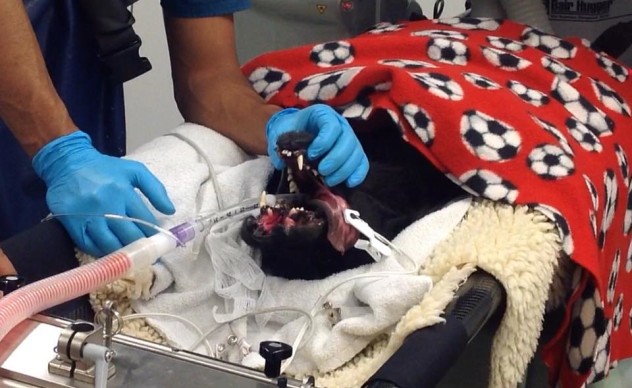 An attempt will be made to reconstruct as much internal structures as possible. As much tissue as possible will be grafted in order to salvage the one remaining nasal passage, but the other one is completely gone and will be closed. Patrick's nose and lips will be pulled together to create a nose with one nostril. This will be done to protect his nasal passages because right now they are completely exposed. If that fails, later on Patrick may need his nose removed to create a clear opening for the functional nasal passage.
ASSOCIATED RISKS
The biggest risk Patrick has right now is of an upper respiratory infection that can lead to serious pneumonia and death.  Patrick has had the best care so far so he hasn't gotten sick, but it's a serious risk.
Pre-anesthesia blood work showed an active or past infection usually associated with parasites or tick borne diseases. We tested all possibilities and results came back negative, so the infection will be treated with medications. Before surgery Patrick will be tested again.  Currently his platelette levels are too low for a safe surgery so we are working on getting his blood parameters to acceptable levels.
Despite all these terrible discoveries, which took several paragraphs to describe, and the fact that he is most likely in constant pain, Patrick is stoic, not showing any outward signs of pain and presenting a sweet, happy, and loving personality to the world. He adjust really well to any environment and situation and is nothing short of amazing, actually.
Please help us give Patrick's his life back, donate today for his surgery, scheduled for the end of this week.

Donate in US dollars:

Donate in Euro:

UPDATE November 19, 2015
RECONSTRUCTIVE SURGERY
As you probably already know Patrick had his surgery and it was a complete success! As a result of the cleaver attach Patrick had suffered massive facial trauma with multiple fractures to the skull, maxilla and mandible. His nose was separated bilaterally at the level of the lateral nostril margin with loss of the 2/3 of the incisive bone and exposure of the nasal cavity.
Due to the extreme loss of tissue after careful planning the surgical team opted for creating a single nasal stoma — a procedure which provides Patrick with one working nostril. If that hadn't worked, the surgeon was going to have to completely remove Patrick's nose but thankfully there was enough tissue available.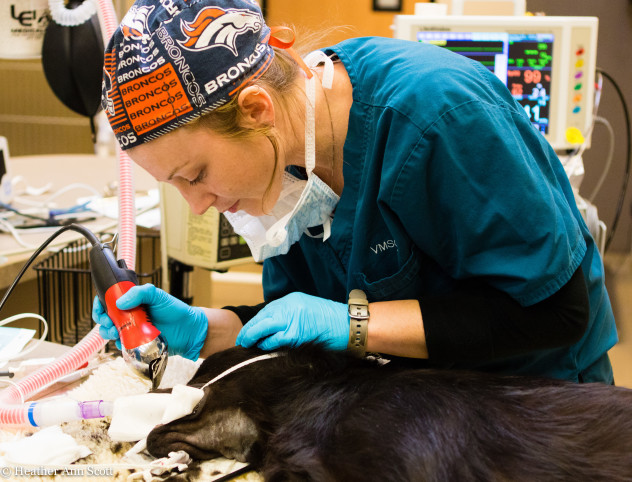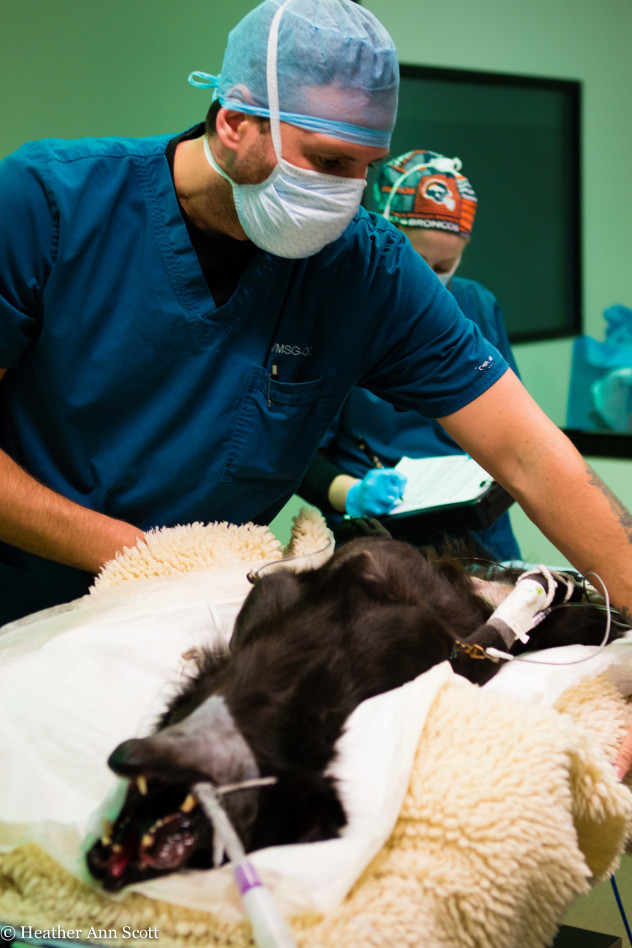 The surgery lasted 5 hours despite it being expected to require only two. During the operation Dr. Marcos Unis connected blood vessels and grafted tissue, taking from some areas and reconstructing others. Tissue was taken from the mangled nasal passage to salvage the remaining one, closing he large oronasal fistula.  The right maxillary canine, left 2nd maxillary incisor, right maxillary PM4 and left mandibular canine teeth have been removed. Patrick's nose and lips were pulled together to create a one-nostril nose. Patrick's nasal passages are now protected from being completely exposed, like they have been since his horrific injury.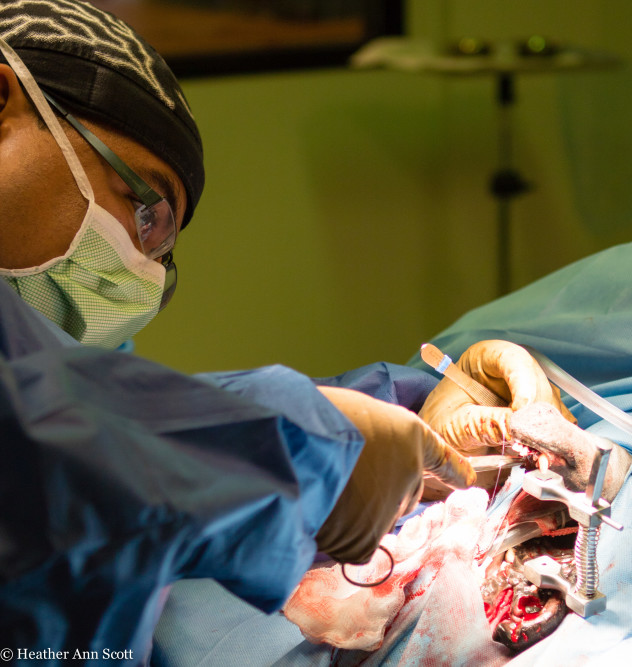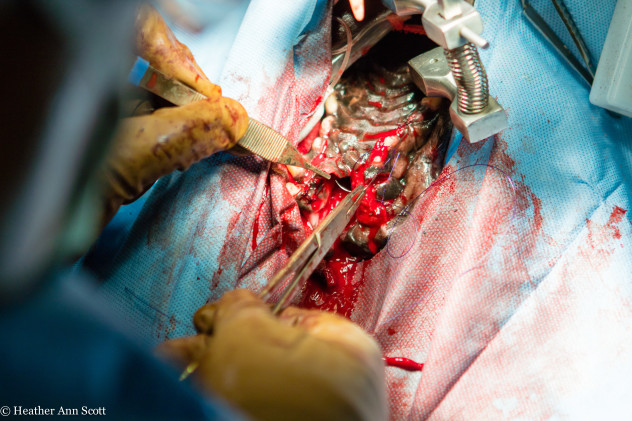 Patrick spent a day under close observation in the clinic, and was then discharged home where he is recovering well. Because skin was stretched to its limits Patrick's new face will need time to settle and adjust, and for the swelling to go down. Now the main concern is that he doesn't do damage to himself — to prevent him from chewing at his lips and nose Patrick has been fitted with a cone.
Patrick BEFORE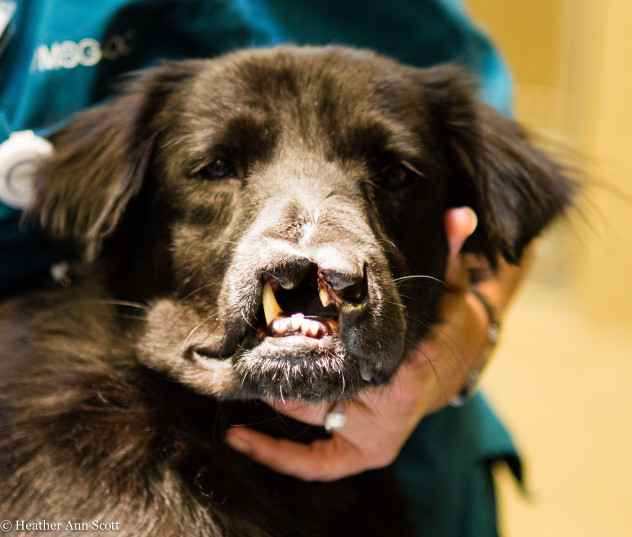 Patrick AFTER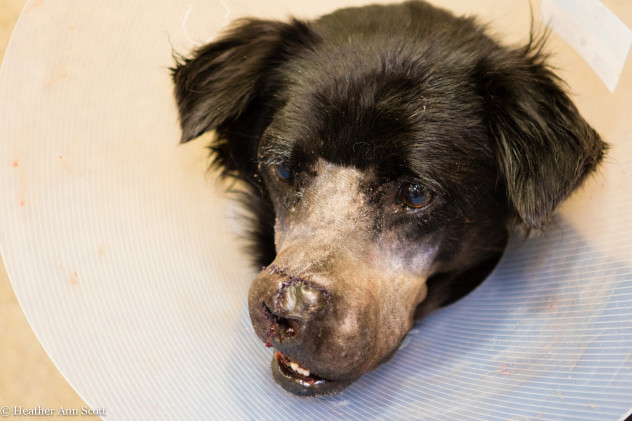 Thank you for staying with Patrick along his journey. Please wish him lots of happiness on our Facebook page.
---
* We are trying to see if anything can be done about this abuse with the authorities.  Unfortunately, Patrick is in a country where animal abuse is not taken seriously and in many cases is laughed at by the police, or the rescuers are then attacked.
**  Please follow Patrick's updates at our page, Let´s Adopt Global
*** Let's Adopt! Global is a 501c3 charity and your donation is tax deductible. All funds will go towards Patrick's care. Any remaining funds will go to support our other rescues and mission.