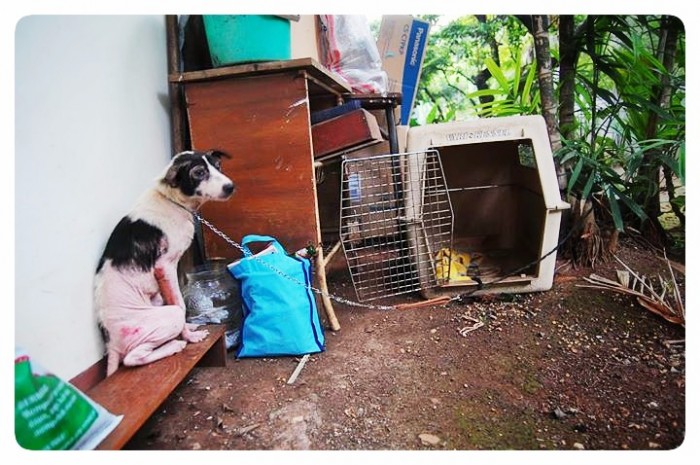 When our team in Jakarta arrived to that place they were shocked. A 6 month old puppy named Kelly was living in the dirt, chained to a crate in a corner. His skin was red, infected with sores. He couldn´t stop scratching himself while crying desperately.
Who had done this to this sweet puppy?
NUNS!
Nuns… yes.. nuns!!!
Women who have given their lives to serve God did this to one of his creatures. They had taken him from their church to live with them as a sweet, fluffy puppy. But like all puppies do, Kelly grew. So the evil witches chained him up outside to live in a corner by himself. He got a few scraps of food, but that was all they did for him.
It kills us just to think of the loneliness Kelly has experienced his entire life. Loneliness and a burning sensation eating him from within.
When his condition worsened and his fur began to fall off, they decided they didn't want him anymore. They were throwing him out on the streets.
We had to take action! Kelly was getting sicker by the day and would not survive on the streets. With every movement he made, his body wriggled in agony. He could not take a step without having to stop and scratch himself. His fur is half gone and he was getting more sores with each passing day.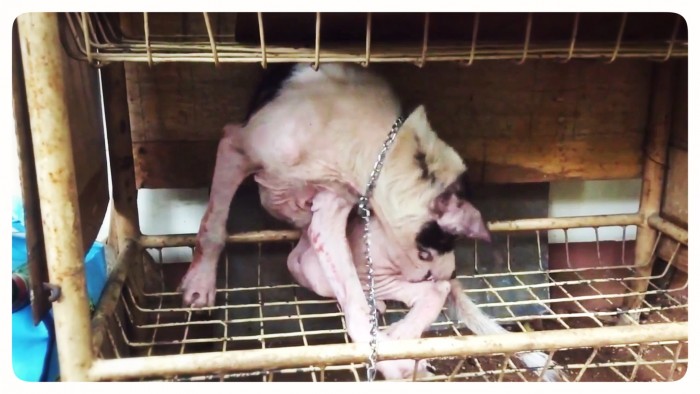 We immediately freed him from his chains and took him straight to our clinic.
Kelly has a serious case of mange covering his entire body. He also has Babesia, a disease created by parasites infecting his blood. The nuns had left him out there to be eaten by flies, ticks and all kinds of parasites. They were just watching agonize slowly. 
Kelly is miserable right now. Every step he takes, he feels his skin crawling and the pain of the lesions.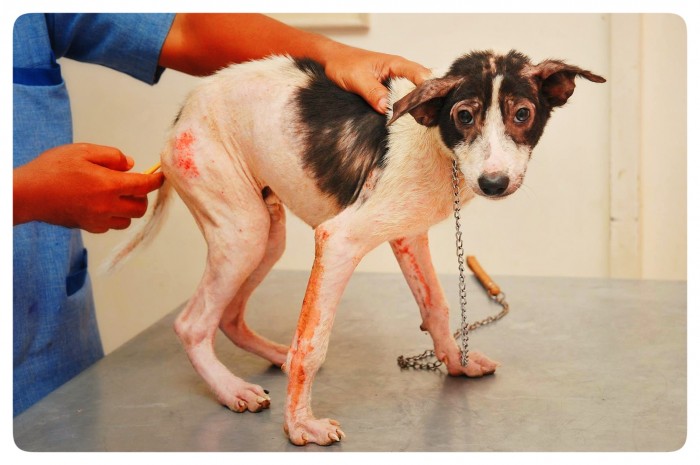 —
Update 31st of May… 
This is Kelly, a dog that for the first time in his life has met love..
This is the most beautiful thing you will see today… 

Kelly remains on treatment. Please, if you can, help us Save Kelly´s life donating to his treatment. We must help him. We can help Kelly become that fluffy, carefree puppy that he used to be.
Please, if you can, help us, Donate to Save Kelly´s life… We will make sure he will never have to live like this again. Help us save him… 
Many thanks!
P.S. Help us save Kelly´s life by sharing this post all over Facebook and Twitter. 
P.S. After Kelly recovers, he is going to need a great family that will love him till the end of time. Are you that family? Please write to us at adoptions@myletsadopt.com
UPDATE:  Kelly adopted and living the beautiful life in Canada!