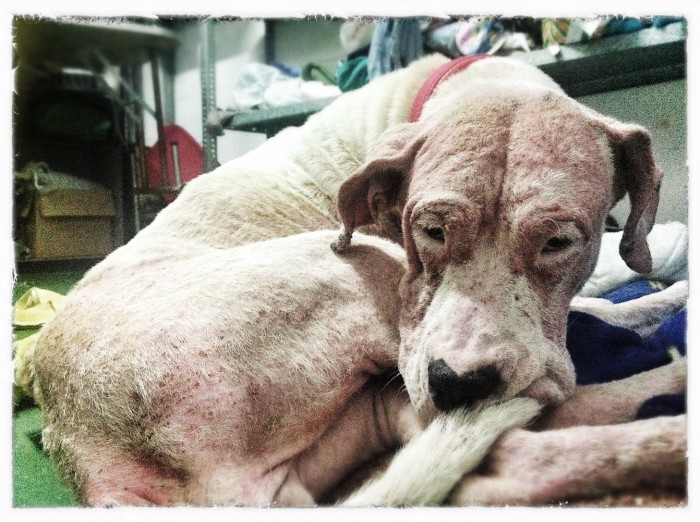 I am told Troy used to be a magnificent dog. She really was.
When she arrived to the shelter she had a spring in her walk, a beautiful boxer/dogo mix with a proud stance, calm, sociable, she was unbelieble, she was THE DOG.
That was just a few months ago..
I enter the shelter and I'm taken through a long corridor flanked by dogs barking desperately on both sides. I have promised to help but I shudder at the pain and suffering found in most shelters.
We arrive to a room in the back-end and there I see her. A magnificent animal turned into a broken toy. I'm told she's depressed, that she misses her home and has let herself go. The shelter has done all kinds of tests but nothing has been found.
Noone really knows what is wrong with her, noone knows what to do. She's about to fall through the cracks.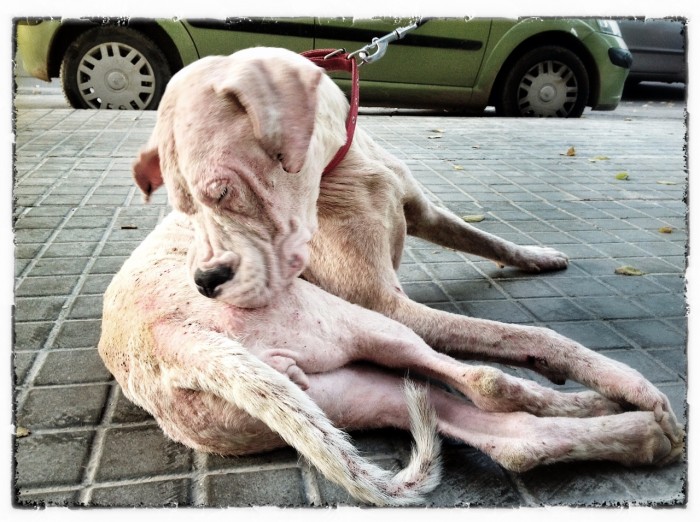 I take her with us. She's extremely weak, can barely walk, I'm not sure if she hears me. She could be deaf, or maybe not, we need to do the necessary tests, I'm not sure yet.
Tests are performed, Leishmania and Mange… both in advanced stages. A lethal combination capable of creating havoc in the system of any dog, even one as strong as powerful as Troy.
This won't be easy, Leishmania is a chronic condition and Mange has run wild in her depressed immune system. I've seen dogs going completely crazy literally eating themselves in desperation at the itches caused by mange, but we have arrived just in time.
Troy must have had a terrible life to end in this condition of neglect, but everything is about to change for her!!!!
She has no idea who we are, she doesn't know the people that are feeding her, she doesn't know any of you, the people that will fight for her to the end.
Let's save this incredible dog, together... deep down there in that depressed soul there is a dog waiting to run and wag the tail again… exactly as she once did.
Many thanks…
—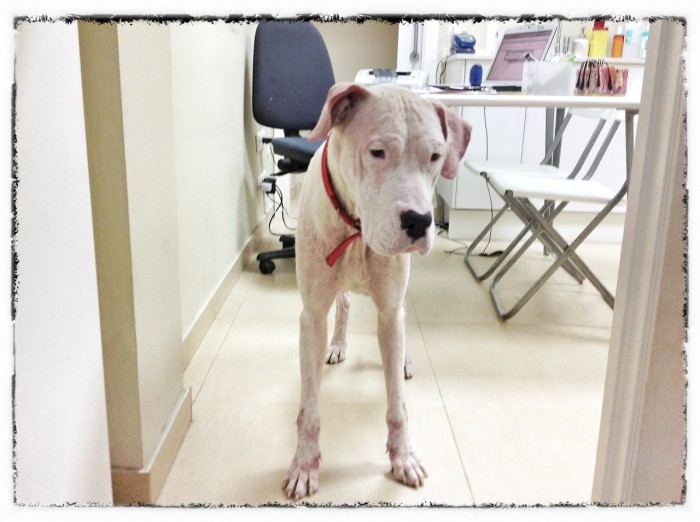 Update December 23
Hello, how are you… I'm Troy!
Things are looking much better for me now… Although there is not a cure for my disease and I will need to take a pill for the rest of my life, my symptoms are improving, and so is my skin. It still itches a bit but I really feel much better now.
Many thanks to all of you that are helping with my treatment. I think I could safely say that today, I'm alive, because of you.
I love you… can't wait to show you how beautiful I'm going to look when Let's Adopt Global has finished its work on me….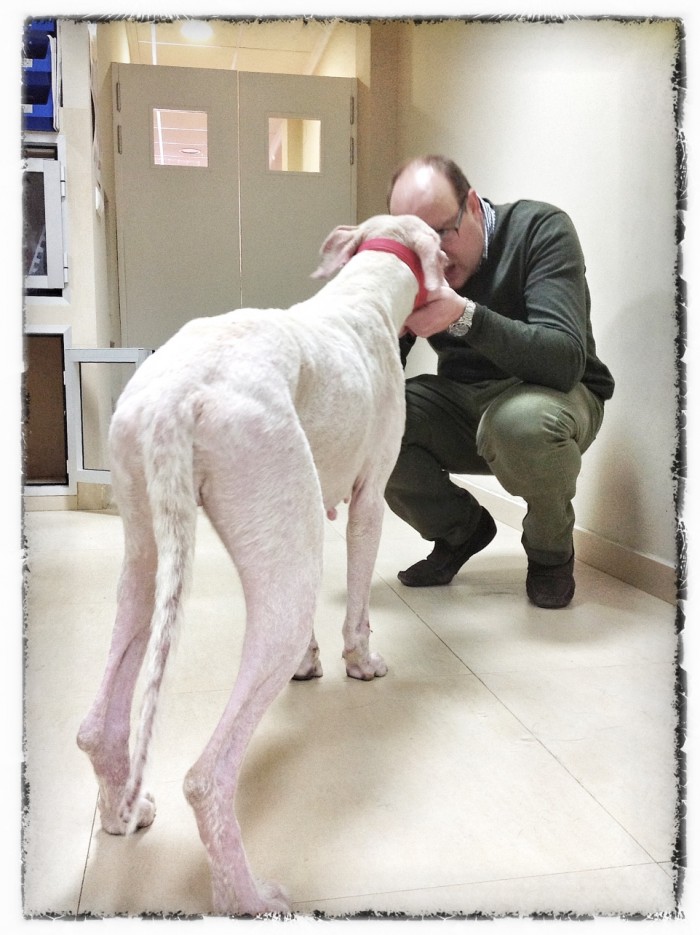 —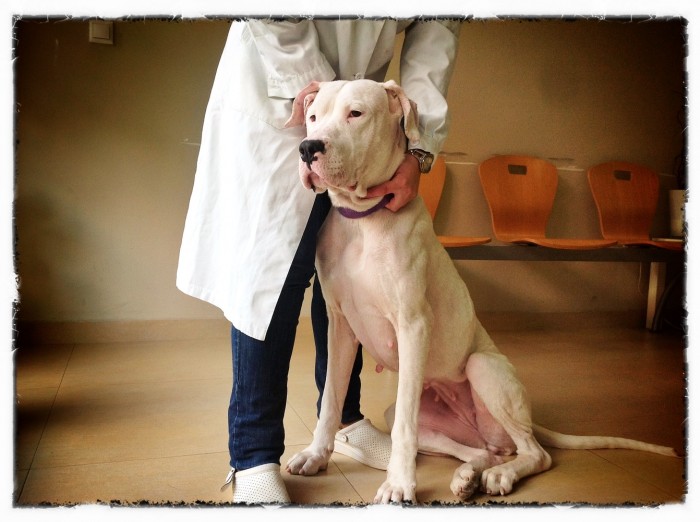 Update February 14, Valentine's Day
Troy looks like an entirely new dog. Everything has changed about her, her poise, her attitude, her muscle mass, her skin, fur, she is a completely new dog, and one of the most dramatic transformations we have ever seen among our rescues.
Look at this INCREDIBLE DOG…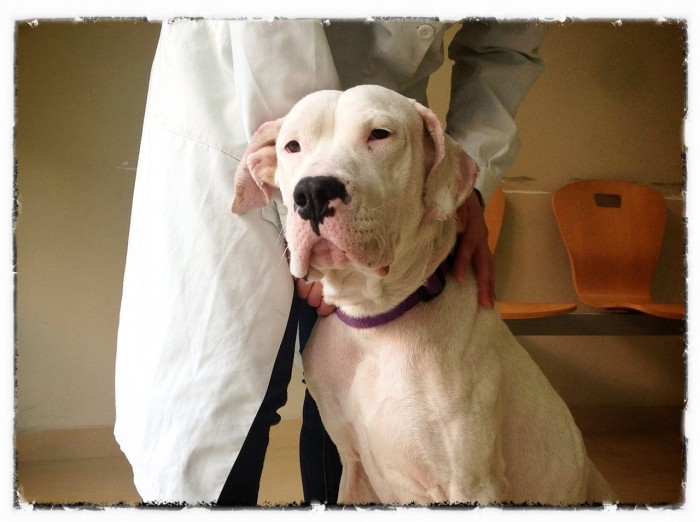 Our job is done, now it's time for Troy to get a final home. She's absolutely unbelievable…
Our conditions for adoption:
1. MUST have another dog
2. Troy will live inside the home. Garden will be a plus but she will have family life.
3. Troy will be fed a raw diet (www.rawfed.com)
4. No Smoking families..
Write to me on: viktor@myletsadopt.com and tell me everything about you and your family, I need to understand how Troy life would be.
TROY was treated and rehabilitated thanks to the amazing support of our incredible community to the Simba Fund. Please, should you wish to support our work so that we can continue saving animals like Troy, please contribute to our working Fund today…
Many thanks!…
Viktor