You are going to have a very difficult time watching this video.
It's going to be difficult not only because of what you are about to see, but because of what you can only imagine.
Her name is Lady, and this is the state in which she has come to our clinic. The  injury took place many days ago. Possibly weeks. During that time, the mangled leg decayed and rot, miraculously infection did not spread to the rest of the body.
We do not know what kind of accident she went though, but we suspect she must have been sleeping inside the engine of a car in a cold winter night. In the morning, when the engine went off it tore her apart.
But for days, possibly weeks, Lady crawled along the streets of Istanbul, trying to find water to drink, some crumbs to eat. We know for a fact that she ate during this time, probably fed by animal lovers that, incredibly, didn't think of taking her to the hospital urgently, until finally, miraculously, someone did.
Lady's remaining bits of leg need to be amputated. Her recovery is going to be a long and painful one, but this is an incredibly cat, a fighter, brave and resilient like each and everyone of the animals we rescue.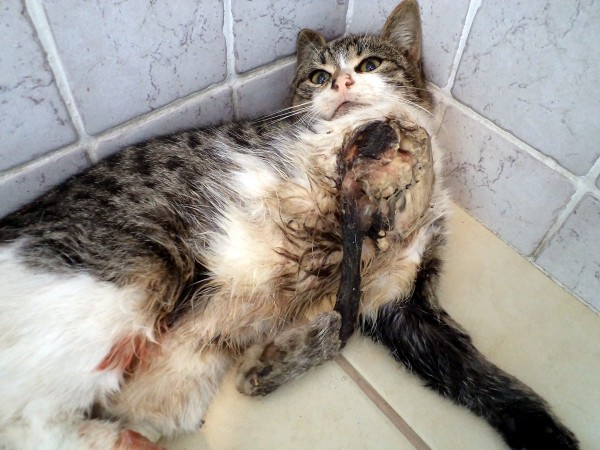 Many vets around the world, and most rescue groups would not hesitate to kill her. Why making any efforts for a cat in this condition? Why treat a cat that will never be perfect?
Well… precisely for that reason… because we are a rescue group, not a mail order catalog of cute puppies and kitties, and because rescuing those that truly have no other chance is right at the essence of what we do.
This is why Lady is going to have the very best treatment an injured animal can have, and after the treatment is over she will have a wonderful home, where she will forget about all of this, and will go on to have a wonderful life as a tripod kitty.
Look at your cat, or your dog, sleeping quietly next to you and help Lady on his / her name… because she matters. Please SHARE this post across all social networks. Lady needs our help.
Thank you.
Viktor
P.S.  If you are an amazing human being and are willing to adopt Lady please don't hesitate to contact me on viktor@myletsadopt.com . Sadly, chances are she will never find a home in Turkey, we will be delighted to send her to you if you meet our adoption criteria.
—-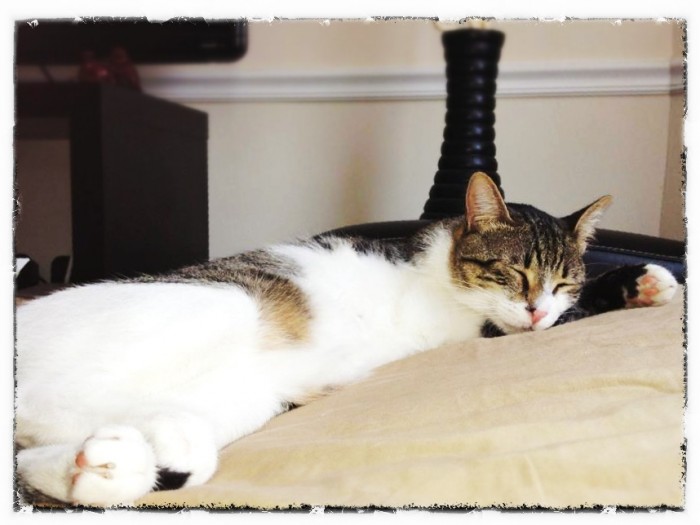 UPDATE Jan 30 2013…
It's been 15 months since Lady was rescued… how life changes. The streets of Turkey that nearly costed her life nothing but a distant memory. Whilst in her previous life people ignored her, right now she's a STAR.. cherished and loved, admired by all for her beauty and kindness.. Lady… Lady…. Lady….
—
Update November 13
A postcard from New Hampshire…


Lady was treated, rehabilitated and flown across the world thanks to the amazing support of our incredible community of which you are part. Please, should you wish to support our work so that we can continue saving animals like Lady, please contribute to our working Fund today. This is how we make miracles happen…
Many thanks!…
Viktor