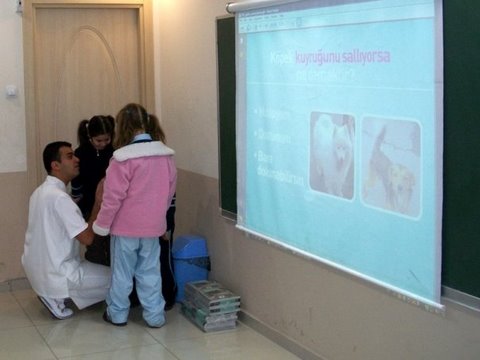 Murat Bekhan the veterinarian has been doing a wonderful job since 2007. As part of the voluntary project he himself developed, he has been travelling both inside and outside İstanbul, educating students belonging to every age group, about stray dogs. I had the privilege to attend one of those meetings last Wednesday.
With his one man stand-up performance, Murat catches the attention of even the naughtiest, the most hyperactive, or the least interested student. He invents games so creative that 7 or 8 year old kids shout out: "I wanna be a dog too!". Children are being shown, through slide shows, how to approach stray animals, how to behave if they come upon an aggressive dog, what tags on dogs' ears mean. Murat wants to teach them empathy: kids close their eyes, lean back on their chair and work their brains out to be able to understand how a hungry, thirsty, kicked-around dog hiding in a garbage can would feel.
With the age group going up, games disappear, short movies are displayed, the essential and obligatory quality of spay/neuter operations are emphasized, the measures to be taken against the ever increasing number of stray animals are discussed.  It is up to students to find and decide on the most accurate solution.
At the end of the seminar, a SHKD book about stray dogs, a summary of what has been told during the seminar is distributed. Murat tells me he reached 14.000 students this way. But what lingers most in my head is the answer of a student, who, on being asked what happens to abandoned animals, employs an unwilling metaphor for shelters and shouts:  "They go to dog prison!"