Alaska, 2010, in a remote land that serves as the last refuge of wildlife, Sarah Palin,  a politician fast on her way to become the most despised person on the planet, kills a reindeer on camera whilst jiggling and cracking jokes of pioneering women conquering the West. The killing, proudly displayed on the Learning Channel (!!!) outrages millions and prompts a unanimous reaction of condemnation.
At the same time… in the other side of the world, in Istanbul, Turkey, the cradle of civilizations, fastest growing economy in Europe, a mother returns home after spending the entire day trying to find something to eat.
Just a few meters away her 10 puppies yelp. They are too many for the tired dried-up breasts of the mother.
A sudden thunder breaks the silence of the forest, she falls. Adrenaline flows through her body like a burning river.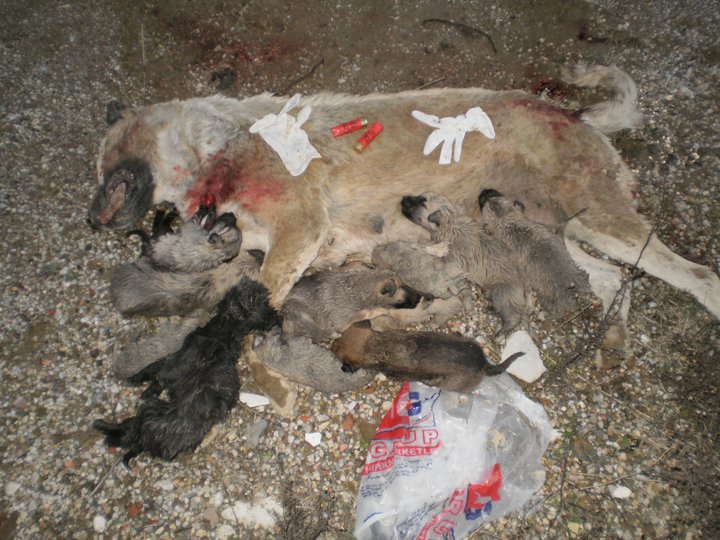 She stands up, tries to run away only to receive a second impact, this time in the neck.
The hunter walks away home leaving the mother gasping for air in the bushes, still alive. Upon arriving home he kisses his children screams at his wife for not having dinner ready yet and switches on Turkish National Television.
İn the forest, the mother bleeds to death.
It takes longer for the puppies to die, but soon enough the lack of food and liquid kills each and everyone of them.
And so it ends one more day in Istanbul. Turkey, 2010 European Capital of Culture. A city where we shoot dogs in the forest for fun.

Our nation. Our city. Our home.
Viktor Larkhill
Viktor@myletsadopt.com