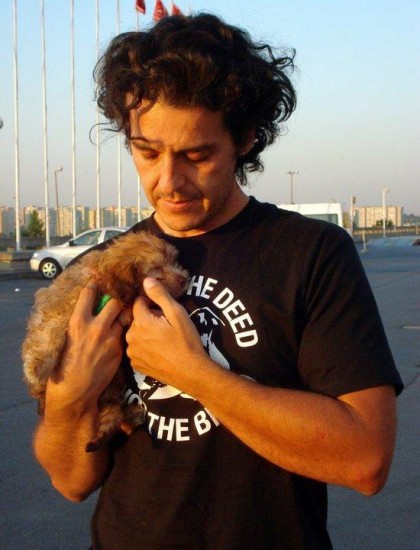 Who is Viktor Larkhill?
Some of you have been reading my emails for close to four years. In this time, together, we have built Turkey's largest animal welfare organization, and one who has expanded to several other countries, where its growing and following its own direction. During this four years many of you have come to know me, a few of you personally, most of you virtually.
Still, every day, I receive many questions about members asking questions about me, about what moves me, what inspires me, what keeps me going forward.
So, today's post is solely about me, I therefore encourage you to stop reading Right Here, if you stay please accept my apologies for my sincerity.
Who I am? Who I am not…
- I'm a 39 year old Spanish national. My real name is Ivan, not Viktor… the name was inspired by one of my favorite graphic novels, Allan Moore's V for Vendetta. I would recommend everyone to read it, or to watch the 2005 movie if they want to understand why that name was chosen.
- As much as I miss my country I decided to live in Turkey. Why? someof you may ask.  Because, simply put, I love it here. Regardless of the challenges of living in a society as complicated as this one, they are nothing compared to the sheer joy I experience here. Think of it as living on a permanent holiday.
– I am a businessman. I am a partner in a social media consulting agency advising companies on how to create, understand, manage and monetize internet based communities. I remind companies that behind every business there is a human component and I help them harness the power of networks.
– When I am not working (and most of the time, even when I am) I educate people about animal issues. This, in Turkey, and unfortunately, just about every other country, is a constant struggle against ignorance and bigotry. I try my best to keep spirits high and my temper in check. I fail most of the time…
– Whatever time is left I like to spend it taking long walks in the forest with my eight rescue dogs and my cats, doing sports (helps me keep my sanity and makes me look about 10 years younger than my childhood friends) and reading everything that falls my way.
– I love my family. I owe everything to them and I wish I could compensate them for all the extra suffering that comes their way due to my passion for animal rescue. I know they forgive me… every day.
– I am a photographer. I have been taking pictures since my early teens and I believe this allows me to look at the world from a different angles unseen by those who have never looked at the world through a lens.
– I am a traveler. I have traveled the world and seen the brave people in it. I cannot encourage people enough.. get out of your comfort zone. Hit the road, its the best school.
- I am an animal protector. When I was a kid, in Spain, I used to walk around and rare was the day when I wasn't followed home by an stray dog. Those animals became my friends, family and in many way teachers. I believe a person who has not shared his life with an animal has not lived a full life yet. I believe the most precious gift a father can give to his child is teaching him empathy and allowing him to share his life with an animal.
– I am a Tribe Leader. Let's Adopt! is nothing more than a community, a tribe. When I created it I was not fully aware of the implications and the responsibilities.  Today, not only I try to spread my ideas across this community, but I do my best to enable relationships amongst its members. That is where the real value of Let's Adopt! lies, in the connections created amongst its members.
And finally…  just to clarify…
–  I am NOT a veterinarian (although I believe I could have been a fairly good one)
– I don't sell dogs to Chinese restaurants, or to German laboratories. This may read as a joke with you but there are plenty of nasty people out there ready to create fantastic theories about those they envy, or simply, don't understand. My stance on those people has varied over the years… at first I used to deal with them with anger, today my attitude is more of disdain, and pity. I pity those who live in ignorance, fear and who let those fears and ignorance stop them from growing as human beings.
So, this is who I am. I try to educate, to build connections and to make the world just a little bit better every day. I invite you to do the same.
And you? Who are you? What moves you?
——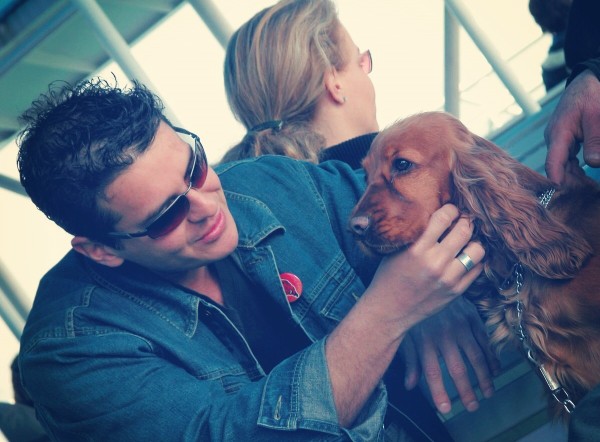 Viktor Larkhill kimdir?
Bazılarınız, neredeyse iki yıla yakın süredir yazılarımı okuyorsunuz. Bu süre içinde, beraberce, Türkiye'nin hayvan refahı için çalışan en büyük sosyal örgütünü inşa ettik. Örgütümüz, Türkiye dışında bir çok ülkede kendi yolunu çizmeye ve büyümeye devam ediyor. Bu iki yıl boyunca, pek azınız kişisel, pek çoğunuz sanal olarak beni beni tanımaya yanaştı.
Her gün, hala, kim olduğum hakkında ve beni harekete geçiren, ilham veren ve ilerlememi sağlayan şeyin ne olduguna dair çokca soru alıyorum.
Öyleyse, bugünün yazısı sadece benimle ilgili. Bu nedenle, Tam Burada okumayı kesmenizi öneriyorum, eğer devam edecekseniz, samimiyetimden dolayı lütfen beni bağışlayın.
Ben kimim? Kim değilim?…
-
39 yaşında bir İspanyol vatandaşıyım
. Gerçek ismim Ivan, Viktor değil…Bu isim, en sevdiğim çizgi romanlardan biri olan, Alan Moore'un
V for Vendetta
'sından esinlenildi. Neden bu ismi seçtiğimi merak eden herkese 2005 yapımı bu filmi izlemelerini öneririm.
-Her ne kadar ülkemi çok özlesem de, Türkiye'de yaşamayı seçtim. Neden? Bazılarınız sorabilir. Çünkü, çok basit; burayı seviyorum. Böylesi karmaşık bir toplumda yaşamanın zorlukları ne olursa olsun, tüm bunlar, burada yaşadığım saf mutlulukla karşılaştırdığımda hiç kalıyor. Bunu, daimi bir tatildeymiş gibi yaşamak olarak düşünün.
-Ben bir işadamıyım. Şirketler için internet kaynaklı topluluklar yaratarak, bunları yönetme ve kara dönüştürmelerinde onlara yardımcı olan bir sosyal medya danışmanlık ajansının ortağıyım. Şirketlere, her işin arkasında bir insan öğesi bulunduğunu anımsatıyor ve iletişim ağlarını dizginlemelerinde onlara yardımcı oluyorum.
-Çalışmadığım zamanlarda (ve çoğu zaman çalışıyor olduğum halde) insanları hayvanlarla ilgili eğitiyorum. Bu, Türkiye ve diğer tüm ülkelerde, cehalet ve yobazlığa karşı değişmez bir kavgadır. Moralimi yüksek tutmak ve sabrımı frenlemek için elimden gelenin en iyisini yapmaya çalışıyorum. Çoğu zaman başaramıyorum…
-Geriye kalan tüm zamanımı, kurtardığım 8 köpeğimle beraber ormanda uzun yürüyüşler ve spor yaparak (ki bu, çocukluk arkadaşlarımdan 10 yaş daha genç görünmemi sağlıyor) ve elime geçen herşeyi okumakla geçirmeyi seviyorum. Evde olduğum anlardaki tüm vaktimi ise kurtardığım 13 kedime ayırmaya bayılıyorum.
-Ailemi çok seviyorum, herşeyimi onlara borçluyum. Hayvanları kurtarmaya olan tutkum yüzünden onlara verdiğim üzüntülerin hepsini telafi etmeyi öyle çok isterdim ki. Ama biliyorum ki beni bağışlıyorlar…Her gün.
-Ben bir fotoğrafçıyım. Onlu yaşlarımın ilk günlerinden beri fotoğraf çekiyorum ve biliyorum ki bu benim, daha önce ona bir merceğin ucundan hiç bakmamış bir insana oranla dünyayı çok daha değişik yönleriyle görmemi sağlıyor.
-Ben bir gezginim. Dünyayı gezdim ve içinde yaşayan cesur insanlar gördüm. İnsanları yeterince yüreklendiremem. Rahat yerinizden kalkın ve yola çıkın. En iyi okul budur.
-Ben bir hayvan koruyucusuyum. Henüz küçük bir çocukken, İspanya'da, sokağa çıktığım ve bir sokak köpeği tarafından takip edilmeden eve kadar geldigim günler pek seyrek olurdu. Bu hayvanlar benim arkadaşlarım oldu, ailem ve pek çok yönden öğretmenim. Hayatını bir hayvanla paylaşmamış bir insanın, hayatı henüz dolu dolu yaşamadıgına inanırım. Bir babanın çocuguna verebilecegi en özel hediyenin ona empatiyi ve hayatını bir hayvanla paylaşmayı öğretmesi olduguna inanırım.
-Ben bir kabile lideriyim. Let's Adopt! bir topluluktan dahası, bir kabile. Let's Adopt'ı kurdugum zaman beni bekleyen sorumluluklar ve sonuçların tam olarak farkında değildim. Bugün, topluluğa düşüncelerimi yaymaya çalışmakla kalmıyor, üyeler arasındaki iletişimi sürdürmek için de elimden gelenin en iyisini yapmaya gayret ediyorum. Let's Adopt!'ın gerçek değeri işte burada yatıyor; üyelerinin birbirleri arasında yarattıkları bağlantılarda.
Son olarak…açıklığa kavuşturmak gerekirse…
Ben bir veterinarian DEĞİLİM.
Çin lokantalarına ya da Alman labarotuvarlarına köpek satmıyorum. Okurken size her ne kadar komik gelse de, kıskançlık ya da açıkca anlayamadıklarından bu konuda inanılmaz hikayeler üreten bir dolu kötü insan var. Yıllar içinde bu insanlara karşı duruşum çok çeşitli haller aldı. İlk zamanlar onlara öfkelenirken, şimdi bu öfke yerini küçümseme ve acımaya bıraktı. İnsan olarak gelişimlerine engel oldugu halde bu korkular ve cehaletle yaşayan insanlara acıyorum.
İşte bu benim. Eğitmeye, bağlantılar kurmaya, dünyayı her geçen gün daha da güzelleştirmeye çalışırım. Sizi de aynısını yapmaya davet ediyorum.
Peki siz? Siz kimsiniz? Sizi ne harekete geçirir?