Simba's case has gone viral. So much outpouring of love for him has crashed our server.  But here's Simba's story and how to help while we fix it.
We have called him Simba, Lion in Swahili in the hope that his name gives him all the power and strength that he is going to need to win this fight.
What do you think when one sees an image like this one? Some feel anger, other hopelessness, sadness… I wonder about everything that Simba must have gone through to get to this point. We are sure Simba wasn´t born on the streets, the way he comes asking for love tells us he experienced the love of a human family. In Simba I see abandonment, days, weeks, months of hunger, thirst, rejection.
His condition got worst and worst with time, as days passed, rejection increased, until he became invisible, a ghost stumbling on the fields until he couldn´t resist any longer, and he collapsed.
And this is how we found him. What you see here are the first images taken by those that found him on the fields and asked us for help. Images that tell a story better that we could ever do.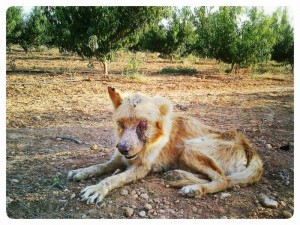 Simba was picked up immediately and taken urgently to our clinic where he is in Intensive Care. After getting rid of the million fleas and ticks that were feasting on his blood we have done the necessary tests that confirm his already obvious extreme weakness.
Simba has advanced Leishmania and Ricketsia, a disease transmitted by the dreaded ticks.
He also has a malformation on his elbow, possibly of traumatic origin that makes his walking difficult. He can walk, but it hurts
His eyes…
Both eyes are terribly infected, and even if we are going to try to save one of there is a possibility that both of them are too damaged and he will be blind forever. We are doing absolutely everything that can be done to save him.
Simba deserves all the help we can give him. He deserves it because it was us, humans, with our cruelty and our rejection the ones that did this to him. He wasn´t meant to be suffering this way. He deserved so much more…
https://www.youtube.com/watch?v=-MmaUZtX5RE
Many thanks!
Viktor
PLEASE HELP US SPREAD SIMBA´S STORY BY SHARING THIS BLOG ON FACEBOOK AND TWITTER. Please Follow Simba´s recovery by joining and Like our page: Let´s Adopt! Global.
As Simba´s treatment progresses he will need to find a wonderful home. If you are that family, please write to me on viktor@myletsadopt.com telling me everything about you and your family.