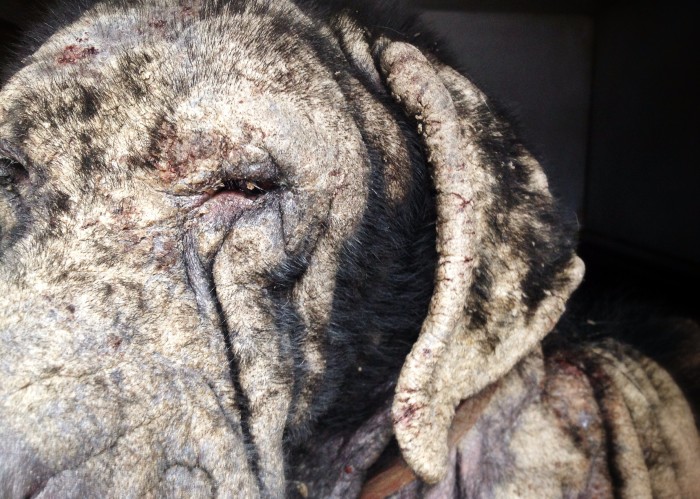 Penny was a family dog until the day she was given away… what happened to her is the stuff your dog´s nightmares are made of.
Pray he or she never has to go through them.
She appeared one day, trying to find cover from the winds and the rain. She was so kind and loving, people felt pity and started bringing her food and water. Noone took her home, or to a vet. She lived next to that wall for nearly two years… until someone called us.
There is no doubt Penny lived in a home. She has the manners of a dog that has experienced the love of a human. She is calm, polite, housebroken, loving… What happened to her is something we can see by the marks it has left on her body. Literally.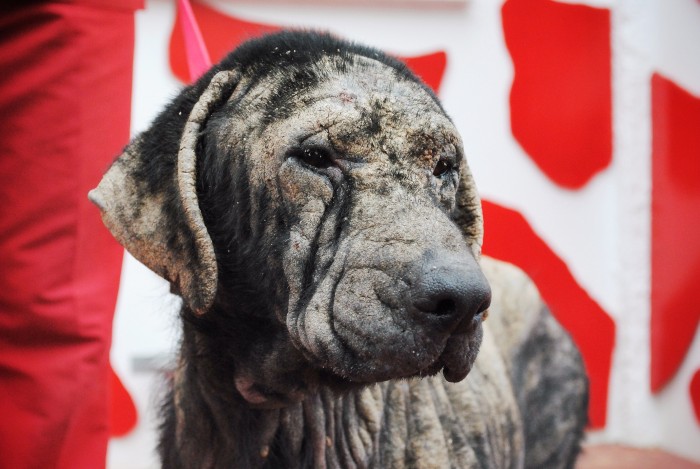 At some point Penny was given away, and her nightmare began. Time and Time again Penny was forced to have sex with other dogs and was used for breeding. The condition of her nipples as well and an ultrasound confirmed she was forced to carry multiple litters. But that was nothing compared to what happened next.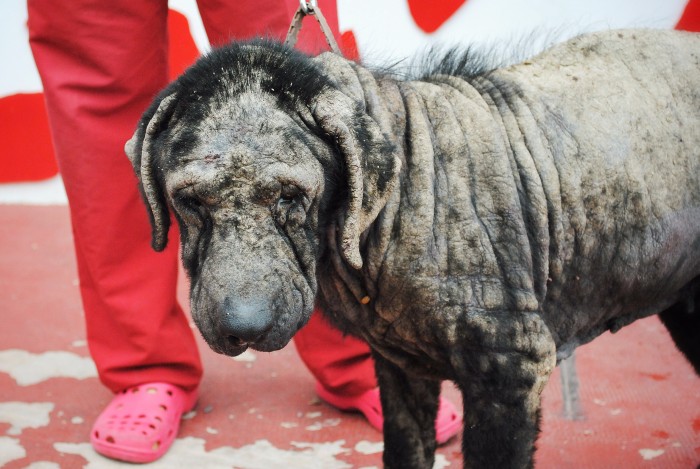 Due to her submissive and wonderfully calm character they decided Penny would be a good BAIT DOG and was used for fighting dogs to practice on.  Her teeth were filed up right up to the gums. She was rendered completely helpless.
And so it began, fighting dogs were unleashed on her. When she wasn´t mounted she was being torn to pieces. All she could do was to stand there and withstand the pain.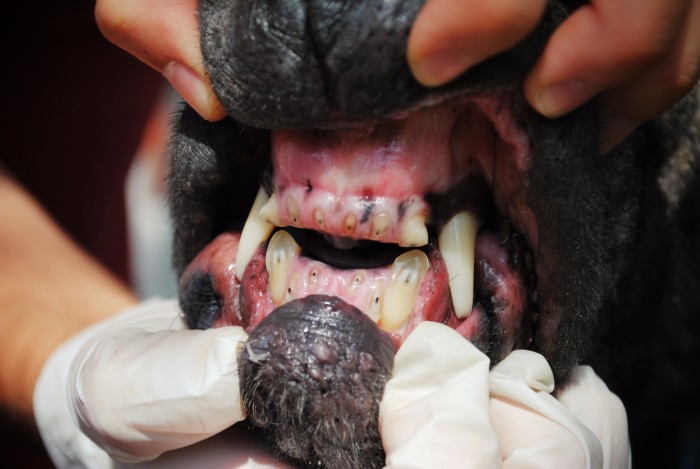 The day she became useless she was thrown away.
The moment she arrived to us we knew we would have a long and complicated road ahead of us. The condition of her skin is terrible. In some areas the scabs and scar tissue are inches thick, and everywhere else the skin is just raw, all hair has fallen, she itches constantly, and as she scratches, she tears her skin further.
Penny has arrived to us in the condition you see, completely dehydrated and barely able to keep her head up. Penny´s blood results show she is completely anaemic. During the time on the streets she contracted Leishmania (a disease transmitted by a mosquito) and Erlichia, a tick born disease.
You HAVE to see this video…

We are currently working on stabilising her and make her comfortable. She is receiving fluid therapy and beginning her treatments for Mange, Leishmania and Erlichia. All those diseases by themselves are manageable, but when you combine all of them in an animal as weakened as Penny you have a very complicated challenge in front of you.
WE NEED YOUR HELP TO SAVE PENNY´S LIFE. Please, if you are not in a position to contribute please help us save Penny by SHARING her blog on Facebook, Twitter and other social media.
Please Help us End Penny´s Nightmare Forever.
Please help us give Penny the life she deserved. The life she was meant to live… Please DONATE, HELP US SAVE PENNY.
Once she is completely recovered Penny is going to need the most extraordinary home. I believe her character shows perfectly in the video… Fall in love with her and please write to me on viktor@myletsadopt.com telling me all about you and your family…
Please follow Penny´s updates by Liking our Facebook Page: