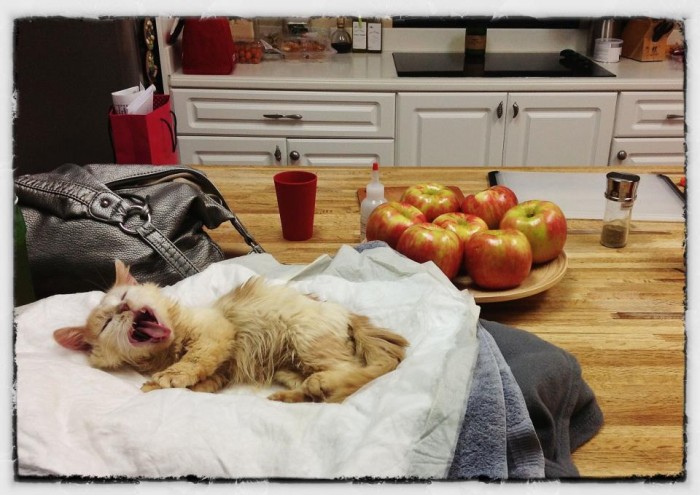 Please Help me expose a Killer… See the way Carol Vierela plays with the lives of cats and dogs… SHARE this post in your social networks… it will outrage people, but then again, it may also make people laugh a bit…

Thursday, 4th of October… the day began early for us in Savannah (Georgia).
Over the last three days Raciel and I had been driving non-stop across states. The purpose of this trip was no other than to rescue three very special animals. One of them Biscuit, a paralyzed kitty suffering from multiple bone fractures.
The details of Biscuit's rescue can be seen here, it still remains a work in process and I must say, one of the most beautiful experiences I have lived in my life as a rescuer.
An early morning wake up call, a quick gulp of some horribly tasting vegan stuff that Katy had prepared for Raciel and we were ready to start the journey. Ahead of us we had a full day of driving all the way to Cherry Valley in New York with a stop over in North Carolina to rescue as many feral cats as we could from that cesspit that is Carol Vierela's Nashville Gas Chamber Shelter.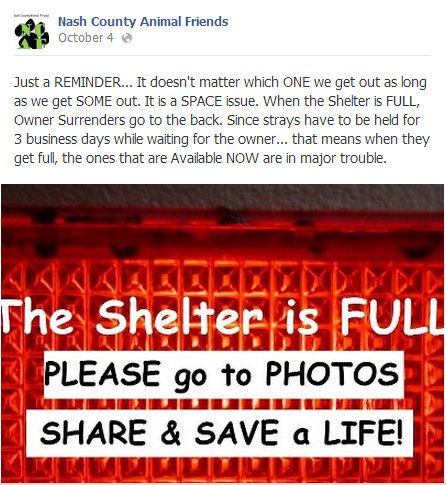 We knew the shelter was full, Carol Vierela, the now discredited founder of Nash County Animal Friends had just made an announcement, dogs and cats were going to die unless people got them out.
So there we were, ready for this unique opportunity to save as many cats as we could. This was a great chance, specially considering that the Carol Vierela and her friends in charge of working the Gas Chamber NEVER promote feral cats. To them, you see, a cat that doesn't purr at sight is not an animal worth saving. In Nashville if a cat shows fear, or surprise, if he is old, or sick, or not perfect according to the standards of a bunch of sociopaths that could only find a job as a kitty / puppy killer, the cat is thrown unceremoniously inside the gas chamber to die the same kind of death millions of people died in Europe during the Second World War.
Clearly, the situation in Nashville was desperate. We were looking forward to help and to finally visit the shelter from where over a period of two months last year we saved 100 animals. It was also a great opportunity to meet Vierela face to face and question her for her involvement in a criminal conspiracy to damage our organization. We intended to have words with her. Nothing too harsh, the lady could be my great-grandmother after all, but I intended to clarify a few points once and for all.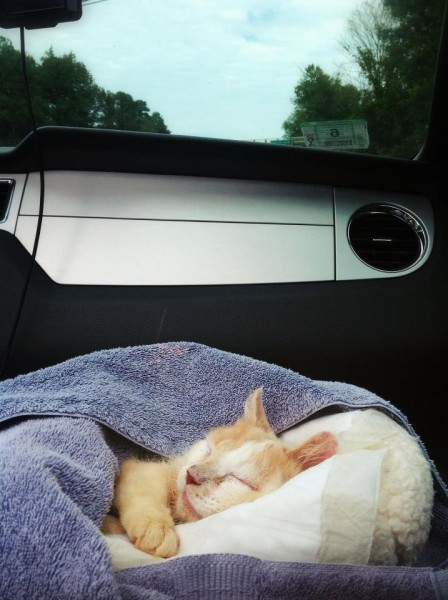 Then, about an hour into the drive my Ipad started buzzing and somehow the words of Carol Vierela and her gang of sycophants started showing up on my screen. Clearly not so good with technology and having me always present in her mind, Vierela had sent them to me by mistake!
And there it was, in all it's glory, the dark miserable soul of a church-going hypocrite. Someone that somehow found or claimed a position at a gas chamber shelter and decided to use that position to play games of life and death.
I will not elaborate on the dialogue that follows… Vierela and her friends, have achieved the same position in my scale of appreciation as vomit or diarrhea. Never in my life I have met such levels of scumbaggery. In the words of Claire Talltree, someone that after a life of substance abuse joined a sect and become a breeder of donkeys for human consumption: I hate to say it, but I'd rather see a dog to be put down humanely than brought to that Turkey hell-hole… (or in other words, having him rescued by Viktor)
Well… it just happens that that Turkey hell-hole is where me and my family live, and it just happens that this is the place where Let's Adopt! was born and were we have a deeper reaching network. This is the place where most of our most critical operations are performed, this is the place, where we save most lives, not only Turkish but coming from all over the world, and now, with Biscuit, American too!
So I leave you with the words of Carol Vierela and her gang of mentally diseased "friends".  Please if you feel like throwing up go to the balcony and catch some air… So… why didn't Viktor go to Nashville? Here is why… we knew we were being expected by a bunch of rednecks!

Hi Ladies, have you seen the latest post on LAG, Vicktor is apparently going to make a 'stop' in Nashville… this could get interesting!

I told the photographer to be sure to get a photo op with him. And then we will bash him for being there in person and NOT taking a dog. But then again… maybe he will. I should call and tell the Manager that there is a Rescue HOLD on all... and I would if only I was SURE I could get them out…

You should give the shelter a heads up, guaranteed the idiot is there not for friendly reasons!

Probably to take photos of his own. Yes, definitely give the shelter a head's up. I hate to say it, but I'd rather see a dog be put down humanely than brought to that Turkey hell-hole…

He's posting more photos of guns, and making threats. Supposedly, he says he'll be there in "14 hours", an hour ago. That puts him there at 10:30pm at night. Yes, please

put the shelter on high alert,

especially since he's

making threats of shooting someone…

If he wanted photos… I have plenty of the Shelter on our page. BUT he only says Nashville, not the Shelter. They might be stopping for gas and a bathroom break.

Yes, 14.00 hours is 2pm military time.

We are considering it a threat of sorts. Wondering how it could get him into trouble…

Reporting it as "graphic violence"

Looks like he has already been stopped by the police once, for speeding (he put a video up on his site, although you don't see either him or an officer in the video). I can't believe that they don't have him on a terrorist watch list somewhere, for all his threats. Does the FBI know that he is in the country???

This needs to go to the FBI. I think this goes beyond internet harassment.

will they take it seriously? I mean as it stands it's a plastic gun and lots of lol's on the end?  Any of you filed a report before re LAG? Maybe add this too it?

Well, if you add the blog about Carol, the death threats that transpired because of the blog and attack by LAG, and now the posts of guns…. yes, they will take it seriously.

I have filed reports… never a response other than the auto one.

Mind you he never said he was going to the SHELTER, just to Nashville

Haven't heard anything. He is too chickenshit to show up I think. But everyone is ready to kill him with kindness… so to speak and watch their backs.

Oh yes… they have their protection and friends roaming the area..

You see, they are "law enforcement" themselves and have their own guns. LOL
Keep your eye out tomorrow too, as well. If he shows up in town at 10:30pm, he may stop by in the morning.

You know… the gun post is down… 

We "reported" too much… FB took it down… I have a screen shot however…

I noticed the gun post was done, good going with the reports! Although Michelle is right, take care of you! we're not allowed guns here in the UK otherwise I'd have one too! 

Holy crap..what have I missed? I didnt even know he is in the USA..he better watch himself with what he says..now he isnt able to hide out behind his keyboard in Turkey or Spain or wherever

He's apparently in the US to pick up three new animals.. a week after he has said Turkey is a hell hole… apparently the cat ( Biscuit) you'll see it on his blog can only be fixed in Europe?! I find that hard to belive, dunno who the other two animals are Oh and he's there with Raciel? …

Yes, recognize Raciel's face in some shots.

He was in Savannah with his gal who was involved with the dog incident… Kathy Cohen

They could have taken care of the cat there…of course, but no drama in that… and no free trip paid by animal funds