VIKTOR LARKHILL and UNETHICAL FUNDRAISING
1. Fundraiser Guide, Massachusetts Attorney General
The "Unfair or Deceptive Practices" section in the Fundraiser Guide of Massachusetts Attorney General, among others, classifies the following as unacceptable:
Using coercive tactics
to pressure donors to contribute quickly.
2. How Viktor Larkhill was Lying to Donors
The following screenshots come from Let's Adopt executive committee Facebook group. It shows Ivan Jimenez, aka Viktor Larkhill, defending his deceptive and unethical fundraising practices to an ex-board member Debbie Hicks and to activist and adopter Katy Cohen.
This conversation is one of many that ensued every time a board member would attempt to work with Viktor on any of the multitude of issues that were being observed. Board opinions were always met with resistance, advice never heeded and toys often thrown on the floor.
(Viktor even resigned a few times through the years. He really did.
We have the screenshots.)
Image 1
"It's therefore impossible to be totally truthful."
"If I am truthful the posts lose their power."
"I must able to say XYZ is going to be operated in 24 hours."
"If I am not able to say that it just doesn't work."
"Fundraising is a different animal."
"Comms in social media need to have a sense of urgency."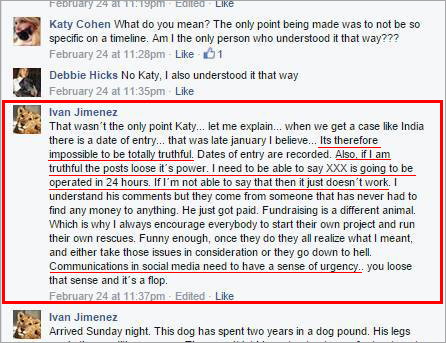 Image 2
"If we do things the way [the board member] wants
we either raise as [the animals] enter the clinic,
or we'll always be lying."
"And it's impossible to raise as they enter [the clinic]."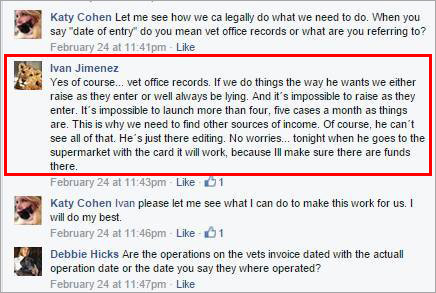 Image 3
"If I want to be totally truthful we could only rescue
three cases a month, because none of the others
could be used as fundraisers."
"Every fundraiser would have to be handled LIVE
and that's impossible."
"There has to be a time delay."
"I control everything, from tones of a picture
to dates of an Xray."
"Don't do that… and funds don't come in."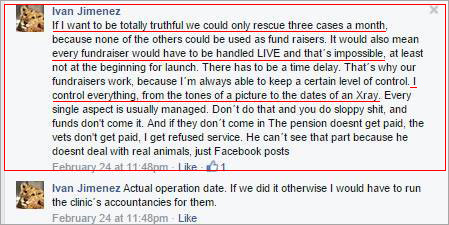 Image 4
"Rudolf for example."
"He was operated many weeks ago."
"I NEED to be able to say he needs an operation."

Image 5
Viktor deems rescues that comply
with laws and regulations unsustainable.

He also seems to think legal requirements are "bla bla bla".

3. What the Board of Directors Thought
We didn't understand why Viktor NEEDED to lie. We didn't understand why he thought he knew better than the Attorney General's office. We sure did understand, however, that it was not acceptable for Let's Adopt to lie to it's trusting donors. This is only one of many issues discussed with Viktor Larkhill, which eventually lead to a major rift and his consequent resignation.
---
If you have heard that Let's Adopt! Global has abandoned animals and is not paying vendors, please follow this link: Open Letter Regarding Suspended Payments.
---
Please follow these links for more information
---
Ivan Jimenez, aka Viktor Larkhill – Q&A (running updates)
---
Ivan Jimenez, aka Viktor Larkhill – Resignation announcement
Ivan Jimenez, aka Viktor Larkhill – Hoarding in Spain 
Ivan Jimenez, aka Viktor Larkhill – Unethical fundraising